Senators press Interior secretary nominee David Bernhardt on offshore drilling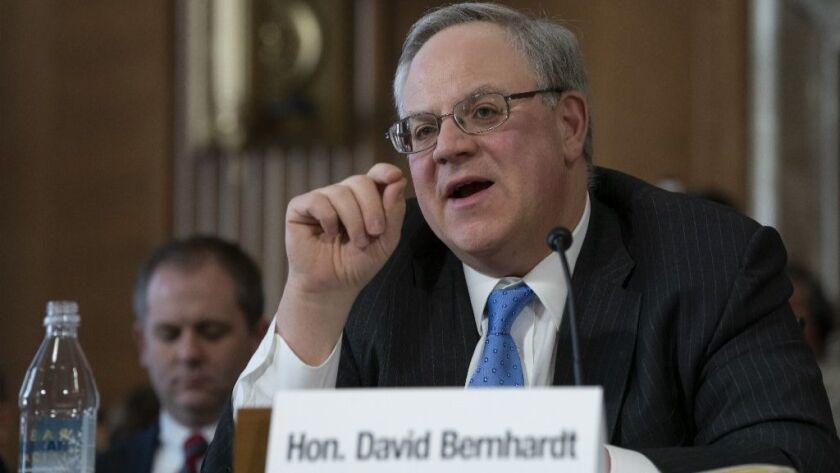 Reporting from Washington —
Lawmakers seeking assurance that the Trump administration will exempt their states from offshore drilling plans received no such promise during Thursday's confirmation hearing of the president's pick to run the Interior Department.
Senators grilled David Bernhardt on the administration's proposal to open nearly all of the United States coastal waters to oil and gas drilling. What they got in response was Bernhardt's commitment to listen to state leaders and a hint that the final plan may cover a smaller area. But that was all.
"We'll work with you," the nominee told Sen. Joe Manchin III, a West Virginia Democrat.
Bipartisan opposition to the administration's plans has been loud and strong.
When former Interior Secretary Ryan Zinke announced a proposal last year to allow offshore oil and gas exploration access to more than a billion acres in the Atlantic, Pacific and Arctic, governors up and down the country's coasts objected.
Florida lawmakers asked to be exempted because of their state's dependence on tourism dollars, prompting other states to demand the same consideration.
As the backlash has grown, the administration has begun quietly laying the groundwork to weaken a decades-old federal law that empowers California and other states to slow and even stop offshore development in federal waters.
"I can tell you we've got a governor, a legislature and a bipartisan congressional delegation that is — to use your term — rock solid against offshore drilling or testing," said Sen. Angus King, an independent from Maine.
King said the opposition in his state is so fierce that if he voted for Bernhardt's confirmation, and the Interior Department later opened the state's coastal waters to drilling, "I don't know if I can go home again."
Bernhardt tried to placate senators. The administration's drilling plan is in its early stages, he told the Senate Energy and Natural Resources Committee, and would be "winnowed down."
"We're at step 1, not step 7," Bernhardt said, adding that he had yet to see a completed draft of the plan.
His suggestion that some of the nation's coastline might be left out of the final proposal did little to convince his detractors. After the hearing, 15 Democratic senators from coastal states said they would vote against Bernhardt's confirmation.
"Today's hearing made one thing absolutely clear: A vote for Bernhardt is a vote for offshore drilling," the group of East and West Coast senators said in a statement.
Bernhardt has led the department since early January, when Zinke stepped down under a cloud of scandal.
As Zinke's second-in-command and then as acting secretary, Bernhardt has overseen the Interior Department's push to expand oil and gas drilling. Under his oversight, the department has shrunk the size of two national monuments in Utah in the name of opening up lands for coal and mineral mining. It has also loosened protections for the habitat of the sage grouse, a bird whose nesting area includes land in Western states coveted by the oil and gas industry.
As acting secretary, he now regulates many of the businesses whose interests he formerly advocated as a lobbyist.
Bernhardt's former firm, Brownstein Hyatt Farber Schreck, has sued the Interior Department four times on behalf of Westlands Water District, the nation's largest irrigation district. Bernhardt personally argued one appeals case challenging endangered species protections for California salmon.
Facing questions over his industry ties, he pledged Thursday to "fundamentally transform" the Interior Department's ethics programs "to ingrain a culture of ethical compliance and reduce workplace misconduct."
Citing several instances of documented misuse of funds by agency employees, Bernhardt told senators that ethics would be a priority.
"The reality is that the ethics program throughout the Department of the Interior has been sadly neglected for some time," he wrote in a prepared statement.
Throughout the hearing, Republican senators praised Bernhardt's qualifications. "We need experience around here," said Republican Sen. Lisa Murkowski of Alaska, the committee's chairwoman.
But during one particularly heated exchange, Sen. Ron Wyden (D-Ore.) accused Bernhardt of lying to him during a meeting at the senator's office. "You're just another corrupt official," he told the nominee.
More stories from Anna M. Phillips »
---
Get our Essential Politics newsletter
The latest news, analysis and insights from our politics teams from Sacramento to D.C.
You may occasionally receive promotional content from the Los Angeles Times.