Beto O'Rourke joins the presidential race: Can excitement carry him to the White House?
Beto O'Rourke announces his run for the U.S. presidency.
Reporting from Washington —
Beto O'Rourke entered the presidential race Thursday — among the least credentialed, least experienced candidates in a crowded Democratic pack but also among those generating the most buzz.
The former three-term Texas congressman is well-positioned at a time when Democrats are desperate for a new approach, fresh ideas and an infusion of charisma. The candidate whose signature achievement was galvanizing Democrats behind a Senate campaign he ultimately lost will quickly test how willing the party's voters are to eschew political pedigree and policy experience for optimism and eloquent energy.
"This is a defining moment of truth for this country and for every single one of us," O'Rourke said in a video announcing his candidacy. "The challenges that we face right now, the interconnected crises in our economy, our democracy and our climate have never been greater."
"They will either consume us, or they will afford us the greatest opportunity to unleash the genius of the United States of America," he added.
He has planned a series of events over the next several days in Iowa, which will hold the first voting in the Democratic nominating season next February.
At the first event, in Keokuk, he embraced some parts of the standard Democratic creed, saying for example that "every woman should be able to make her own decisions about her own body." But he also took some stands notably more restrained than his rivals, such as endorsing a minimum-wage increase to $15 "within the next six years."
Asked about marijuana legalization, which he favors, he told the overwhelmingly white crowd that people imprisoned on marijuana charges mostly "do not look like this room. They are browner and blacker than most of America."
Later, in Burlington, he displayed a characteristic trait — avoiding specific commitments on policy questions. Asked by a voter about proposals to change the composition and character of the Supreme Court, he said, "That's an idea we should explore." He went on to note that some have advocated term limits for Supreme Court justices.
"That is an idea worth exploring as well," he said.
Unlike some of his campaign rivals, however, O'Rourke's presidential bid is not built around policy positions. The former congressman, 46, captivated the attention of Democrats last year when his long-shot bid to unseat Sen. Ted Cruz galvanized a national political movement.
He fell short. That would have been a serious career setback for most politicians, if not a career-ender. But in O'Rourke's case, the national momentum behind him morphed into a clamor for a presidential launch.
Who's in the race, and who's on the fence? »
Whether it is gliding on his skateboard across a Whataburger parking lot or delivering an impassioned address about the horrors Central American immigrants face in their journey to the U.S., O'Rourke draws an immense audience for everything he does.
Democrats nationwide were so enthralled by him during his Senate campaign that they dug into their pockets to propel O'Rourke's run with nearly $80 million in mostly small-dollar donations — nearly double what the incumbent raised. In the end, although he lost, O'Rourke came closer to unseating a Republican senator than any Texas Democrat had done in 40 years.
If the candidate can draw crowds and dollars at a similar pace in the presidential primary elections, he will be a considerable force.
But O'Rourke has jumped onto a very different stage than the one he commanded in Texas, where the only candidate providing contrast was universally despised by Democrats.
"It is going to be much more difficult to differentiate himself from these candidates who are all running in a similar vein as Beto — they all are standing up for something too," said Matt Barreto, co-founder of Latino Decisions, a polling and research firm that works for several liberal groups.
"This is not like campaigning against Ted Cruz. You have this field full of candidates Democrats will also find likable. It's hard to read the tea leaves for where this is going."
One important distinction is O'Rourke's apparent ability to mobilize large numbers of new voters, particularly disaffected young people and Latinos, Barreto said. The rate at which O'Rourke succeeded in luring such voters to the polls in Texas, especially in urban areas, makes some party activists believe that he is uniquely suited to rebuild the coalition former President Obama twice rode to victory.
O'Rourke counts some of the masterminds behind the Obama political machine among his admirers. They say they see in him some of the same traits they did in the former president.
"There's an authenticity factor," said David Axelrod, who was Obama's longtime political advisor. "There's a hipness factor that's galvanizing a lot of people."
Even as former Obama aides praise him, O'Rourke's potential candidacy has drawn fire from supporters of other presidential hopefuls, especially backers of Sen. Bernie Sanders of Vermont.
O'Rourke's innovative digital approach, absence of polls and focus groups, and cult following of new voters have echoes of the campaign Sanders began four years ago. That could set the Texan up as a rival to Sanders for the affections of millennial voters.
Perhaps not surprisingly then, many Sanders backers have taken to social media for weeks to point out that O'Rourke's voting record is far more moderate than his progressive image might imply.
Sanders' Iowa director from the 2016 race, Pete D'Alessandro, says the fact that the field is already packed with vibrant candidates shrinks the void an unorthodox candidate like O'Rourke would otherwise fill.
"That might be his struggle," D'Alessandro said. "Candidacies like his usually take off if nothing else is happening."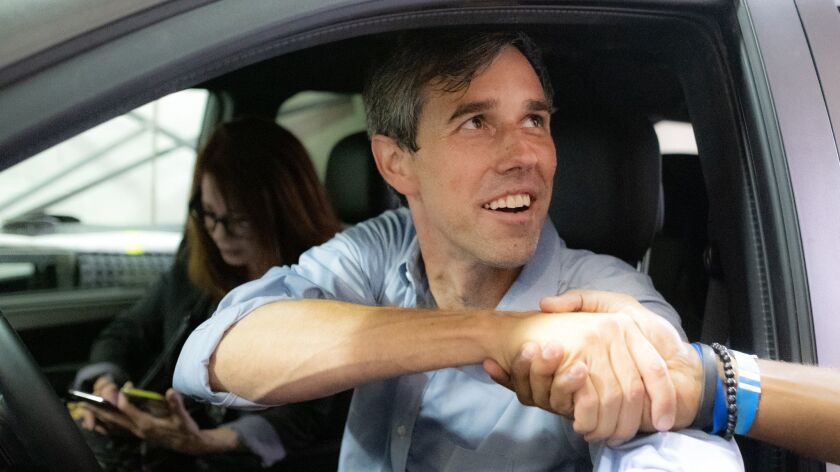 Another potential problem for O'Rourke is what some critics have dubbed a "weirdness factor." O'Rourke followed his Senate loss with a prolonged period of self-reflection and ambivalence that hardly seemed to position him for a presidential run.
He posted on Medium about his malaise, shared Instagram photos of his dental checkup, shunned media attention as he traveled middle America, and in the only national interview he granted during that time seemed flummoxed about how to fix the nation's immigration system.
But though that period of wandering may not have played particularly well in the states with early primaries, O'Rourke seemed to have little problem bouncing back to once again become a center of attention. He returned to the public stage in early February in an interview in Times Square with Oprah Winfrey, during which the host almost pleaded with O'Rourke to enter the race.
Soon after, the enthusiasm for O'Rourke generated another big media moment, as he starred in a counter-rally to an event President Trump held in El Paso, O'Rourke's hometown.
Trump's visit played into O'Rourke's hands. El Paso's ranking among the safest cities in the U.S. has been a long-running narrative for O'Rourke, a fact-check against Trump's exaggerated claims about danger on the border.
Trump's mocking of the former congressman that night, of course, merely boosted O'Rourke's credibility with Democratic primary voters. As other candidates worried about not being recognized on the streets in key primary states, O'Rourke was being followed around El Paso by celebrity photographer Annie Leibovitz.
He speaks to Democratic hearts. But is Beto O'Rourke a serious White House contender? »
The slim, animated Texan has built his movement around an unorthodox campaign style that infuses confrontation with inspiration and a loose, informal approach on the stump that builds into motivational speechifying.
During his Senate campaign, O'Rourke drew crowds of thousands to rallies in border towns that were an afterthought to Texas politicians before him. He harnessed the anger of voters outraged by Trump's demand for a border wall and his administration's separation of immigrant children from their parents at the border, and used his social media and organizing savvy to channel that fervor into a movement.
At the same time, he obsessively parachuted into deeply conservative rural towns to build what connections he could. The exhaustive undertaking earned O'Rourke the respect of swing voters and praise from progressives who had long complained Democrats left votes on the table by only campaigning in the predictable places.
That is also a style that plays well in the Iowa caucuses, the first contest of the primary season where victory sometimes launches presidential careers, as it did for Obama.
"Beto is a tailor-made Iowa candidate," said Dan Pfeiffer, a former Obama advisor. "He ran Texas like a giant Iowa campaign — visiting every county, retail politics."
Times staff writer Janet Hook contributed to this report.
---
For reporting and exclusive analysis from bureau chief John Myers, get our California Politics newsletter.
You may occasionally receive promotional content from the Los Angeles Times.