Biden defends behavior with women, says he never believed he acted inappropriately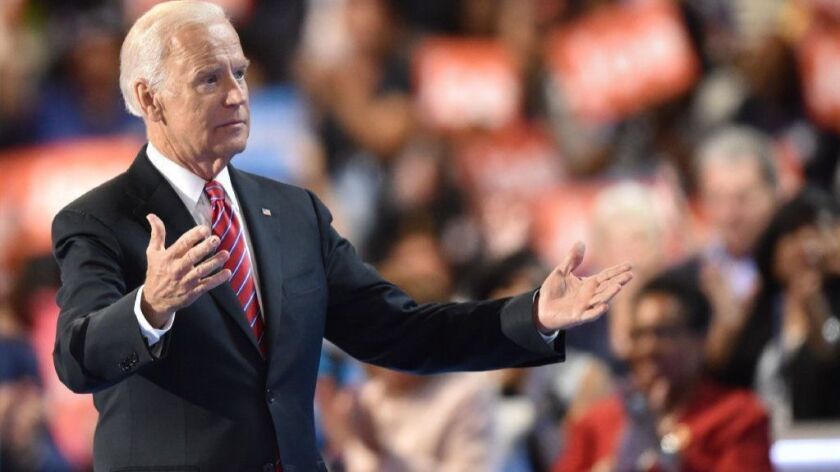 Reporting from Washington —
Former Vice President Joe Biden, his yet-to-be-declared presidential candidacy shaken by an allegation he kissed and touched a woman without her consent at a 2014 political event, said Sunday that "never" did he think he had acted inappropriately toward her or other women.
Lucy Flores, a former Nevada state representative and onetime Democratic nominee for Nevada lieutenant governor, wrote in an article published Friday by New York magazine that Biden kissed the back of her head and placed his hands on her shoulders as the two of them waited to take the stage at a Las Vegas rally.
In a carefully worded statement, Biden, who is mulling whether to seek the 2020 Democratic nomination, said he would "listen respectfully" to any allegation that he acted inappropriately but said it was "never my intention" to cause discomfort or offense.
The 76-year-old Biden described "expressions of affection," including handshakes and hugs, as a longtime part of his public repertoire. But in the #MeToo era, which has seen scores of powerful men held accountable for sexual harassment and impropriety, it was not clear whether his explanation would quell the uproar.
Flores said in a television interview Sunday that although she welcomed Biden's pledge to heed the account of anyone made uncomfortable by his behavior, she believed he should remove himself from contention for the presidency.
"It is completely inappropriate," said Flores, interviewed on CNN's "State of the Union," adding that "this is something that we should consider when we're talking about the background of a person who is considering running for president."
"For me, it's disqualifying," she said. "I think it's up to everybody else to make that decision."
In her published first-person account, Flores described the rally encounter with Biden, then vice president, as startling and upsetting.
"As I was taking deep breaths and preparing myself to make my case to the crowd, I felt two hands on my shoulders. I froze. 'Why is the vice-president of the United States touching me?' " she wrote, going on to describe a "big, slow kiss" on the back of her head.
With Biden polling at the top of the Democratic pack even in advance of any declared candidacy, the White House appeared to relish the controversy, despite President Trump's own record of improprieties, including the sexually explicit "Access Hollywood" tape in which he was caught on microphone boasting of grabbing women without their consent.
Senior White House counselor Kellyanne Conway, interviewed on "Fox News Sunday," ridiculed the former vice president as out of touch.
"If anybody just types in 'Creepy Uncle Joe Videos,' you come up with a treasure trove," Conway said. She described it as Biden's "big problem here, because he calls it affection and handshakes."
READ MORE: Joe Biden inches closer to launching a 2020 presidential bid »
Several former senior aides to Biden quickly took to social media to defend their ex-boss as a staunch advocate for women's rights who had never behaved inappropriately in their presence. Biden, too, spoke in his statement of a deeply held commitment to gender equality.
"I will … remain the strongest advocate I can be for the rights of women," he said. "I will fight to build on the work I've done in my career to end violence against women and ensure women are treated with the equality they deserve."
The episode poses an awkward dilemma for Biden's Democratic rivals, who appeared loath to denigrate a popular party elder but were also keenly aware of the social climate in the wake of the #MeToo movement.
Sen. Amy Klobuchar of Minnesota, who has declared her candidacy, said she had "no reason not to believe" Flores but stopped well short of describing the allegations as disqualifying.
"I think we know from campaigns and from politics that people raise issues, and they have to address them, and that's what he will have to do with the voters if he gets into the race," Klobuchar said on ABC's "This Week."
Sen. Bernie Sanders, the Vermont independent who proved a formidable rival to Hillary Clinton in the battle for the 2016 Democratic nomination and retains a strong following, also said there was no reason to disbelieve Flores. But Sanders, interviewed on CBS' "Face the Nation," did not call on Biden to preemptively take himself out of the running.
"I think that's a decision for the vice president to make," Sanders said. A single allegation such as this was not disqualifying, he said, "but her point is absolutely right."
In her essay, Flores described feelings of shame and disorientation during and after the 2014 incident.
"I was shocked. I was confused. There is a Spanish saying, 'tragame tierra,' it means, 'earth, swallow me whole.' I couldn't move and I couldn't say anything," she wrote. "I wanted nothing more than to get Biden away from me. My name was called and I was never happier to get on stage in front of an audience."
In his statement, Biden did not deny the episode but said he "may not recall these moments in the same way." The former vice president made a point of hailing "an important time when women feel they can and should relate their experiences, and men should pay attention."
"And I will," he added.
---
For reporting and exclusive analysis from bureau chief John Myers, get our California Politics newsletter.
You may occasionally receive promotional content from the Los Angeles Times.