Joe Biden inches closer to launching a 2020 presidential bid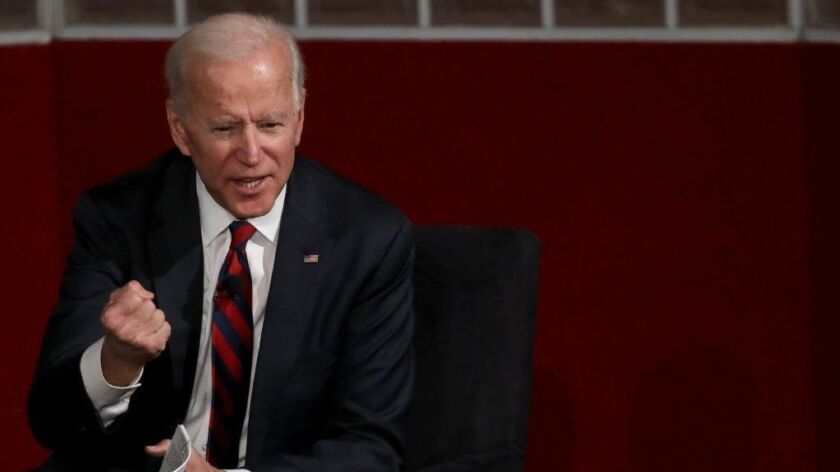 Reporting from Washington —
Former Vice President Joe Biden inched closer to announcing a long-awaited decision to run for president in 2020, saying Tuesday that his family wanted him to run but that there were "still a couple hurdles to go through" before he could commit.
Biden, who has twice unsuccessfully sought the Democratic presidential nomination, said in an appearance at the University of Delaware that getting support from his family was "the first hurdle" in a decision to launch a campaign, which he would likely enter at or near the front of the large pack of Democrats who have already announced for president in 2020.
He said he was still "taking a hard look at whether this alleged appeal that I have — how deep does it run, is it real?"
Even as he has been on the sidelines of the growing field of Democratic candidates, Biden has been at the top of many polls and is widely admired in the party. His supporters believe he would be the strongest candidate to oppose President Trump because he has unparalleled policy and political experience and a centrist record that could help the party woo swing voters.
His presence could pose new obstacles to other candidates like Sen. Amy Klobuchar of Minnesota, who are campaigning on the basis of pragmatic values and middle-America appeal similar to those that would be a hallmark of a Biden candidacy.
But Biden, who is 76, would face resistance from Democrats who want a younger candidate with more appeal to the party's diverse and progressive base, and who say his time for leading the party has passed. His long record in Washington — eight years as vice president and 36 years in the Senate — is littered with positions that are at odds with today's liberal Democratic consensus.
Biden supported crime legislation in the 1990s that many blame for the explosion of prison populations. Many women's advocates faulted him for his role as chairman of the Judiciary Committee during the 1991 Clarence Thomas hearings, saying he did not take seriously enough the sexual harassment allegations lodged by Anita Hill.
Seemingly aware of the fact that he is no shoo-in for the nomination, Biden said Tuesday in his appearance with presidential historian Jon Meacham: "I don't want this to be a fool's errand. I want to be sure that if we do this, and we're very close to getting to a decision, that I am fully prepared to do it."
He said he could "die a happy man never having lived in the White House. But what I don't want to do is take people's time, effort and commitment without there being a clear shot I could be the nominee."
Among the factors that Biden said he was considering was how much political campaigning has changed since he last ran as Barack Obama's running mate in 2008 and 2012. Several of the announced Democratic candidates are running, in part, as heirs to Obama's legacy.
Biden said he had been consulting experts on social media to better understand contemporary demands on that front. And he was exploring the financing of a campaign, saying he wanted to be sure he could run without benefit from super PAC funds.
Biden's indecision about running is in keeping with past presidential races in which he vacillated, publicly and privately. He ran unsuccessfully for the nomination in 1988 and 2008. He thought about running many other times, most recently in 2016, when Biden gave long, anguished consideration to challenging Hillary Clinton in the primary campaign to succeed Obama.
Biden decided against a 2016 run in the emotional aftermath of the death of his 46-year-old son, Beau, after a grueling struggle with brain cancer.
This year he has mostly been dodging questions about 2020, acknowledging he was thinking about it but not tipping his hand publicly. At the end of Tuesday's session, he walked as close to an announcement as he ever has: "I have not made the final decision, but don't be surprised," he said.
Said one supporter in the audience, "Oh God, just say yes."
---
For reporting and exclusive analysis from bureau chief John Myers, get our California Politics newsletter.
You may occasionally receive promotional content from the Los Angeles Times.