Iowa voters flock to Joe Biden, but out of practicality, not passion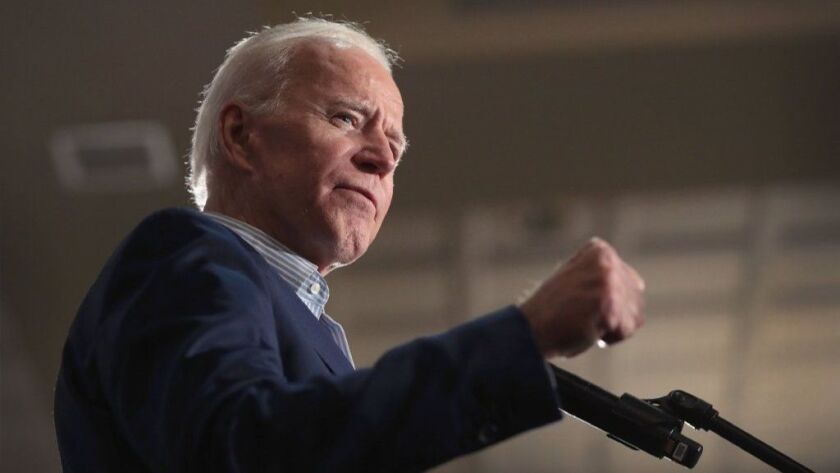 Reporting from Iowa City, iowa —
A consistent theme animated Iowa voters as former Vice President Joe Biden brought his newly announced presidential campaign to the state — practicality, not passion.
Many said they held a place in their hearts for one or another of Biden's rivals, but, for now, had chosen to suppress those feelings, in part out of concern that the rest of the country won't share them.
"I like Elizabeth Warren's policies, I just don't think she can get elected," Greg Reed, a 72-year-old retired high school principal, said as he waited for Biden to appear at a Cedar Rapids auditorium. "I believe Biden can win. That's what I'm interested in. Beating Trump."
In conversation after conversation, voters made similar comments, talking of worries that the electorate is too sexist to elect a woman, too prejudiced to send another person of color to the White House, too cautious to embrace the sweeping economic plans of the party's star progressives.
"I'm old enough to tell you what it was like when [Sen. George] McGovern ran," said Caroline Koppes, 71, of Dubuque. "We thought we were so great when we helped him get the nomination."
"McGovern won one state," she said, referring to the Democrat's 1972 landslide loss to President Nixon.
Now, desperate to extract Trump, "I will take the safest course," she said.
To her — as to many — that's Biden.
Iowa, which holds the first contest of the primary season, has twice before chewed up Biden in failed presidential bids that exposed his shortcomings as a campaigner, fundraiser and organizer. But that was water under the bridge for many voters who came out to see the former vice president, known fondly as "Uncle Joe" to many Iowans nostalgic for the Obama administration.
Several polls have shown Biden, who already led the pack, getting a significant boost after his announcement last week that he is, indeed, running. The poll numbers reflect a Democratic electorate that suspects he is uniquely positioned to defeat Trump.
The risk for Biden is that support rooted more in calculation than fervor could prove fleeting should he start to project anything other than a clear sense of electability.
Some voters leaning Biden's way said they hoped that should he win the nomination, he would choose as his running mate one of the candidates they would really like to vote for, but for the electability problem.
For Cindy and Stan Vander Linden, a couple in their 60s who caught Biden's speech at a cavernous indoor-outdoor brewpub in Iowa City, that would be California Sen. Kamala Harris.
At the moment, however, they are resigned to the idea of backing Biden and hoping he will chose her as his No. 2.
"I like her a lot, but I don't think she could win," said Cindy Vander Linden, who added that she and her husband feel similarly about South Bend, Ind., Mayor Pete Buttigieg.
"There are too many narrow-minded people in this country who would not pick a gay. And I don't think people would pick a black woman either. And I feel bad about that."
Biden's hold on such voters may be tenuous. Keeping it could be contingent on engaging in policy fights he is seeking to avoid with more progressive candidates. His campaign approach of floating above the fray, enjoying the privileges of a front runner and proceeding as if his only competition is Trump may not fly with these voters, some Democrats warned.
Just before Biden spoke at his kickoff event in Cedar Rapids on Tuesday, state Rep. Art Staed, a Democrat who represents much of the city, warned that Biden's focus on attacking Trump and promising in general terms to finish work started by the Obama administration could wear thin with voters, who may expect Biden to roll out policy plans as detailed as those of his rivals.
"Everything is not about Trump," Staed said.
In his initial appearances here, Biden strained to show he is uniquely qualified to deliver. There was none of his signature off-topic meandering at the podium, none of his perilously freewheeling conversations with reporters, no infringement on anyone's personal space. The candidate stayed uncharacteristically on script.
Not everything worked. A muted performance in Cedar Rapids hardly got the crowd raising the roof. The campaign's efforts to limit interactions with the media had the feel of Hillary Clinton's overly cautious and controlling operation. At a planned stop at an ice cream shop to which only a handful of reporters were invited, Biden avoided addressing policy questions, even as the policy debate among the candidates has already been raging for months.
Biden has yet to publicly field a question from a voter since hitting the campaign trail Monday.
In Dubuque, however, one of those places that swung heavily from supporting Obama in 2012 to Trump in 2016, the former vice president hit his stride.
"Everybody knows who Donald Trump is," he said toward the end of a stump speech that excoriated the president for his defense of white supremacists, attacks on universal healthcare and tax policies that BIden warned are eviscerating the middle class. "We've got to know who we are."
Even as Biden benefits from nostalgia among many Iowa Democrats for the Obama days and their sense that he could restore that era, his campaign has a very different feel than Obama's did. It is focused less on highlighting diversity and expanding the political map for Democrats than on winning back white, working-class voters in the "blue wall" states in the industrial Midwest and mid-Atlantic.
The promise to bring back a quality of life from decades past has echoes of Trump's pitch to voters, but with a more optimistic tinge.
"If we just get up and remember who in God's name we are, and change this administration, I am optimistic we are better positioned than any country in the world to own the 21st century," he said.
Biden fed off the crowd's enthusiasm. He ripped into the ballooning federal deficit that he warned will ultimately lead Republicans to try to cut Medicare and Social Security.
"This is going to be the battle of our lives," he said. "If I am president, it will not happen."
He talked about how the government could pay the tuition for every qualified person wanting to attend community college by closing corporate tax loopholes. And he went on at length, with affirmation from the crowd of many hundreds, chastising corporations for exploiting the working class. He called for a $15 minimum wage.
The locale and event were perfect for illustrating Biden's contention that he can win back some of the white, working-class voters who left the Democrats for Trump in the last election, some of whom were on hand.
"He would be the only Democrat I would vote for; no one else is even close," said Tracy Steinhoff, a 46-year-old nurse at the Dubuque event who only days before had traveled three hours to Wisconsin to participate in a Trump rally.
"Biden understands what people are going through."
---
Get our Essential Politics newsletter
The latest news, analysis and insights from our politics teams from Sacramento to D.C.
You may occasionally receive promotional content from the Los Angeles Times.