Clinton acknowledges that some voters' dislike of Trump isn't enough for her to count on their votes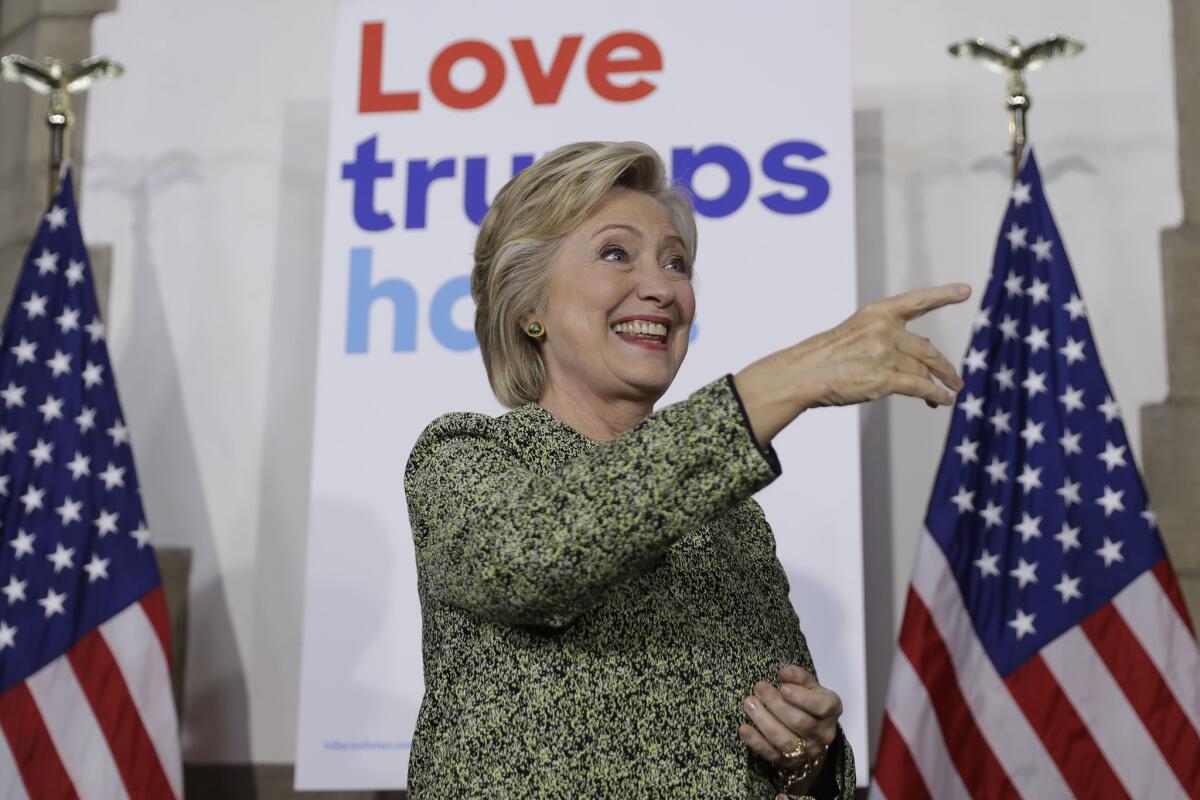 Reporting from Washington —
Hillary Clinton made a direct appeal to young voters to get "off the sidelines" and behind her candidacy with an unusually personal address Monday, conceding she has to overcome doubts that they — and others — still harbor toward her even as they also reject her Republican opponent.
Speaking to 300 students at Temple University in Philadelphia, Clinton, who closely guards her personal life, acknowledged the difficulty of transitioning from a supporting role and service in non-elected offices to advocating for herself as a candidate. She still does not enjoy "doing some of the things that come naturally to most politicians, like talking about myself."
But she shared the lessons she has drawn on throughout her life, particularly from her mother, that inspired her lifelong passion to help children and families, which she said would also be the "passion of my presidency."
"I can't promise you'll agree with me all the time, but I can promise you this: No one will work harder to make your life better," she said. "I will never stop, no matter how tough it gets."
Election 2016 | Live coverage on Trail Guide | Sign up for the newsletter | The race to 270
The address was part of a larger effort by Clinton's campaign to refocus on substance rather than a daily tit-for-tat with Donald Trump. Clinton said the election "shouldn't be about birth certificates or name-calling or stunts to get on the cable news," a reference to Trump's pronouncement Friday that he now believes President Obama was born in the U.S., after years of perpetuating the lie that Obama was born elsewhere.
"We can't get distracted when the media or my opponent turns this election into a circus," she said before launching into the prose of governance — her plans to expand broadband access, install half a billion solar panels and build a new electric grid.
Her address revealed the degree to which Clinton's challenge goes beyond convincing voters to reject Trump and to persuade them to overcome cynicism or frustration with politics and with her that may lead them to vote for a third-party candidate, or not vote at all.
"I know that with Washington paralyzed by big money and partisanship, the gap between the change we want and the progress that politics should deliver can look like a chasm," she said. "I also know that even if you're totally opposed to Donald Trump, you may still have some questions about me. I get that. And I want to do my best to answer those questions."
Campaign officials concede that enthusiasm for Clinton among the millennial generation is not where it needs to be for her to win in some battleground states, and that the speech is part of an effort to ramp up engagement with young voters.
"This generation is the most diverse and resilient generation of our lifetime, and they inspire and challenge us to be better," campaign spokeswoman Jennifer Palmieri said. "That is why Clinton will not only make the case against Trump, but she wants to earn their vote by making the case on why they should vote for her."
That engagement includes campaigning on Clinton's behalf by surrogates like President Obama and Vermont Sen. Bernie Sanders, who have enjoyed stronger support with younger voters in their campaigns.
Clinton was interrupted by applause as she noted her work with Sanders, her erstwhile opponent, on a plan to make public college tuition free for some and debt-free for everyone.
She also drew an extended ovation as she condemned Trump, citing his "long history of racial discrimination in his businesses," promotion of social media messages by white supremacists and his lead role in advocating the so-called "birther" conspiracy against Obama.
"We have to stand up to this hate. We cannot let it go on," she said. "And when we do that, we send a clear message: America is better than this. America is better than Donald Trump."
But the speech — one of several planned over the coming week meant to offer voters a fuller picture of Clinton's vision for the country — appeared likely to be overshadowed by the response to weekend bombings in New York and New Jersey and the apprehension of a suspect.
The former New York senator and secretary of State, echoing an earlier statement, called the events a "sobering reminder that we need steady leadership in a dangerous world."
For more 2016 campaign coverage, follow @mikememoli on Twitter
ALSO:
Michelle Obama's campaign trail debut is a reminder of the enthusiasm other Democrats can inspire for Clinton
Hillary Clinton has millennials' support, and now she's trying to make sure they vote
Hillary Clinton returns to campaigning and says being sidelined at home was 'the last place I wanted to be'
Get our Essential Politics newsletter
The latest news, analysis and insights from our politics team.
You may occasionally receive promotional content from the Los Angeles Times.