Hillary Clinton extends an olive branch to Bernie Sanders while whacking Donald Trump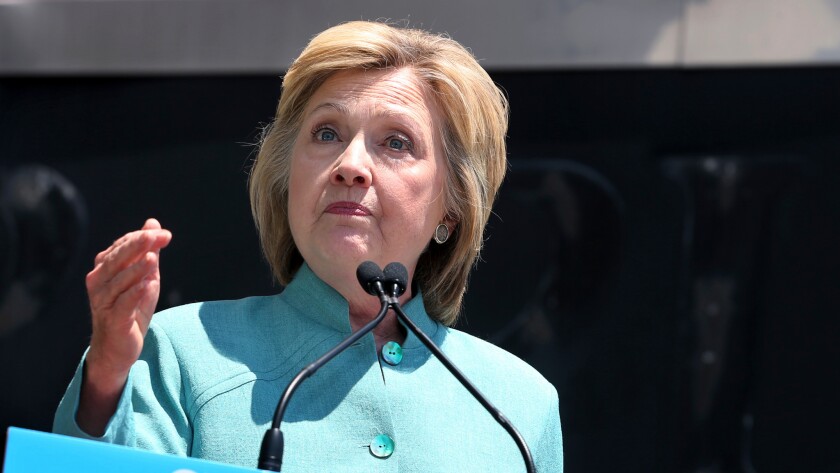 Hillary Clinton moved Wednesday to shore up support from Bernie Sanders and his young fans, significantly expanding her plan for increasing the affordability of higher education, and, in the process, winning praise from her rival.
The move came one day after FBI Director James Comey sharply criticized Clinton but removed the threat of criminal prosecution over her handling of classified information on her private email server while secretary of State. It also showed progress for the two-pronged strategy that Clinton has pursued since clinching the Democratic nomination a month ago.
Clinton has tried to win over Sanders and the bulk of his supporters by accepting some of his campaign priorities.
At the same time, she has hammered Donald Trump, the presumptive Republican nominee, an effort she continued Wednesday in Atlantic City, N.J., where she attacked Trump's track record in the troubled resort town. Clinton accused Trump of cashing in when ordinary workers were hurt.
"Everything falls apart, people get hurt, and Donald gets paid," Clinton said.
Before teeing off on Trump, Clinton's campaign detailed her new college plan, the result of continuing conversations with Sanders.
The biggest proposal would grant tuition-free enrollment at in-state public colleges and universities for students from families making up to $85,000 annually. The income benchmark would increase over four years to $125,000, applying to an estimated 80% of families.
Clinton also plans to use executive action to provide a three-month moratorium on student loan repayments for federal borrowers. The "time-out" would give students a chance to work with the U.S. Department of Education to consolidate their loans and reduce their monthly payments.
The plan received an uncharacteristically warm embrace from Sanders, who has so far declined to formally endorse her. Sanders was supported during the primary by the overwhelming majority of young voters, who often cited his promise of universal free tuition at public institutions. Clinton previously had offered a more limited plan for debt-free college. Her new plan does not go as far as Sanders', whose plan included no income limit, but moves significantly in his direction.
In a sign that Sanders and Clinton are increasingly aligning as the party prepares for its convention later this month in Philadelphia, the Vermont senator said the proposals are "a result of the work of both campaigns."
The Sanders campaign also took the unusual step of distributing a news release praising Clinton.
"This proposal, when implemented, will revolutionize the funding of higher education in America, improve the economic future of our country and make life immediately better for tens of millions of people stuck with high levels of student debt," Sanders said in the statement.
After often criticizing Clinton for not thinking big enough during the primaries, Sanders called her plan a "bold initiative."
The Clinton campaign did not say how much the new proposals would cost. They said it would be paid for by closing tax loopholes related to Wall Street, but did not provide details. The campaign had estimated that its previous plan would cost $350 billion over 10 years. Sanders' campaign had estimated the cost of his free-tuition plan at $750 billion over the same period.
Meanwhile, pressure on Sanders to throw his full support to Clinton has been mounting. When he met with House Democrats on Wednesday, there was grumbling and even some heckling as he avoided a specific timeline for an endorsement.
Clinton's attack on Trump, later in the day, focused on his checkered past in Atlantic City, where he owned multiple casinos, endured bankruptcies and fought with the banks which loaned him money. Clinton said voters should be wary when the presumptive Republican nominee says he would apply his business skills to the presidency.
"I want you to understand what he did here in Atlantic City is exactly what he would do if he wins in November," she said.
Clinton was introduced at Wednesday's event by Marty Rosenberg, whose company installed windows at a Trump casino. He said the company lost hundreds of thousands of dollars when it was stiffed along with many other contractors.
It was "the cost of doing business with Donald Trump," Clinton said.
Trump quickly responded to Clinton's speech, issuing a statement saying he "built a tremendously successful business" and defending his bankruptcies as a common practice.
"I created thousands of jobs and made a lot of money in Atlantic City, which was what, as a businessman, I am supposed to do for my company and my family," Trump said.
Times staff writer Lisa Mascaro contributed to this report.
Twitter: @chrismegerian
ALSO
Updates on California politics
Updates from the campaign trail
House Democrats boo Bernie Sanders for his delay in endorsing Clinton
Why the FBI concluded Hillary Clinton's email practices did not rise to the level of criminal charges
---
Get our Essential Politics newsletter
The latest news, analysis and insights from our politics team in D.C.
You may occasionally receive promotional content from the Los Angeles Times.