The people at Clinton's election night party wanted to celebrate. Their plans changed.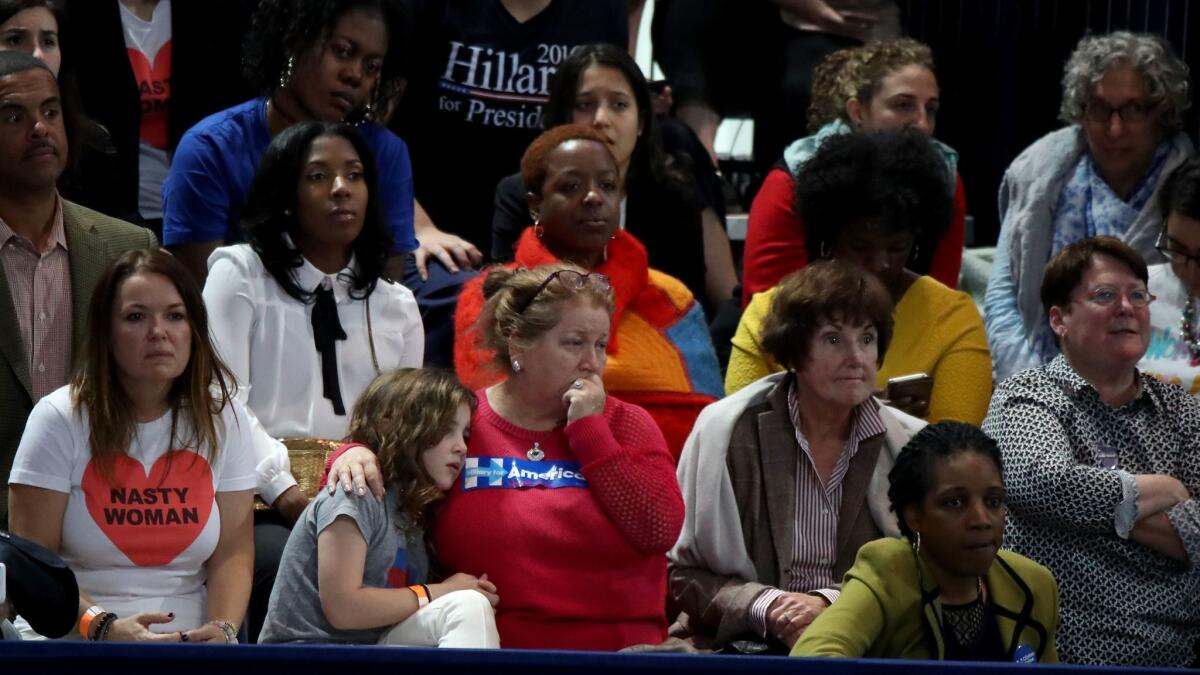 Reporting from New York —
The presidential race wasn't officially over, but Nan Hoffman and her husband were already heading for the exit at what was supposed to be Hillary Clinton's election-night victory party here Tuesday.
"We can't bear to be here anymore," said Hoffman, 70. She had canvassed for Clinton, made phone calls and donated money to her campaign. On her way to the Javits Center, the convention hall that Clinton had chosen to celebrate her potentially historic night, she paid $5 for a shirt that said, "It's a man's world, but a woman should run it."
Now, she planned to "go home and cry."
Clinton's poor showing looked increasingly like a loss as they left. That outcome was no mere disappointment for her supporters, but a reality-altering, mind-warping defeat. The polls had shown Clinton winning. The pundits assured them it was all but certain. And besides, they said, Americans wouldn't really elect Donald Trump, would they?
"We're just incredibly disillusioned by the country," Hoffman said.
The Clinton campaign had chosen the venue for its election-night event because of the glass ceiling over its atrium, representing the barrier she wanted to shatter by becoming the first woman to be elected president. On Tuesday night, its looming presence became a taunt, a reminder of her stunning failure.
Reality set in slowly over the course of the night as Trump piled up battleground states and Clinton's so-called firewall weakened. As results started rolling in, Mark McMahon stood near the back of the crowd at the party, balancing an oversized sketchpad on a metal railing as he drew the scene in front of him.
Trump hadn't yet won Florida and its 29 electoral votes, but McMahon was already unnerved.
"I thought it was going to be a done deal early," he said. "I can't believe it's as close as it is."
McMahon pulled out a color drawing he completed after the Democratic National Convention. Red, white, and blue balloons showered Clinton on stage as she became the first woman to be nominated by a major political party.
He was still hopeful that his final artwork from Tuesday night would depict a scene just as joyous.
Nearby, former Democratic Party Chairwoman Debbie Wasserman Schultz was checking her smartphone over and over, looking for results from her home state of Florida.
There were expectations that a surge of Latinos at the ballot box would push Florida into Clinton's column, but Trump was leading on the strength of turnout from white voters in rural areas.
"We're kind of hanging on the edge of our seat here," she said.
Florida would fall to Trump, one of the Republican's first significant victories of the night.
At one point, New York Gov. Andrew Cuomo stepped up to the microphone and asked the crowd, "Are we fired up?"
The crowd cheered meekly, struggling to mask own anxiety. It was becoming clear the election may not end with the decisive victory they wanted — maybe not a victory at all.
"It's looking very iffy right now," said Makeda Bunsie, 40, a court clerk who lives in New York.
She predicted she would be "totally devastated" if Clinton lost.
"It's disappointing to know my fellow Americans want this future for us," she said — a future she described as "apocalyptic."
Bunsie was not the only black woman present who feared a future under Trump, who stoked racial anxieties in his appeal to white voters alienated in an increasingly diverse country.
"I'm more worried about his supporters," said Casie Patterson, 33. She considered them erratic and possibly violent, and worried they would become emboldened by a Trump victory.
"A lot of people don't believe racism is real," Patterson said. "This election shows it's dangerous and real."
The night dragged on, and supporters began sitting on the floor, staring into space with glassy eyes. Large swaths of the atrium had emptied out.
Clinton herself was nowhere to be seen. She remained huddled with advisors and her family at a nearby hotel, where she was working on a speech and watching the results.
Her 2-year-old granddaughter, Charlotte, was wearing a dress with the campaign's "H" logo.
A campaign aide had told reporters earlier in the night that it was "very adorable."
Twitter: @chrismegerian
How Donald Trump put together such a strong showing in the presidential election results
Californians vote to legalize recreational use of marijuana in the state
Get our Essential Politics newsletter
The latest news, analysis and insights from our politics team.
You may occasionally receive promotional content from the Los Angeles Times.