GOP wants to deliver border funding for Trump, but will it trigger a government shutdown?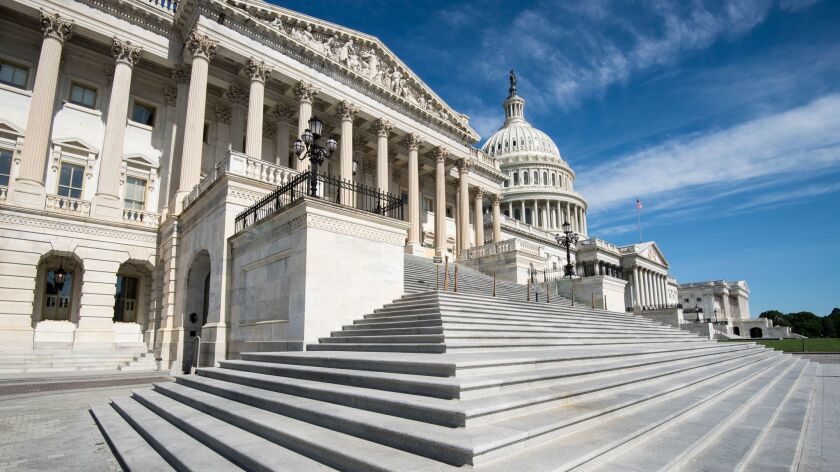 Reporting from Washington —
Republicans on Capitol Hill are going to try one last time to deliver President Trump funding for his border wall as part of a key government spending bill that needs to pass within three weeks.
Newly emboldened Democrats, who are slated to take over the House in January, are largely opposed to the effort, setting up the potential of a messy fight and a partial government shutdown.
The border wall is the most controversial item on Congress' year-end to-do list. Lawmakers will return to Washington after Thanksgiving with hopes of enacting the spending bill, as well as a farm subsidy bill and perhaps tackling bipartisan, sweeping legislation to reform prison sentences for drug offenses.
Funding to address the California wildfires and controversial legislation to protect special counsel Robert S. Mueller III from being fired could also be worked into the spending bill.
Washington lawmakers will have just three weeks remaining in their lame-duck session — the period between election day and the start of the new Congress in January. In some years, the party controlling the White House or Congress uses these weeks to push through big or controversial pieces of legislation because lawmakers won't face voters for another two years and some have just lost their seats altogether, making them more willing to make difficult votes. But that appears unlikely this year.
Senate Majority Leader Mitch McConnell (R-Ky.) says a government shutdown won't happen, but its fate likely rests with Trump. The president will have to decide how aggressively Republicans should push to deliver on the wall, a key competent of his 2016 campaign. The spending bill, which needs to pass by Dec. 7, will most likely be Trump's last chance to get wall funding before Democrats take control of the House.
"I think this gets down to what the president is willing to accept," said Rep. Tom Cole (R-Okla.). "You're not going to get Republicans in the House to put anything on his desk that he doesn't want to sign. Our guys will just [pass a stop-gap bill] and move out and then the Democrats and the president can fight over it next year if we can't come to an agreement."
A House bill would fund $5 billion for the U.S.-Mexico border wall and national security, while the Senate wants to fund $1.6 billion. House Majority Leader Kevin McCarthy (R-Bakersfield) has introduced a bill to fully fund the wall at $23.4 billion.
Republicans are floating the idea of pairing border wall funding with something Democrats want: protections for young adults who arrived illegally in the United States as children, known as Dreamers. But Democrats say there are no active negotiations and dismissed the idea of giving Trump his wall just weeks after the midterm elections in which they made major gains in the House.
"There's probably an opportunity to boost border security in general, but there's no way, nobody here is going to vote for a wall," said Rep. John Yarmuth (D-Ky.) "Twenty-five billion dollars for a wall? No way, that ain't happening. Five billion, who knows, possibly."
The funding bill covers the Department of Homeland Security, the Internal Revenue Service, the National Park Service and other agencies. Earlier this year, lawmakers passed legislation to fund most of the rest of the government, except for these agencies.
If Republicans and Democrats can't find a deal before funding needs to be renewed on Dec. 7, they could pass a short-term plan to continue funding at current levels or risk shutting down a portion of the government. Homeland Security would remain operating without a budget.
Other priorities could get tucked into the spending bill, including aid for California wildfire recovery, although it is unclear whether the money would be included in this bill or in an emergency spending bill in early 2019.
House Minority Leader Nancy Pelosi (D-San Francisco) also wants to include in the spending bill protections for Mueller, who is leading the probe into Russian interference in the 2016 election, whether Trump's campaign participated in that effort and whether Trump tried to interfere with the subsequent probe.
But most Republicans don't like the idea. McConnell and others say it is not needed.
"It's unconstitutional, I'm not for it and it's a dangerous place to be," said Sen. Roy Blunt (R-Mo.), adding that the Supreme Court ruled in the early 1900s that the Senate couldn't dictate executive branch decisions about firing employees. "Somebody has to be in charge of the executive branch and it's not us."
Separately, a bipartisan group of lawmakers is hoping to push through a criminal justice reform package before Congress leaves for the year.
The criminal justice bill would change the way the federal government treats drug-related offenses. It would increase access to services and reduce some sentences for people currently serving prison terms and create exemptions from mandatory minimums that critics say are far too harsh. The bill's supporters — both Republicans and Democrats — say it is a first step toward reversing mandatory sentences enacted in the 1990s that have led to prison overcrowding and skewed sentences for African Americans, such as treating different kinds of cocaine offenses dramatically differently.
Trump has endorsed the package, support that could spur the legislation to advance quickly.
But some on Capitol Hill are skeptical it could move fast enough. Three weeks is not a significant amount of time in Congress, especially in the Senate, where one lawmaker can easily tie up the floor for days.
"I'm a little skeptical of our ability to do that in the lame duck, absent consent" from all 100 senators, said Sen. John Cornyn (R-Texas), the No. 2 Republican in the Senate. "I am a little hesitant to say we're going to get it done in a lame duck because nothing happens quickly around here."
Another item on Congress's to-do list is the farm bill, which would fund farm subsidies and the nation's food assistance program for the needy. House Republicans want to add new work requirements for some people who receive benefits from the Supplemental Nutrition Assistance Program, previously known as food stamps. The Senate did not add them.
Senate Agriculture Committee Chairman Pat Roberts (R-Kan.) said the final version will be a compromise between the two policies.
The final priority for Congress is finalizing plans to overhaul the sexual harassment reporting policies and systems on Capitol Hill. A version of the bill passed the House and the Senate version has languished for months.
This week, former and current Capitol Hill staff urged Congress to move the bill before the year ends, when their efforts would have to begin again from scratch.
jennifer.haberkorn@latimes.com
---
Get our Essential Politics newsletter
The latest news, analysis and insights from our bureau chiefs in Sacramento and D.C.
You may occasionally receive promotional content from the Los Angeles Times.