Democrats face internal rift as progressives condemn a policy to protect incumbents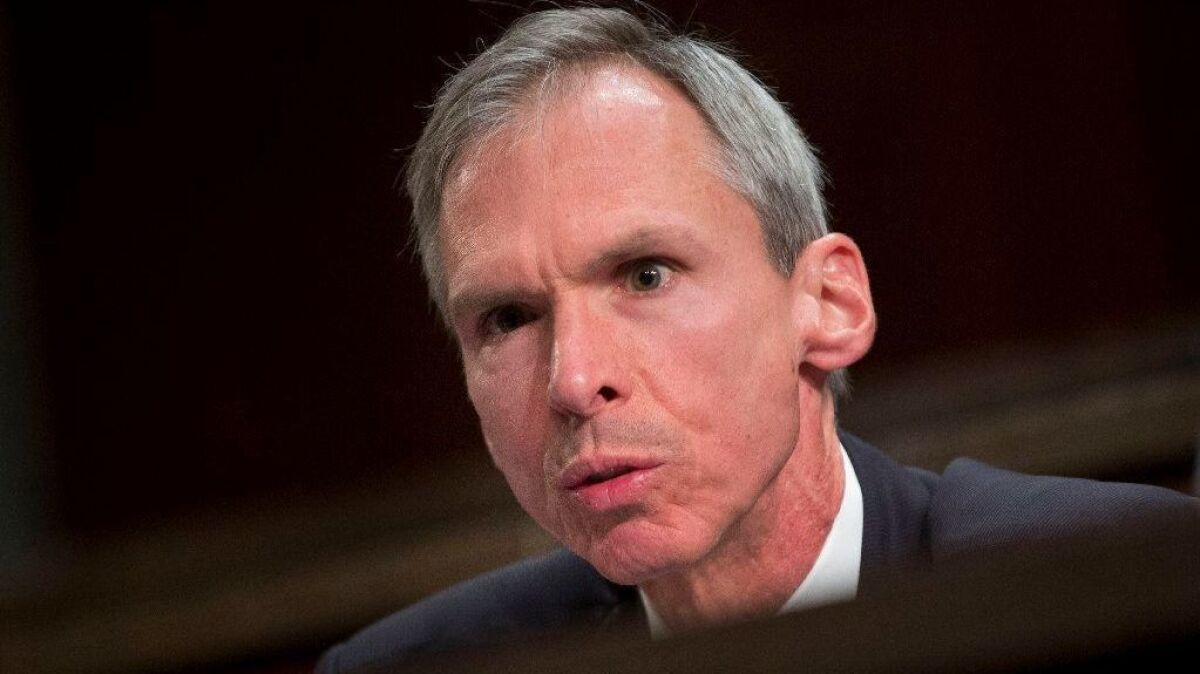 Reporting from La Grange, Ill. —
A move by House Democratic leaders to protect incumbents is reigniting anger and suspicion among the party's progressives ahead of the 2020 election.
Under a new policy, the powerful Democratic Congressional Campaign Committee will refuse to hire pollsters, ad makers or other campaign consultants if they also work with a candidate trying to defeat a sitting Democrat in a primary.
The rule is designed to prevent divisive primaries. But many progressives see it as another move by the Democratic establishment to bully and marginalize the party's growing liberal wing, and some moderates also object.
To some, the change is reminiscent of the revelation that the Democratic National Committee favored Hillary Clinton over Sen. Bernie Sanders in the 2016 presidential primary, a rift that left the party weakened in the general election. And instead of downplaying primary battles, the rule is shining national attention on some key races, particularly a Chicago-area standoff between two Democrats.
"This is a party that should stand for competition, exchange of ideas … and allowing for fair elections. This undercuts that," said Rep. Ro Khanna (D-Fremont). He said the policy relies on the kind of monopolistic powers that Democrats often criticize big businesses for using.
Progressives immediately lashed out when word of the policy spread in March, but they're not the only ones concerned.
"I just don't think it's appropriate," said Rep. Zoe Lofgren (D-San Jose), a widely respected veteran lawmaker.
Win back Trump voters or rally the base? Democrats wrestle with 2020 strategy in Michigan »
Critics warn the policy is not only tone-deaf in light of the 2016 tensions between progressive and establishment Democrats, it threatens to alienate some of the party's youngest and most energetic supporters. More than 70 chapters of the College Democrats are boycotting the Congressional Campaign Committee over the policy.
Rep. Alexandria Ocasio-Cortez (D-N.Y.), the high-profile House freshman who defeated an incumbent who was a House Democratic leader, encouraged supporters to "pause" donations to the campaign committee and instead donate directly to candidates.
Rep. Ayanna Pressley (D-Mass.), who also defeated a party incumbent, said the policy would "threaten to silence new voices and historically marginalized communities."
Congressional Campaign Committee officials and senior House Democrats, including Speaker Nancy Pelosi (D-San Francisco), defend the policy, saying the group's business is to protect the House majority and incumbent Democratic lawmakers, no matter where they fall on the political spectrum.
So far, the new policy is playing out most dramatically in a southwest Chicago congressional district that has come to embody the national battle over the party's identity.
There, in a district that includes a slice of the city and its southwest suburbs, a progressive Democrat — with the backing of several progressive groups — is trying for the second time to oust one of the House's most conservative Democrats in the 2020 election.
Marie Newman, who came within 2 percentage points of unseating Rep. Dan Lipinski in the Democratic primary last year, said the rule has undercut her campaign.
She can't find any pollster who is willing to work with her, and at least four consultants have started and later halted the interview process. For most Democratic political operatives, the idea of not being able to get business from the party's campaign committee is too significant a risk, she said.
"We're a democracy, and we shouldn't be putting any thumbs on any scales," Newman said, adding that the committee is "protecting [Lipinski] to the point where it's a little bit silly."
Democrats go bold on economic plans, a deliberate contrast to 2016 »
Progressives are particularly appalled that the Congressional Campaign Committee would protect Lipinski's seat when — they argue — it could be held by a Democrat whose values are more in line with the national party's.
Lipinski, who has held the seat since 2005, voted against the Affordable Care Act in 2010, opposes abortion rights, and is the only House Democrat who hasn't cosponsored the Equality Act, which would extend civil rights protections to LGBTQ people.
"If we don't allow for a challenge to a Democrat who opposes the ACA, opposes Roe vs. Wade and opposes the Dream Act, then what do we stand for as a party?" Khanna said.
Lipinski had opposed the Dream Act, which sought to protect immigrants brought to the U.S. illegally as children. But in 2017, he said he would support later versions of the bill, and has cosponsored the Democrats' latest version, which is expected to get a vote this year.
Newman — who won endorsements in 2018 from Sanders (I-Vt.), Sen. Kirsten Gillibrand of New York and two of Lipinski's fellow Chicago-area House Democrats — argues that she's the "real Democrat" in the race.
Lipinski says his views are more in line with the district, which has a strong union population and is heavily Catholic and increasingly Latino. He argues that the district is made up of what had been known as "Reagan Democrats" — not the progressives who are getting much of the attention in Congress today.
He expressed worry that the party risks going "too far to the left" and cited Pelosi's support for being a "center-left" party.
A shift to the left pulls Democratic candidates in different directions for 2020 »
Pelosi "wants to focus on getting things done in the House and having the best ability for us to defeat President Trump in 2020," he said in defense of the campaign committee's policy. "She understands. The [committee] understands. We need to do what we can to try to keep the party unified."
The progressive backlash against the policy has helped Newman give the race a national profile. She said she's seen a "40% lift" in fundraising in recent weeks as word of the policy spread among progressive activists. After Democracy for America endorsed her late last month, she raised more than $68,000 in 10 days; the average donation was about $20, and about 85% of the money came from outside the state.
"The nation cares about this very ill-fitted congressman who is calling himself a Democrat when he is really a Republican or independent," Newman said.
On Monday she received the endorsement of several liberal organizations, including the abortion rights groups Emily's List and Planned Parenthood and political groups MoveOn and Progressive Change Campaign Committee.
Both sides say the party's Congressional Campaign Committee has always had an unwritten rule that it didn't work with political operatives who tried to oust incumbents. Supporters of the policy say the practice is merely more transparent now.
Progressive lawmakers and groups have met with the committee chairwoman, Rep. Cheri Bustos (D-Ill.). Several progressives, including Congressional Progressive Caucus Co-Chairwoman Pramila Jayapal (D-Wash.), say they think Bustos is open to changing or reversing the policy.
"I think we could come up with something that reflects our values and not hurt us either with individual candidates but also with our base," Jayapal said.
Additional meetings are expected. But a spokesman for the Democratic Congressional Campaign Committee said the policy is not going to change.
Get our Essential Politics newsletter
The latest news, analysis and insights from our politics team.
You may occasionally receive promotional content from the Los Angeles Times.