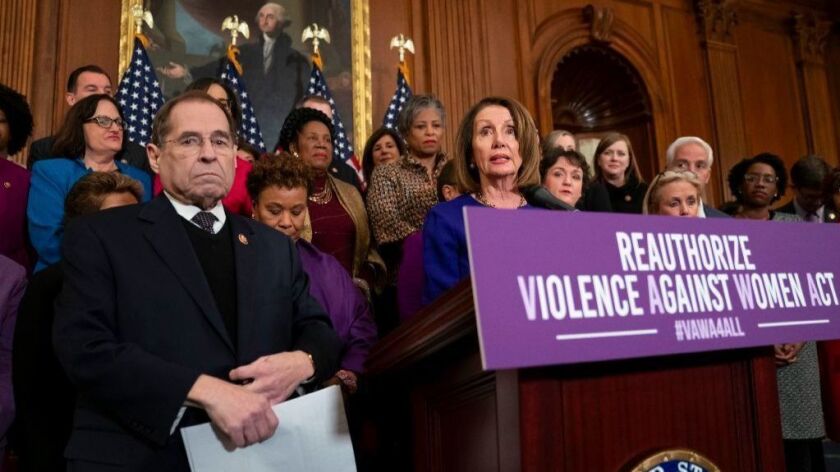 Reporting from Washington —
House Democrats on Thursday passed a new, stronger version of the Violence Against Women Act, which expired in mid-February and needs to be reauthorized to ensure vital funding for shelters and police departments.
But the bill's prospects in the Senate remain unclear as some Republicans complain the changes go too far, including a provision that would ban gun sales and ownership by a person convicted of stalking.
The bill passed 263-158, with all but 33 Republicans voting no.
Republicans had offered in February to reauthorize the landmark 25-year-old Violence Against Women Act through this fall as a part of a spending deal to prevent another partial government shutdown.
But Democrats rejected the offer, gambling that letting the act expire would pressure their GOP colleagues into accepting more sweeping changes.
Rep. Karen Bass (D-Los Angeles), the bill's sponsor, said that changes were needed to the 2013 reauthorization of the law that would not have been possible by simply renewing the previous version. "If we had done that, then we wouldn't have been able to expand where we needed to," Bass said.
And Democrats hope Republicans won't want to be seen as voting against an anti-domestic-violence program. "If the pressure had been off, there's no way it would have happened," she said.
Some advocates questioned the wisdom of letting the act expire, but Ruth Glenn, president of the National Coalition Against Domestic Violence, agreed it was time to expand the law.
"The Violence Against Women Act, like any rule or law, should always be reevaluated," Glenn said. "We should always look at it from the lens of how can we make it better?"
The law's expiration in February had little immediate effect on police departments and domestic violence shelters that are still using millions of dollars in previously issued grants, Glenn said. But there is uncertainty about where money will come from in the future, she said.
When the law previously lapsed between 2010 and 2013 — over arguments about protections for same-sex couples and immigrants — congressional appropriators provided the money anyway, Glenn said. But there is no guarantee they'll do the same this time.
The House bill increases penalties for stalking a child and makes it a federal crime for a federal law enforcement officer to have sex while in the course of their official duties, regardless of whether it is consensual or not.
House and Senate Republicans have concerns about a change that prohibits someone from owning or purchasing a gun if they are convicted of stalking or if they are subject to a restraining order filed by a person they are dating or have dated. There is currently a ban on gun possession or purchase when a restraining order is filed by a spouse, child or cohabitating partner.
Stalking is a misdemeanor, and the National Rifle Assn. has said that prohibiting someone from purchasing a gun because of a misdemeanor conviction is too extreme. The gun-rights organization said it will be watching closely to see how lawmakers vote on the bill.
Some Republicans have also raised concerns that the bill gives Native American tribes more criminal jurisdiction to handle domestic violence that occurs on their land.
House Republicans, meanwhile, moved Thursday to reauthorize the previous version of the law through 2020 without making any changes, saying it would make sure women are protected.
"Speaker Pelosi and House Democrats have made it a partisan issue," Rep. Elise Stefanik (R-N.Y.) said. "Can we stop playing political games at the expense of vulnerable women?"
That effort also failed, largely along partisan lines.
When and if the bill will be considered in the Republican-controlled Senate is unclear.
The Senate hasn't taken up many of the half-dozen Democratic priorities passed by the House in the last three months, such as universal background checks for gun purchases. Senate Republicans have been critical of House Democrats for not agreeing last month to keep the Violence Against Women Act in place.
Rep. Tom Cole (R-Okla.) said the bill passed by the House on Thursday will join the pile of bills being ignored by the Senate.
"I think [Democrats] like the politics of it, but at some point, the politics has to stop," Cole said. "It's not going to get through the Senate, it's not going to be passed by the president. So at some point, you have to decide: What do we really want to do?"
Sens. Joni Ernst (R-Iowa) and Dianne Feinstein (D-Calif.) announced in early March they were working together on their own version of the act, but they haven't filed legislation yet.
Congress has reauthorized the act three times since it first passed in 1994, all by broad bipartisan margins.
With the 2020 election looming, Bass said she expects the Senate will take it up. "Are all those senators up for reelection really going to vote against the Violence Against Women Act?" Bass said. "I think we have a shot in the Senate."
---