Congress will try again on immigration reform — but will this time be different?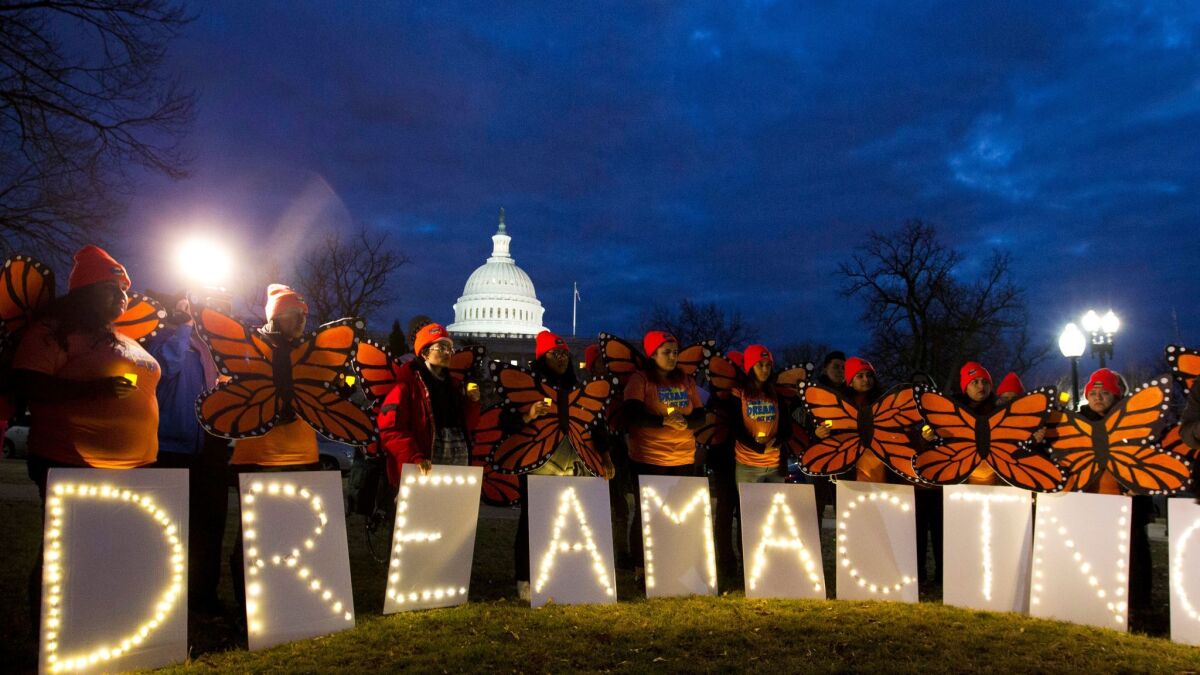 Reporting from Washington —
As Congress searches for a deal to protect so-called Dreamers from deportation, there are parallels to 2013, when immigration legislation won widespread support in the Senate only to be roundly ignored in the more conservative, Republican-led House.
But for all the similarities to that undertaking, there are also stark differences this time around in the politics, players and public opinion, which bring a new dynamic as lawmakers once again try to tackle immigration.
On Tuesday, Congress got to work on relief for the nearly 700,000 Dreamers, young immigrants who grew up in the United States after arriving illegally as children, and who now face possible detention and expulsion. President Trump plans to end the program protecting them on March 5, though a federal judge has ordered that it remain in place pending a court challenge.
As part of the agreement to end the federal shutdown this week, Congress gave itself less than three weeks to resolve the issue before the next shutdown threat, Feb. 8, when temporary funding to run the government expires.
"Now, there's a deadline. Kids'll be deported or lose their job or lose their schooling," said Sen. Jeff Flake (R-Ariz.), who was a member of the original "Gang of Eight" senators who crafted the 2013 deal and is at the center of this effort. "That's the forcing mechanism. That's why it's different."
Many immigration advocates were displeased with the deal to reopen the government, fearing it created little incentive for Republicans to compromise with Democrats on immigration, which was a problem in 2013, too.
At the time, the bipartisan Gang of Eight helped pass a bill that, after weeks of hearings and debate, collapsed without consideration in the House under the weight of Republican opposition to President Obama and any hint of "amnesty" for those here illegally.
Then-House Majority Leader Eric Cantor lost a primary election to an unknown newcomer, Rep. Dave Brat (R-Va.), in part over Cantor's willingness to consider help for the very youngest Dreamers, those in kindergarten. Then-House Speaker John A. Boehner (R-Ohio) quickly abandoned the immigration bill, but he, too, was later pushed to resign by his party's conservative flank.
Much of that standoff in Congress remains. A bipartisan group of senators, who represent states rather than narrowly tailored House districts, are working on a compromise, while House Speaker Paul D. Ryan (R-Wis.) has assured the conservative House Freedom Caucus — which helped oust Boehner — that he will not bring up an immigration bill that does not have support from a majority of House Republicans.
"We have a decent shot to get something through the Senate. We have no shot to get something in the House," said Frank Sharry, executive director of the immigrant advocacy group America's Voice. "But if we pass something in the Senate, it puts pressure on Trump to do something."
Unlike 2013, Republicans now have majority control of the House and the Senate, and a president from the same party in the White House.
The president has given mixed views on immigration, but has said he wants to do something "nice" for Dreamers, despite his harsh rhetoric and actions toward immigrants and his promise to build a wall on the border with Mexico.
Confused senators jokingly speak about the "Tuesday president" and the "Thursday president" — referring to the week when Trump welcomed lawmakers to the White House for a well-received televised immigration meeting in which he embraced a bipartisan "bill of love," only to follow that up two days later by rejecting a compromise and making vulgar comments about excluding immigrants from poorer countries.
After the cameras clicked off at that Tuesday meeting, Sen. Robert Menendez (D-N.J.), another member of the 2013 gang, said he appealed to the president's place in history.
"I said to him, 'Nixon went to China. He was the ultimate anti-communist and he could do that. Ronald Reagan was against all taxes and ended up raising taxes to meet the nation's needs,'" Menendez said in an interview.
"I said, 'You have the political capital to actually do something, and do something big," Menendez said.
The president, he said, responded, "We want to make a deal."
"He didn't say which deal — but 'We want to make a deal,'"
The outlines of a potential agreement are within reach for Congress, but would require both sides to accept politically painful compromises that they, as of yet, are not willing to make publicly.
An agreement would center on protections for the Dreamers in exchange for border security, including money for Trump's border wall, and changes to family and diversity visas.
A bipartisan group led by Sens. Lindsey Graham (R-S.C.) and Richard J. Durbin (D-Ill.), also members of the 2013 gang, proposed such a bill, but it was roundly rejected by Trump. The White House dismissed it Tuesday.
Senate Minority Leader Charles E. Schumer (D-N.Y.) sweetened the offer ahead of the shutdown by putting Trump's $20-billion border wall request on the table, a concession that drew outrage from liberal Democrats, even though the White House disputes it was ever made.
But Trump walked away from that deal, and Schumer said Tuesday that negotiations were starting anew. "The wall offer is off the table," he said.
The contours of what is under discussion now are more modest than in 2013.
At that time, the Senate agreed to offer some 11 million immigrants here illegally a path to citizenship, which would take 13 years for most, though Dreamers could qualify in less time. In exchange, the Senate approved a $46-billion border surge — with 24-hour drones, fencing and 20,000 new border patrol officers — all funded not by current citizens, but from the fines and fees the immigrants would have to pay on their path to legal status.
Trump has indicated he has interest in a big deal like that — one that could go beyond the Dreamer issue and make more comprehensive fixes to immigration law.
Lawmakers are game, but also mindful of first steps.
"Dreamers are like the motherhood and apple pie of immigration," Menendez said. "If you can't do Dreamers, forget about a bigger deal."
To read the article in Spanish, click here
ALSO
Trump signs bill to reopen government — for three weeks — after bipartisan deal
Trump is transforming the GOP against legal immigration. Will Congress follow?
Is this small-town congressman from New Mexico tough enough to win Democrats the House majority?
---
Life is stressful. Our weekly mental wellness newsletter can help.
You may occasionally receive promotional content from the Los Angeles Times.