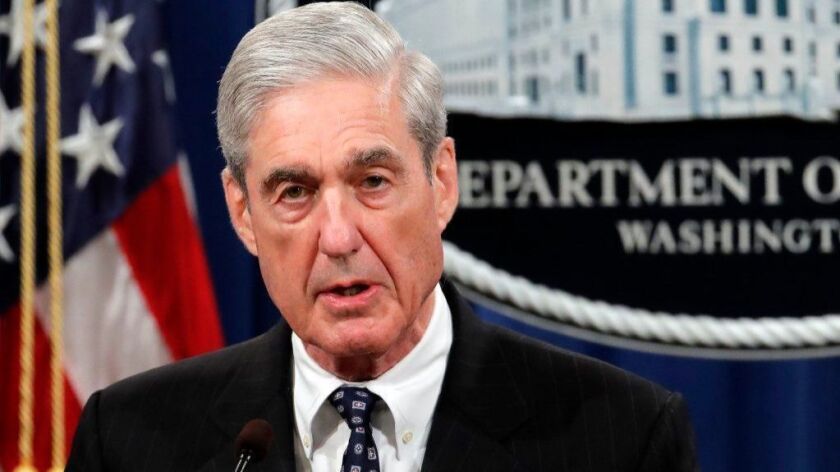 Reporting from Washington —
Former special counsel Robert S. Mueller III's testimony before two House committees was postponed Friday by one week until July 24 and will last longer than the approximately four hours originally allotted.
The delay came after Mueller asked House leaders for more time to prepare his testimony for the back-to-back hearings by the House Intelligence and Judiciary committees.
House officials used the request to negotiate for Mueller to spend more time sitting in the hot seat before lawmakers, according to sources familiar with the discussions.
House leaders had agreed last month to have Mueller testify before the two committees for two hours each, relatively short by congressional standards.
Rank-and-file lawmakers of both parties pushed back when it became clear they would not get enough time to discuss all the questions surrounding Mueller's report or give all 41 members of the Judiciary Committee a chance to ask questions.
Mueller's request, the congressional sources said, prompted House officials to propose adding more questioning time in exchange for the delay.
"At his request, we have agreed to postpone the hearing for one week, until July 24," Judiciary Chairman Jerrold Nadler (D-N.Y.) and Intelligence Committee Chairman Adam B. Schiff (D-Burbank) said in a statement Friday.
"All members — Democrats and Republicans — of both committees will have a meaningful opportunity to question the special counsel in public," they said.
Schiff said this week that Democratic leaders initially had agreed to the shortened time frame because the alternative was to take their subpoena to court, which could have delayed Mueller's testimony for months.
Mueller will appear before the Judiciary Committee at 8:30 a.m. Eastern and before the Intelligence Committee at noon.
Mueller has made clear that he does not wish to appear before Congress and is only doing so in response to the subpoena.
For Democrats, the stakes couldn't be higher.
They view Mueller's hearing as a significant opportunity to move public sentiment toward impeachment proceedings against President Trump.
Democrats believe far more Americans will view a clip of Mueller's testimony than read his complex, 448-page report summarizing his investigation of Russian interference in the 2016 presidential election and the president's attempts to stymie subsequent investigations.
"Probably 99.9% of American people have not read the report. And maybe the same percentage of congresspeople," quipped Rep. Hank Johnson (D-Ga.), a member of the House Judiciary Committee.
Combating a public perception that the report exonerated Trump, as the president has repeatedly claimed, Democrats aim to give Mueller an opportunity to correct the record.
"We simply want to bring the report to life, and if Robert Mueller would simply, on live TV, highlight the important parts of the report, that would be very helpful to the American people," said Rep. Ted Lieu (D-Torrance), a member of the Judiciary Committee.
---