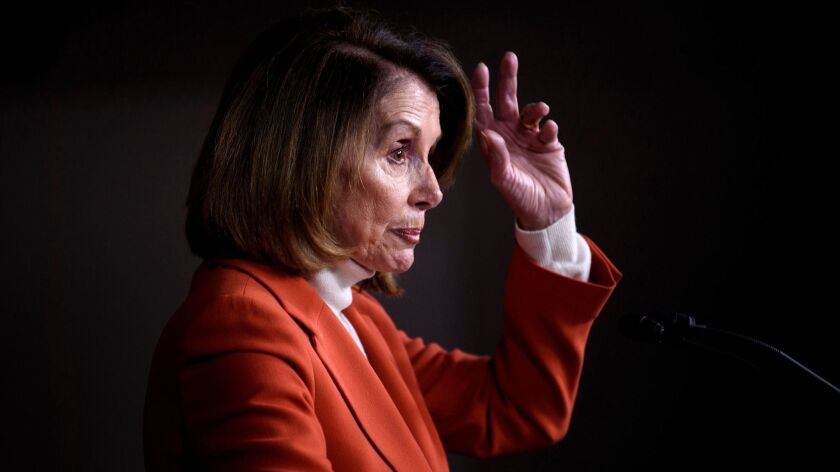 Reporting from Washington —
The only Democrat publicly considering a challenge to Minority Leader Nancy Pelosi for the House speakership abruptly announced Tuesday that she would support the San Francisco Democrat instead, after being given a new committee chairmanship.
It was a setback for the Democratic rebellion trying to block Pelosi from regaining the speaker's gavel, and a reminder of her effectiveness at sidelining opposition. It showed Pelosi is willing to use an aggressive strategy to flip her opponents, including doling out coveted committee assignments.
The decision by Rep. Marcia L. Fudge (D-Ohio) to step aside comes as Rep. Seth Moulton (D-Mass.), another prominent member of the anti-Pelosi faction of Democrats on Capitol Hill, was shouted down at a town hall meeting Monday over his stance on Pelosi. Some protesters blamed his opposition on sexism, an allegation he has denied. And on Wednesday, another Democrat who had vowed to oppose Pelosi, Rep. Brian Higgins of New York, reversed course — another sign of promise for the minority leader.
Fudge was named chairwoman of the soon-to-be-restored House Administration Subcommittee on Elections, which will work on protecting voting rights.
"I look forward to working with Chairwoman Fudge in this new role as we advance our efforts to offer all Americans a better deal for our democracy," Pelosi said in a statement.
Fudge made clear that the committee job and her support for speaker were linked.
"Leader Pelosi has granted me the opportunity to [do work so that] the protections of the Voting Rights Act will be reinstated and improved," Fudge said in a statement. "She has also assured me that the most loyal voting bloc in the Democratic party, black women, will have a seat at the decision-making table. I am now confident that we will move forward together and that the 117th Congress will be a Congress of which we can all be proud. I now join my colleagues in support of the leadership team of Pelosi, [Rep. Steny H.] Hoyer and [Rep. James E.] Clyburn."
Pelosi has launched an aggressive campaign, currying endorsements from Democrats in various House factions and advocacy groups. Former President Obama praised her Tuesday but didn't explicitly endorse her on the podcast of his longtime advisor David Axelrod.
Fudge had been a high-profile member of the anti-Pelosi movement among House Democrats and the only person who had publicly hinted at challenging her. The group argues that new leadership is needed at the top of the caucus, which Pelosi and her two lieutenants have led for over a decade.
Pelosi said before the election that she wants to be a transitional leader — hinting at an impending retirement — but that hasn't been enough to fully quash her opposition in the Democratic ranks.
Still, the former speaker faces a math problem. Sixteen Democrats signed a letter released Monday promising to not support Pelosi on the House floor. (Fudge was expected to be on the letter but did not sign it.)
Higgins was one of the signers on the letter. He told the Buffalo News on Wednesday that he agreed to support Pelosi after she assured him that one of his key issues — infrastructure — would be a priority and that he would be a lead voice on a pet cause, allowing people to buy into Medicare at age 50. Neither is a much of a concession; Democrats had already made clear they intend to support an infrastructure plan.
Still, several other Democrats have pledged to vote against Pelosi but did not sign the letter, including Rep.-elect Abigail Spanberger of Virginia and Rep. Conor Lamb of Pennsylvania.
And there are other Democrats who expressed skepticism of Pelosi during their campaigns but didn't draw a hard line.
Rep.-elect Gil Cisneros said during his California race against Republican Young Kim that he supports new leadership. His campaign manager left the door open for Cisernos to vote with his fellow Californian.
"He supports new leadership and is waiting to see how the leadership race shakes out," his campaign manager, Nic Jordan, said.
Depending on the results of the last uncalled House races, Pelosi will be able to lose just 14 to 19 Democratic votes on the House floor when Congress picks a new speaker in January.
Times staff writer Christine Mai-Duc in Los Angeles contributed to this report.
jennifer.haberkorn@latimes.com
Twitter: @jenhab
---
UPDATES:
9:10 a.m. Nov. 21: This article was updated with Higgins' comments.
This article was originally published at 4:55 p.m. Nov. 20.
---