Trump seeks Democrats' help on year-end budget and DACA deal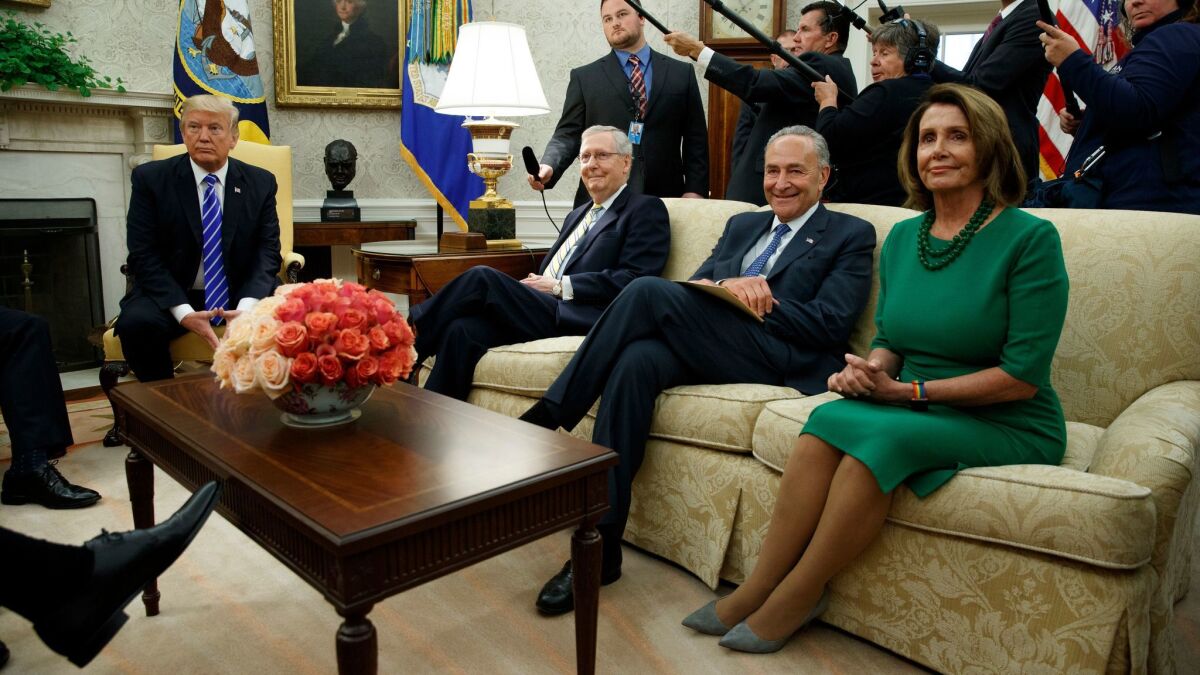 Reporting from Washington —
After railing against Democrats for weeks and pushing a sweeping tax plan over their objections, President Trump reached out to the rivals Monday — a subtle acknowledgment that he'll need their help to avert a government shutdown at the end of the week.
Trump invited congressional leaders to the White House Thursday for discussions on a year-end budget deal, a do-over after Democrats backed out of an earlier meeting when the president tweeted shortly beforehand that he saw "no deal" to be made.
Trump had little choice but to soften his approach. Because many Republican lawmakers refuse to vote for almost any new spending bill, Trump needs Democrats to provide what House Minority Leader Nancy Pelosi (D-San Francisco) calls "the currency of the realm" — the votes needed to approve a bill to keep government running.
That gives Democrats, who are the minority, a powerful negotiating hand in talks at the White House. In exchange, Democrats want concessions from Trump, particularly an immigration deal to protect young "Dreamers" from deportation as the White House phases out the Deferred Action for Childhood Arrivals program, or DACA, that allows them to legally work and remain in the U.S.
"We're glad the White House has reached out and asked for a second meeting," Pelosi and Senate Minority Leader Charles E. Schumer (D-N.Y.) said in a joint statement. "We hope the president will go into this meeting with an open mind, rather than deciding that an agreement can't be reached beforehand."
Congress often makes a year-end sprint through its legislative to-do list, but this year's pile-up is particularly daunting as lawmakers race to finish complicated business before the holidays.
For Republicans, the top priority is to pass the $1.5-trillion tax plan, accomplishing a major campaign promise before Christmas.
The House was set Monday to appoint members of a conference committee to begin reconciling the tax bills approved by the House and Senate into a final product, which will probably be voted on next week.
But first Congress must deal with Friday's deadline to fund the government.
Leaders are lining up a stopgap measure to provide money for two weeks while budget negotiations continue. That would push the deadline to Dec. 22.
The temporary funding measure will also include a short-term extension of the Children's Health Insurance Program, which helps cover working families who earn too much to qualify for Medicaid. States have been left in the lurch when CHIP expired Oct. 1 at the start of the new fiscal year.
Democrats have a long priority list for negotiations, but at the top is the push for a solution for the 700,000 Dreamers.
Trump once sided with Pelosi and Schumer on this, but has since shifted his views. Leading Democrats, including Sen. Kamala Harris (D-Calif.), have warned that without a bill to help Dreamers they would withhold their votes on the government funding bills, essentially threatening a shutdown.
Arguments for the immigrants were boosted Monday when the influential U.S. Chamber of Commerce, the business organization largely aligned with Republicans, urged Congress to find a solution by year's end or risk workplace disruptions as Dreamers are deported.
"We are passionate about this issue because it is a matter of principle and fairness," Chamber CEO Tom Donohue said. "The longer Congress waits, the more Dreamers will lose their ability to work here legally and become subject to immediate deportation. This will cause serious disruptions in the business operations of the companies that employ them, which is why many business leaders have spoken out and demanded action on this issue."
Republicans, though, are pushing for an immigration deal that would include border security and reductions in legal immigration. They say the issue can wait until next year because Trump's decision doesn't end the program until March 8.
On Monday, Sen. John Cornyn (R-Texas) called Democratic threats to shut down the government over Dreamers "a hysterical and cynical ploy." He also said talks to resolve the issue have hit an "impasse."
Other issues are also expected to be wrapped up in the year-end deal, including supplemental disaster aid after the devastating Gulf Coast hurricanes and Western wildfire season. California lawmakers objected because the White House's latest $44-billion disaster funding request failed to include money for wildfire aid.
The budget negotiations are needed because Congress failed to fully fund the government at the start of the fiscal year in October.
A core dispute is the top-line funding level for government operations. Many Republicans want to increase funding for the military, but not for non-defense accounts, while Democrats are pushing for parity.
Without a deal, funding would automatically be reduced to so-called sequester levels — steep cuts across the board, stemming from a 2011 budget deal — that only the most fiscally conservative deficit hawks still support.
House and Senate negotiators, who had not met since Democrats backed out of the White House meeting last week, resumed talks on Monday.
ALSO
Bannon's ouster could boost the powerful Koch network, which has surprising sway in Trump's White House
GOP tax bill is latest example of Senate leader Mitch McConnell breaking the norms he often espouses
Is this small-town congressman from New Mexico tough enough to win Democrats the House majority?
More coverage of politics and the White House
---
Life is stressful. Our weekly mental wellness newsletter can help.
You may occasionally receive promotional content from the Los Angeles Times.