Some Republican lawmakers facing reelection are steering clear of the GOP convention. Here's why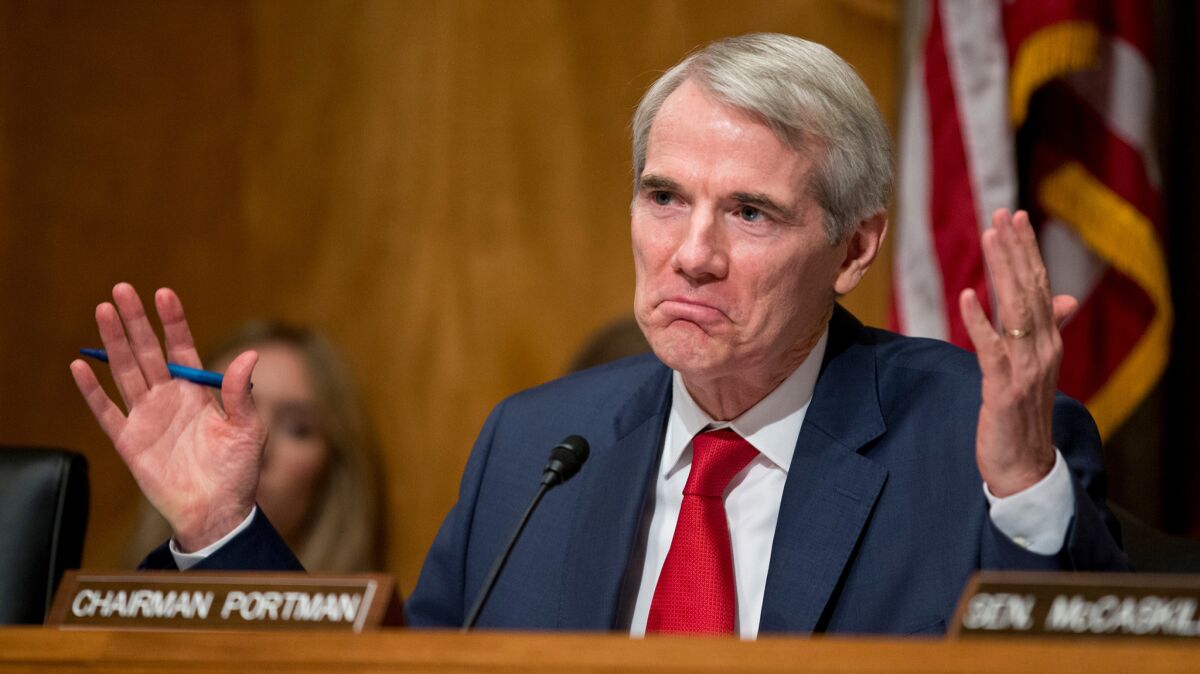 Reporting from Cleveland —
Republican Sen. Rob Portman of Ohio spent this week building houses with Habitat for Humanity, motivating young campaign volunteers and kayaking with wounded veterans on the Cuyahoga River.
Sen. Marco Rubio was home in Florida, stumping for votes before investigating mold contamination in a federal courthouse in Pensacola.
And Sen. Kelly Ayotte was busy in New Hampshire fighting the scourge of opiate addiction crushing the state.
As the Republican Party gathers in Cleveland to nominate Donald Trump as their candidate for president, some key lawmakers are steering clear of the GOP convention.
Usually, elected officials would be climbing over one another for the chance to deliver a prime-time speech on the convention stage or share the limelight with their party. They can hobnob with donors at swanky parties.
Instead, House and Senate Republicans are setting aside the possible gains that come with attending a convention and charting their own route to reelection as they try to retain their majorities in Congress.
"I'm supporting Donald Trump," said Portman, a first-term senator meeting with campaign volunteers less than a mile from the convention site, as he wages a tough fight for reelection against Democratic former Gov. Ted Strickland.
"He could be helpful because he's bringing more people into the party," Portman said of Trump, saying he would make his way to the convention hall at Quicken Loans Arena this week. "But we'll see."
The story among House Republicans was similar, as many decided to stay away from Cleveland rather than hitch their reelection prospects to Trump.
Campaign officials said it makes sense for lawmakers to concentrate on their constituents at home rather than pass the week at parties and political events in Cleveland. Republican leaders remained confident they will hold the majority in both the House and Senate with Trump as the nominee.
"Our members are doing what they need to do," said Rep. Greg Walden (R-Ore.), the chairman of the National Republican Congressional Committee.
Even though it doesn't always get as much attention as this year's unusual presidential contest, the down-ballot battle for control of Congress has become fierce, with both parties sensing an advantage because Trump and Democrat Hillary Clinton are so unpopular among voters.
The House and Senate battles have also attracted big-money Republican donors, including the influential Koch brothers and their political network, who would rather invest in Congress than Trump.
Republicans are likely to easily hold the majority in the House, where they have a comfortable margin and few seats at risk. Democrats would need to pull off a landslide to flip nearly 30 seats to retake the chamber.
In the Senate, though, the majority may be in jeopardy, with Republicans defending 24 seats, including some in the key swing states of Ohio, Pennsylvania, Nevada, New Hampshire and Florida that could be tough to hold with Trump on the ballot.
"The word 'volatile' doesn't begin to describe the fight for a Senate majority this year," wrote veteran political analyst Charlie Cook of the Cook Political Report this month.
Democrats have been taking overt pleasure in linking virtually every single House and Senate Republican up for reelection to Trump's bombastic pronouncements and policies that break from GOP orthodoxy as Republicans convene in Ohio.
"They're celebrating the most hateful, dangerous presidential nominee in a generation," Sen. Charles E. Schumer of New York, who is in line to become the majority leader if Democrats retake the Senate, wrote in an email to donors Tuesday.
A few rank-and-file Republicans running for reelection did decide to make the trek to Cleveland.
Sen. Ron Johnson of Wisconsin, who faces a tough reelection against Democratic former Sen. Russ Feingold, was expected to attend, and another lawmaker from the Badger State, Rep. Sean P. Duffy, had a prime-time speaking role Monday with his wife.
But Sen. John McCain, the GOP's 2008 nominee, was home campaigning in Arizona, as was Sen. Mark Steven Kirk, perhaps the most endangered senator facing reelection, in Democrat-heavy Illinois.
"We're running for Senate. We're not running for president," said Ward Baker, executive director of the National Republican Senatorial Committee working to keep the Senate GOP majority.
"I've always counseled people to stay in their states," he said at a briefing Tuesday in Cleveland. "I gave that advice in '12, I did it in '16, and I'd do it again in '20."
Twitter: @LisaMascaro
Where California's GOP delegation ranks: a hotel at a water park 60 miles from the convention
Queen asks GOP to stop using 'We Are the Champions' at convention
Column: Why is it so hard for the Trump campaign to admit that Melania cribbed Michelle Obama's words?
---
Life is stressful. Our weekly mental wellness newsletter can help.
You may occasionally receive promotional content from the Los Angeles Times.