At gay rights gala in L.A., Kamala Harris and Cory Booker stand for equality
Kamala Harris and Cory Booker, two rival U.S. senators vying for the 2020 presidential nomination, pitched themselves as steadfast allies of LGBTQ Americans on Saturday night, in a bid to appeal to an influential bloc of Democratic voters.
Both candidates offered a riff on their core campaign themes while addressing the Human Rights Campaign's downtown Los Angeles gala — Booker, the New Jersey senator, extolling the power of love and hope, California Sen. Harris promising a return to truth and justice — but with specific nods to the struggles faced by gay Americans and targeted swipes at President Trump.
"As long as there's a president who is banning patriots from serving in the military because they're transgender, we all have a collective responsibility not to accept things as they are but to take responsibility for changing them," Booker said.
It was a busy evening of appearances for the two contenders — Harris and Booker also appeared on stage together at the NAACP Image Awards at the Dolby Theatre in Hollywood earlier in the night. The pair spoke briefly about the importance of registering to vote and being engaged in politics.
At the Human Rights Campaign event, the candidates focused on burnishing their pro-LGBTQ credentials. Chad Griffin, the group's leader, pointed to each senator's gay-friendly resume: Booker refusing to perform any marriages as Newark mayor until same-sex marriage was legal and Harris declining to defend California's gay marriage ban Proposition 8 in court.
Booker denounced the "moral vandalism" coming from the White House, citing the moves to ban transgender people from serving in the military and rescind protections for transgender students.
Harris chastised the Trump administration for not speaking out against mistreatment of gay people by foreign governments.
"Let's speak the truth — the fight for LGBTQ rights are civil rights and until all of us are equal, none of us are equal," she said.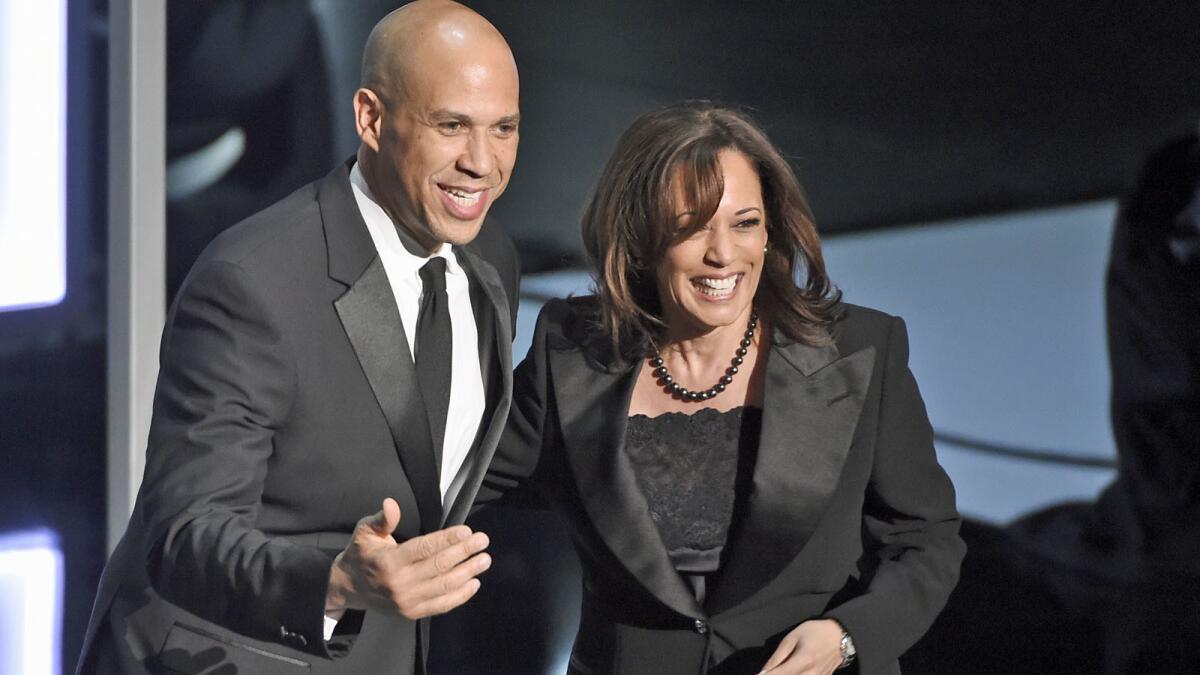 Despite the common themes, their stylistic differences were on display. Booker, speaking with a preacher's energized cadence, recited spoken-word poetry from Langston Hughes, while Harris sounded more like a deliberate, but forceful prosecutor. Both candidates were received warmly by the crowd, with a slight home state advantage going to Harris.
The event's sponsor, the Human Rights Campaign, is the largest gay civil rights group in the country and will host a forum this fall with 2020 presidential contenders in Los Angeles. Playing up its political clout, the group boasted of its influence in mobilizing voters in the 2018 midterms.
"They were a resounding victory for equality and a clear rejection of Donald Trump and Mike Pence's dangerous policies and divisive politics," Griffin said of last year's elections.
And there was no confusion over whether the group's Democratic tilt will carry over to the 2020 presidential contest.
"We know what our marching orders are," said director Rob Reiner, a supporter of the group and close friend of Griffin's. "Whoever gets nominated from the Democrats, we're all in, right?"
Mark Gonzalez, chairman of the Los Angeles County Democratic Party, said the visit from the two candidates was a sign of the power flexed by gay rights groups.
Gonzalez said it was noteworthy that Booker and Harris — both candidates of color — spoke, marking the progress that has been made in acceptance of gay rights in minority communities.
"Being LGBTQI and African American was never something that was always accepted. … For me as a Mexican American, it was never accepted," Gonzalez said. "The mere fact that they're both here, they are presidential candidates and they are open to our community is showing the community, 'We accept you and we love you for who you are.'"
Also in Los Angeles on Saturday was Democratic presidential hopeful Tulsi Gabbard. The congresswoman from Hawaii donned a white flower lei as she introduced herself to voters at a daytime meet-and-greet event.
Get our Essential Politics newsletter
The latest news, analysis and insights from our politics team.
You may occasionally receive promotional content from the Los Angeles Times.