In Oakland speech, Kamala Harris launches White House bid with scathing assault on Trump
Democratic presidential hopeful Former Vice President Joe Biden (L) listens as US Senator from California Kamala Harris speaks during the second round of the second Democratic primary debate of the 2020 presidential campaign season hosted by CNN at the Fox Theatre in Detroit, Michigan on July 31, 2019. (Photo by Jim WATSON / AFP)JIM WATSON/AFP/Getty Images ** OUTS - ELSENT, FPG, CM - OUTS * NM, PH, VA if sourced by CT, LA or MoD **
(JIM WATSON/AFP/Getty Images)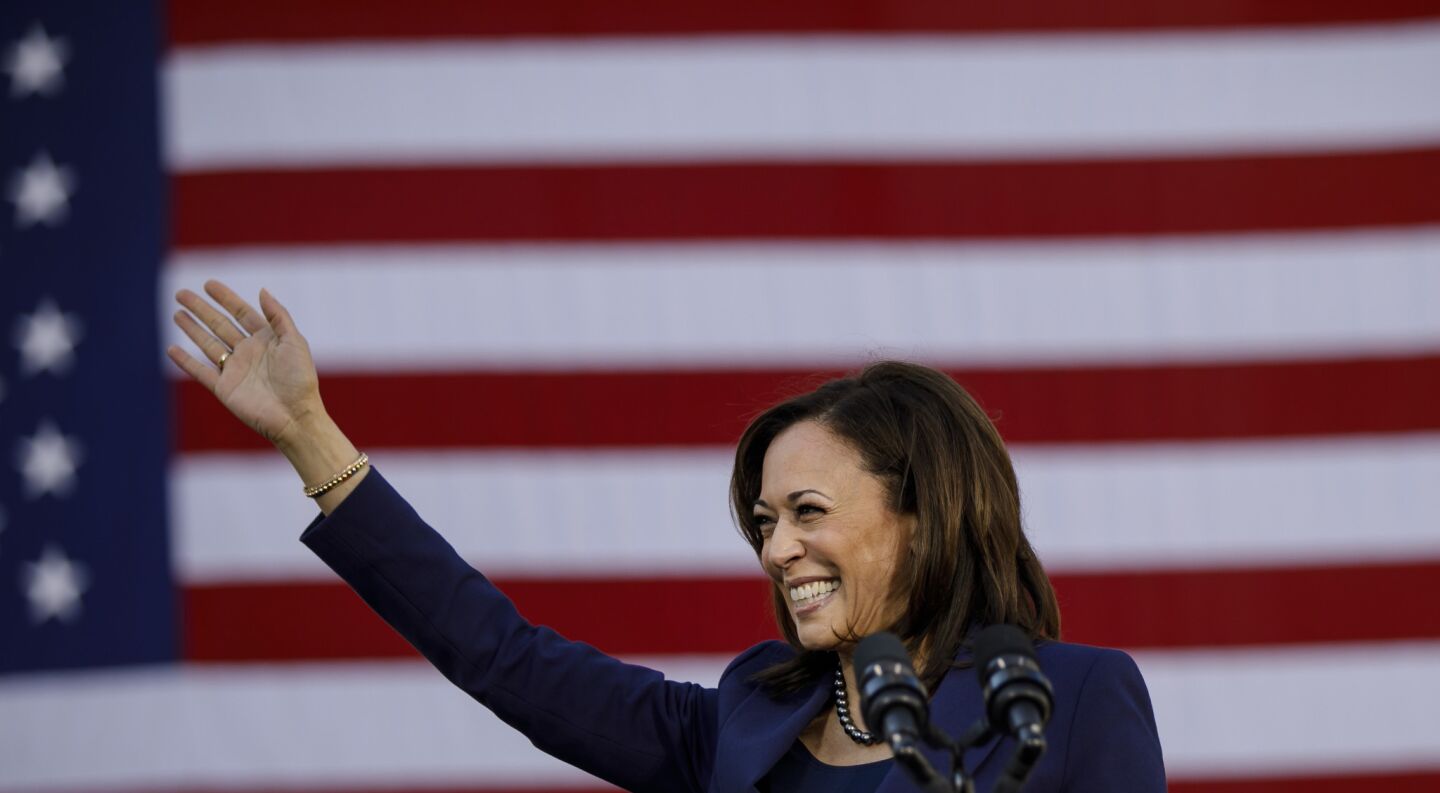 Sen. Kamala Harris kick-starts her presidential campaign at a rally in her hometown of Oakland on Sunday.
(Marcus Yam / Los Angeles Times)
A huge crowd attends a speech by Sen. Kamala Harris in Oakland.
(Marcus Yam / Los Angeles Times)
(L-R) Democratic presidential hopefuls New Jersey Senator Cory Booker, Representative for Hawaii Tulsi Gabbard, Minnesota Senator Amy Klobuchar, Mayor of South Bend Pete Buttigieg, Massachusetts Senator Elizabeth Warren, Former Vice President Joe Biden, Vermont Senator Bernie Sanders, California Senator Kamala Harris, tech entrepreneur Andrew Yang and billionaire-philanthropist Tom Steyer participate in the fifth Democratic primary debate of the 2020 presidential campaign season co-hosted by MSNBC and The Washington Post at Tyler Perry Studios in Atlanta, Georgia on November 20, 2019. (Photo by Nicholas Kamm / AFP) (Photo by NICHOLAS KAMM/AFP via Getty Images)
(AFP via Getty Images)
Sen. Kamala Harris shares a moment backstage with her godson before her speech in Oakland.
(Marcus Yam / Los Angeles Times)
Sen. Kamala Harris waits backstage before making her appearance at a rally in Oakland.
(Marcus Yam / Los Angeles Times)
Kamala Harris celebrates after becoming California's newest Senator.
(Barbara Davidson / Los Angeles Times)
Democratic State Chairman John Burton chats with U.S. Sen. Dianne Feinstein, right, and California Atty. Gen. Kamala Harris, left, at the party's 2011 state convention in Sacramento.
(Rich Pedroncelli / Associated Press)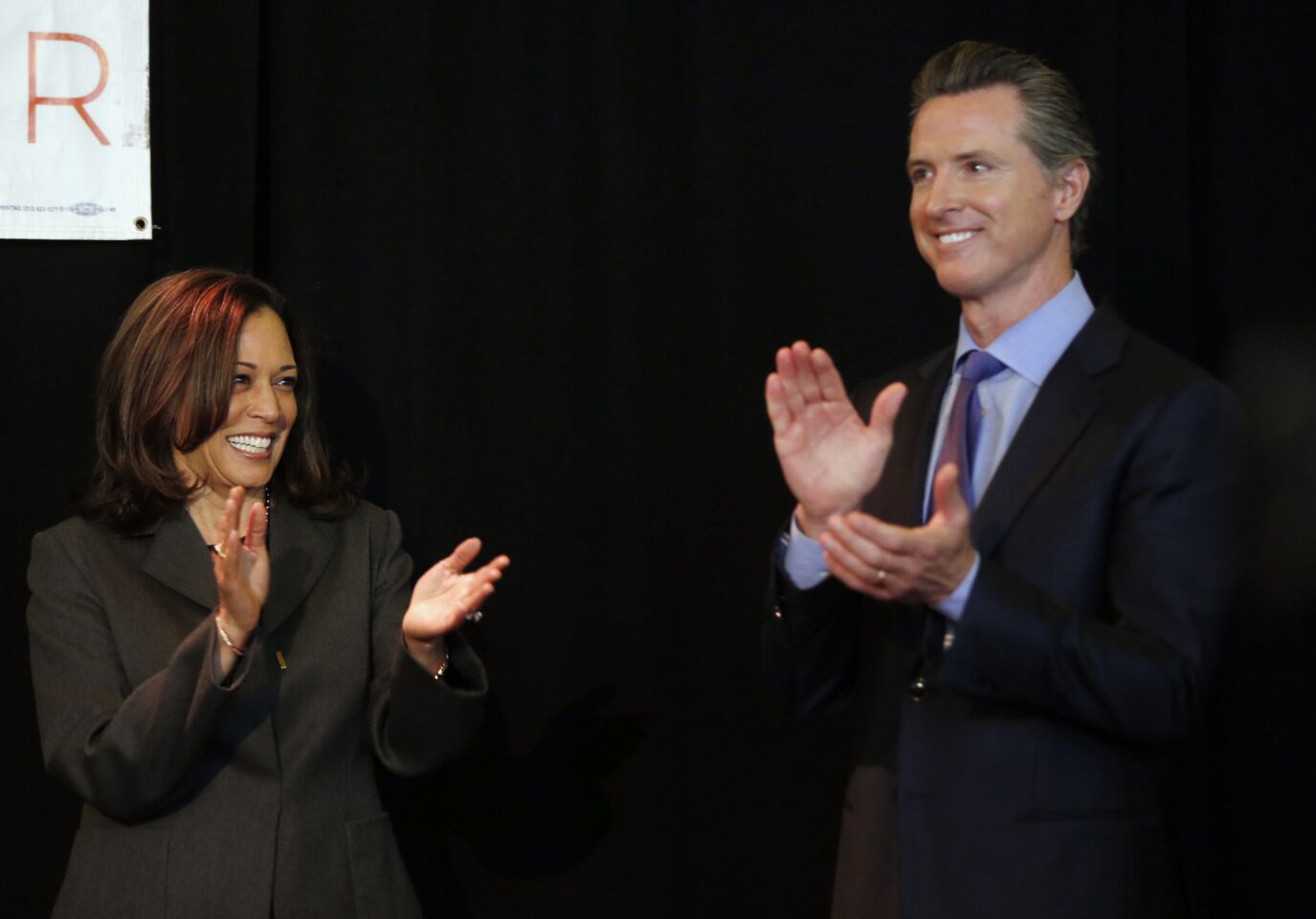 Sen. Kamala Harris, left, endorses California Lt. Gov. Gavin Newsom for the 2018 California Governor's race at the Ronald Tutor Campus Center at the University of Southern California in Los Angeles, Friday, Feb. 16, 2018. (AP Photo/Damian Dovarganes)
(Damian Dovarganes / AP)
State Atty. Gen. Kamala Harris smiles and claps as Gov. Jerry Brown endorses her for the U.S. Senate.
(Rich Pedroncelli / Associated Press )
California Atty. Gen. Kamala Harris discussed steps to prevent police bias at a news conference Friday in her downtown Los Angeles office with Los Angeles County Sheriff Jim McDonnell and LAPD Chief Charlie Beck.
(Barbara Davidson / Los Angeles Times)
Atty. Gen. Kamala Harris smiles after receiving an honorary degree at USC.
(Patrick T. Fallon / For The Times)
State Atty. Gen. Kamala D. Harris talks to a fifth-grade student Tuesday while she and L.A. Unified Supt. John Deasy tour classes on the first day of instruction at Baldwin Hills Elementary School in Los Angeles.
(Mark Boster / Los Angeles Times)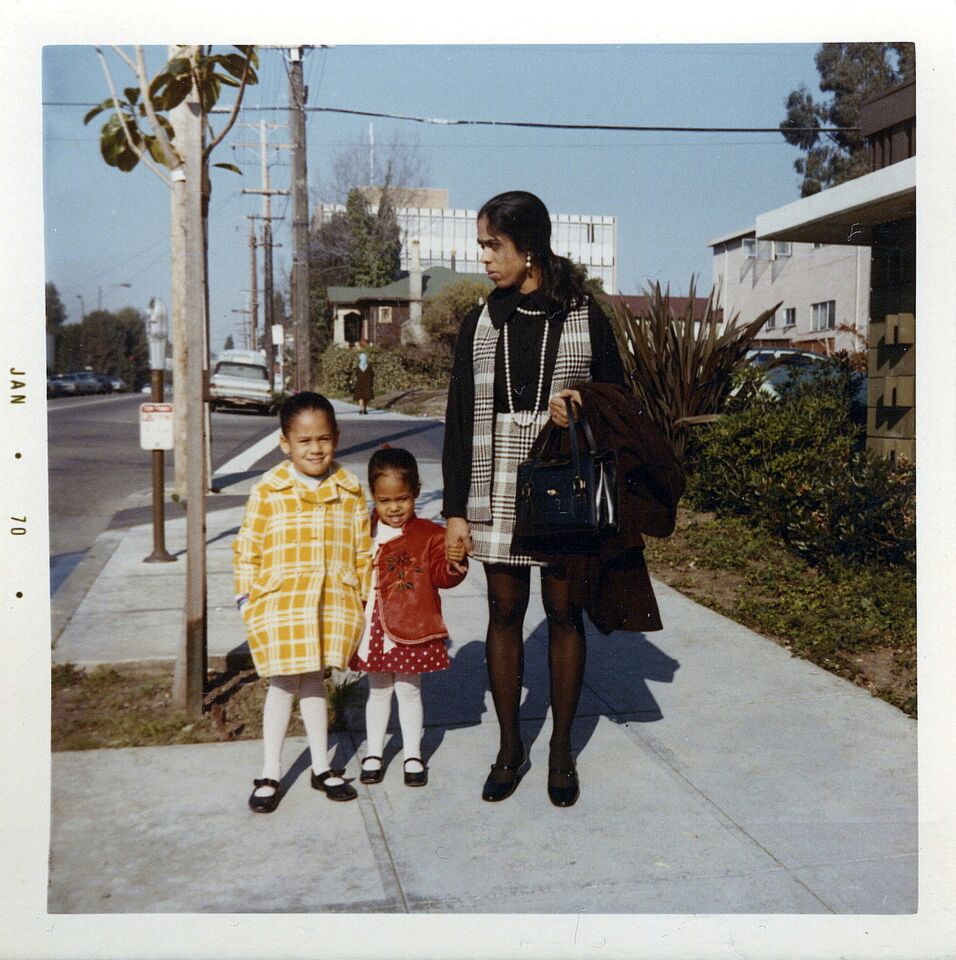 This January 1970 photo provided by the Kamala Harris campaign shows her, left, with her sister, Maya, and mother, Shyamala, outside their apartment in Berkeley, Calif.
(Kamala Harris Campaign / Associated Press)
Reporting from Oakland —
Kamala Harris formally launched her Democratic bid for president Sunday with a blunt-force assault on President Trump and a promise to unify a country deeply riven along social, cultural and political lines.
Speaking from the steps of Oakland's flag-bedecked City Hall plaza, to a crowd that spilled over several downtown blocks, Harris depicted her candidacy as a fight against those "trying to sow hate and division."
"We are here at this moment in time because we must answer a fundamental question," Harris said. "Who are we? Who are we as Americans? So let's answer that question, America. We are better than this."
Though Harris never mentioned Trump by name, it was abundantly clear she was painting a damning portrayal of the president and his actions.
"When we have leaders who bully and attack a free press and undermine our democratic institutions, that's not our America," said Harris, stabbing a finger in the air for emphasis. "When white supremacists march and murder in Charlottesville, or murder innocent worshipers in a Pittsburgh synagogue, that's not our America."
In one of her harshest attacks, she pointed to Russian interference in the 2016 campaign and an ongoing probe into possible Russian collusion with the Trump campaign and its leaders. "We have foreign powers infecting the White House like malware," she said to a roar from the partisan crowd.
It was just one in a litany of accusations delivered over 35 minutes, like a lawyer laying out her prosecutorial brief.
Harris condemned an economy that, she asserted, was stacked against working people. She assailed a criminal justice system that, she suggested, locks away too many poor, black and brown people. She promised to expand access to healthcare — "a fundamental right" — and make college more affordable.
The speech on a bright, sunny afternoon in Harris' liberal-leaning hometown came nearly a week after California's junior senator acknowledged what had long been evident, jumping into a crowded field by declaring her presidential candidacy in a symbolic move on Martin Luther King Jr. Day.
Barely two years into her freshman Senate term, the 54-year-old lawmaker is bidding to make history as the nation's first black female president.
Harris delivered her remarks just a few blocks from the Alameda County courthouse where she began her career as a deputy district attorney. On hand were at least a dozen state and local lawmakers, including Oakland Mayor Libby Schaaf, who helped introduce Harris and delivered a fervent endorsement.
Harris embraced her hometown roots, declaring at the start of her speech she was "proud to be a daughter of Oakland, California." She attributed her drive for public service to her upbringing, particularly her Jamaican father and Indian mother, both immigrants, who met as graduate students at UC Berkeley and were active in the civil rights movement.
"My mother used to say, 'Don't sit around and complain about things. Do something.' Basically I think she was saying, you've got to get up, stand up and don't give up the fight," Harris said, quoting reggae icon Bob Marley. She also made reference to Frederick Douglass and Robert F. Kennedy.
The tightly choreographed event drew a sprawling crowd that police estimated at more than 20,000 people. The scale fed into the perception that Harris was a top-tier candidate out of the gate.
But the senator warned of a rocky road ahead full of naysaying doubters.
"They'll say it's not your time. They'll say wait your turn. They'll say the odds are long. They'll say it can't be done," she said. "But America's story has always been written by people who can see what can be, unburdened by what has been."
Among the onlookers were more than a few shoppers curious to hear Harris before committing.
Leslie Brueckner, an attorney in Oakland, said she was driven by her "violent hatred of Donald Trump and my passionate desire to see a progressive candidate who can sweep him and the GOP out of office."
However, though "very excited" by Harris' bid, Brueckner said she needed to delve more into her record as a prosecutor. "I want someone who puts their money where their mouth is," Brueckner said. "I think we've had enough of moderate Democrats."
Indeed, while Harris' legal background will be central to her campaign — the leitmotif is the words "for the people," taken from her courtroom salutation — her career in law enforcement has been met with skepticism from some on the Democratic left. Critics accuse her of being too timid in reforming the criminal justice system and remedying its harsh application to people of color.
That puts Harris in the delicate position of trumpeting her legal work while also acknowledging the deep suspicion that some in the Democratic base have of law enforcement.
"I knew our criminal justice system was deeply flawed, but I also knew the profound impact law enforcement has on people's lives, and its responsibility to give them safety and dignity," Harris said of her decision to become a prosecutor.
The remarks also signaled a central theme of Harris' pitch: that she will be an honest broker, vowing to "seek truth, speak truth and fight for the truth." Her speech included some blunt talk on the uglier realities of American society.
"Racism, sexism, anti-Semitism, homophobia, transphobia are real in this country," Harris said. "And they are age-old forms of hate with new fuel. We need to speak that truth so we can deal with it."
The fact that Harris, a woman of color, could face some of those prejudices remains on the minds of the senator's supporters and other Democrats looking to back the most viable candidate.
Zach Garelik, a 21-year-old tech worker from San Francisco, said he was impressed by Harris' ambition. But he said she'll have to appeal to the rest of the country and worries her home state may work against her.
"There's an implicit bias in the rest of the nation against California politicians," Garelik said.
---
Life is stressful. Our weekly mental wellness newsletter can help.
You may occasionally receive promotional content from the Los Angeles Times.