Supreme Court orders refunds for people whose criminal convictions are overturned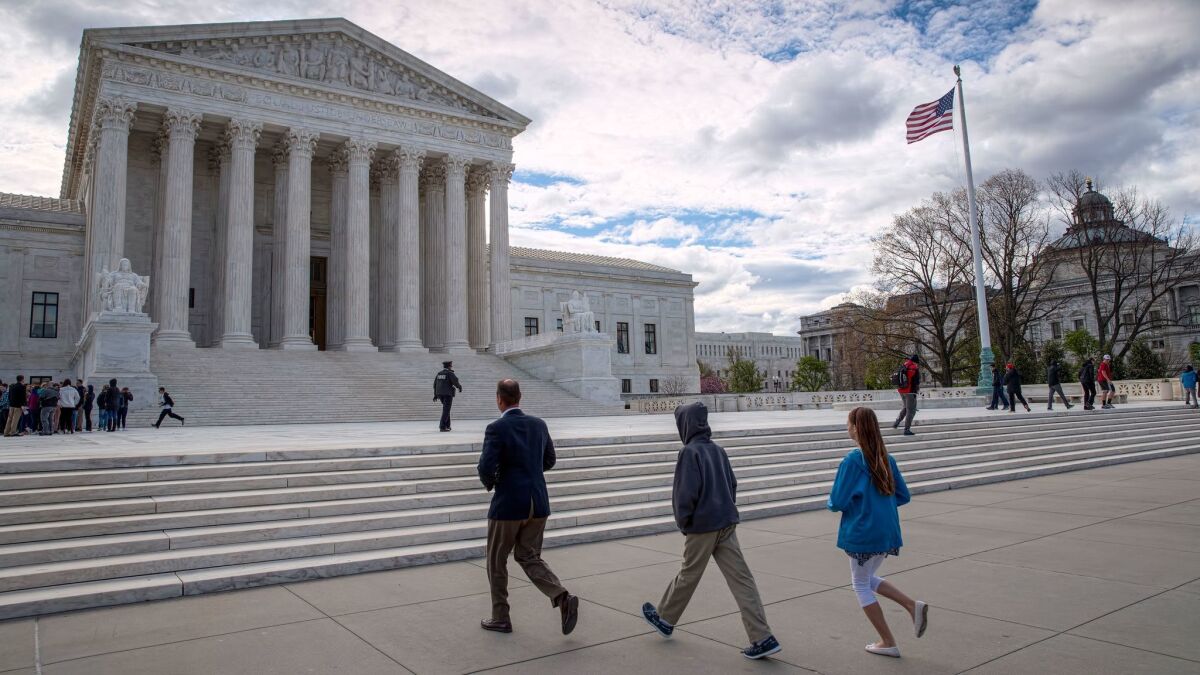 Reporting from Washington —
People who are freed from prison when their convictions are reversed deserve a refund of what they paid in fees, court costs and restitution, the Supreme Court ruled Wednesday.
"They are entitled to be presumed innocent" once their convictions are thrown out, said Justice Ruth Bader Ginsburg, and the state "has zero claim" to their money.
The 7-1 decision orders the state of Colorado to refund several thousand dollars to two defendants, a woman and a man, who were convicted of sex crimes but had their convictions reversed. Shannon Nelson, who was charged with abusing her children, was acquitted in a retrial, and the prostitution-related charges against Louis Madden were dropped.
In both instances, the state insisted on keeping the restitution they had paid.
UCLA law professor Stuart Banner and the UCLA Supreme Court Clinic appealed the case of Nelson vs. Colorado to the high court last year, noting that Colorado was the only state that regularly refused to refund money taken from criminal defendants who were later exonerated.
Arguing the case in January, Banner said that as a matter of common sense and long legal tradition, people who were exonerated had a right to get back the money that was taken from them.
The state's lawyer had raised eyebrows among the justices by arguing that the money in question was "the state's money" because it was "obtained pursuant to a conviction."
Only Justice Clarence Thomas agreed with the state's claim. "In my view, petitioners [Nelson and Madden] have not demonstrated that the defendants whose convictions have been reversed possess a substantive entitlement, under either state law or the Constitution, to recover money they paid to the state pursuant to their convictions." Since the defendants were not wrongly deprived of their money, "Colorado is therefore not required to provide any process at all for the return of that money," he said.
Colorado had adopted an Exoneration Act that allowed "an innocent person who was wrongly convicted" to file a civil suit to seek refunds, but only if they could prove they were innocent of the crime. Most states allowed exonerated people to file a motion with a trial judge seeking a refund.
Ginsburg said Colorado's scheme violates the 14th Amendment's protection for due process of law because it presumes the exonerated defendants are still guilty.
"After a conviction has been reversed, unless and until the defendant should be retried, he must be presumed innocent of that charge," she said, quoting earlier rulings. "Colorado may not presume a person, adjudged guilty of no crime, nonetheless guilty enough for monetary extractions."
Justice Samuel A. Alito Jr. agreed with the outcome in the Colorado case, but said it was "unnecessary for the court to issue a sweeping pronouncement on restitution." The court noted that new Justice Neil M. Gorsuch took no part in the case.
On Twitter: DavidGSavage
---
Life is stressful. Our weekly mental wellness newsletter can help.
You may occasionally receive promotional content from the Los Angeles Times.