Clinton is cramming, Trump is riffing: Here's how the nominees are preparing for their last big chance to sway voters
Reporting from Washington —
Ask Hillary Clinton or Donald Trump how they are preparing for the debate Monday that could upend the presidential race, and they might just change the subject.
Their aides, of course, are handing them briefing books detailing where the cameras will be placed and what the price of milk is. They're studying each other's hand gestures and talking points on endless streams of video. They're acting out scenarios designed to replicate the conditions onstage at Hofstra University.

For the record:
4:05 p.m. Sept. 24, 2016An earlier version of this article indicated the wrong year for the Bentsen-Quayle debate. It was in 1988, not 1998.
The campaigns are cagey about preparations as they aim to lower expectations, refusing even to say who they're using as stand-ins to role-play the other candidate, if anyone. But the nominees are leaving little to chance leading up to what is often the most dramatic, and least predictable, moment in a presidential election.
"It's like preseason and regular season in football," said Chip Englander, a GOP consultant who advised Kentucky Sen. Rand Paul and then Florida Sen. Marco Rubio in the primary. "You can simulate, but there's nothing like the real thing. Do I think it helps? Yes. Do I think it perfectly replicates it? No."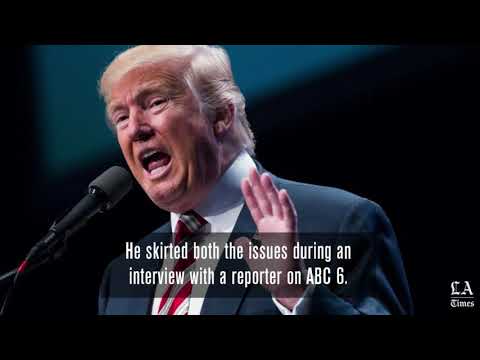 Hillary Clinton and Donald Trump have been hitting the campaign trail hard with only a few weeks left before election day.
Even the participants are loath to predict how this 90-minute spectacle projected to break viewership records will play out. "I do not know which Donald Trump will show up," Clinton said during a fundraiser a few weeks ago.
The erratic bomb-thrower? The restrained statesman? The conspiracy theorist? Even Trump isn't sure. "If she treats me with respect I'll treat her with respect," Trump told Fox News. "You're going to have to feel it out when you're out there."
Every one of his personas was present at the primary debates. Clinton has been feverishly watching the footage, studying Trump's mannerisms and reactions as rivals tried to bait, belittle and even befriend him.
A general-election debate is a very different arena. The nominees will tangle on the same stage for the first time. The kind of missteps during primary debates from which contenders quickly recover can prove devastating, even disqualifying.
Both Clinton and Trump, candidates who are deeply disliked by the electorate, are confronting what may be a final opportunity to redefine themselves. Clinton needs to overcome questions of trustworthiness. Trump needs to overcome questions of instability.
"A real boring debate is a huge win for him," said Barry Bennett, a former senior campaign advisor to Trump who ran Ben Carson's campaign during last fall's primary debates.
Veterans of the process say the best moments, the ones that could potentially alter voters' perception of the candidates, require preparation. But it's a delicate balance: Look like you're trying too hard to stage a moment and it comes off as phony. Wisconsin Gov. Scott Walker bombed with his "We don't need an 'Apprentice' in the White House" debate line before dropping out of the primaries.
"Sometimes you hear these things and you think, 'Someone who thought he or she was too clever by half wrote that late at night, when they were too tired to think,'" said Kathleen Hall Jamieson, a longtime scholar of presidential debates at the University of Pennsylvania.
Both the schedules the candidates have kept in recent days and their past habits suggest Clinton is spending more time in debate cram sessions than Trump. But aides have told reporters that Trump has spent recent weekends prepping at his country club in Bedminster, N.J. His close circle of advisors includes Roger Ailes, who recently resigned his post at Fox News amid sexual harassment allegations and previously had a long career advising GOP presidential candidates.
"The key to these things isn't so much being able to answer the question, but being able to answer in 30 seconds, which is not human nature," Bennett said. "Roger's got a lifetime of doing that."
Trump says he worries overdoing it on prep could cost him the spontaneity that has served him well. Clinton is expected to have multiple dress rehearsals. It is unclear whether Trump will have any.
Even so, mock debates have proved invaluable to other candidates. Rick Tyler, who portrayed Trump against Texas Sen. Ted Cruz during the primary, became a method actor for two weeks, trying to embody not only Trump's rhetorical style but also his mannerisms and thinking. He recalled the room falling silent after his first performance, during which he was combative, dismissive and ultimately victorious. It sobered some in the Cruz camp to the kind of threat Trump posed.
Tyler's role was similar to that former Michigan Gov. Jennifer Granholm took on when she helped Joe Biden prepare for his vice presidential debate with Sarah Palin in 2008. Like Trump, Palin was unpredictable and immune from some of the usual political rules.
"I had to get into her head and understand where she was coming from," Granholm said. Even Palin's weak grasp of policy was seen as a threat because Biden risked sounding too condescending or too much a creature of the Beltway if he responded with Washington-speak. "We had to inoculate him. You never want to let anybody get under your skin during a debate."
You also never want to sigh too much. Al Gore learned that the hard way when he came to his match-up with George W. Bush better prepared, but lost anyway.
"People watch this like they watch 'Dancing With the Stars,'" said Chris Lehane, who helped ready Gore for the debate. "If it were being scored like the Yale-Harvard debates, Gore would have won. But he did not win in terms of the campaign."
Clinton's advisors are frantically preparing her to avoid that kind of misstep. One person who worked with Clinton for years said the most crucial prep work was not necessarily related to substance and policy, where Clinton has less to prove, but tone, appearance and sense of humor.
Republicans who have faced Trump offer advice. "Donald has a weakness. He does not want to be seen as uninformed or unintelligent or diminished in any way," Tyler said. "It's very tricky. You have to kind of mock him but you can't diminish yourself while doing it."
Election 2016 | Live coverage on Trail Guide | Sign up for the newsletter | The race to 270
Other potential traps also lurk. Like the price of milk. Candidates who may not have bought a gallon of it in years better know what it costs. Lehane recalled how pre-debate briefing books he helped compile for Gore and Bill Clinton had a page full of such factoids. "You have to be ready for these gotcha questions designed to make you look out of touch," he said.
And you also have to be prepared to look spontaneous.
What came off as one of the strongest impromptu takedowns in debate history, when Lloyd Bentsen eviscerated Dan Quayle during the 1988 vice presidential debate, was actually the product of intense preparation.
Bentsen so worried that the much younger and telegenic Quayle would school him that he tried to have the debate canceled, said his campaign manager, Tad Devine. In practice rounds, the stand-in for Quayle brushed off questions about his inexperience by comparing himself to John F. Kennedy. Bentsen responded with crickets. His advisors didn't give Bentsen a line to rehearse, but pushed him to consider that it was Bentsen who actually knew Kennedy from their years in the House of Representatives.
When the issue arose on debate night, Bentsen delivered a line that crippled Quayle's public image.
"Senator, I served with Jack Kennedy," Bentsen said. "I knew Jack Kennedy. Jack Kennedy was a friend of mine. Senator, you're no Jack Kennedy."
Twitter: @evanhalper, @noahbierman
ALSO
Even the swing states where Trump and Clinton are tied aren't enough to hand him a win
'Broad shoulders' and 'a presidential look': The Trump campaign uses gender to try to undercut Clinton
The presidential race in Arizona was already tight. Then voters started noticing Gary Johnson
Get our Essential Politics newsletter
The latest news, analysis and insights from our politics team.
You may occasionally receive promotional content from the Los Angeles Times.