Must Reads: De León captures California's anti-Trump furor, but struggles to gain traction in run to oust Feinstein
No one needs to tell Kevin de León that his campaign to unseat U.S. Sen. Dianne Feinstein is a long shot.
He's reminded all the time. Clifford Tasner, a liberal activist, approached De León at a Bel Air synagogue on a recent Saturday and offered to make him a video.
"You've got to throw a bunch of stuff at the wall and see what sticks," Tasner told him. "Anything that raises your profile, that people circulate in social media, that's clever and funny and engaging, it can't hurt."
The state senator thanked Tasner for the earnest advice. But De León well knows that in a state with 19 million voters, it takes a lot more than a YouTube hit to oust an entrenched incumbent who clobbered her last few challengers.
De León, 51, casts himself as a leader of the California resistance to President Trump. His liberal agenda — he backs Medicare for all and a shift to 100% renewable energy by 2045 — could capture the fervor of the moment for some Democrats upset by Trump's presidency.
But Feinstein, a fellow Democrat who first won her Senate seat in 1992, is far better known, has more than nine times as much campaign cash and holds a wide lead in the polls — 46% to 24% among likely voters, according to the Public Policy Institute of California.
All of which leaves De León sputtering into the fall campaign, barring a surprise event that undercuts the 85-year-old incumbent.
"I think it's very difficult to see a path to victory for De León, given his limited resources and the size of the state," said Rose Kapolczynski, a Democratic consultant who ran campaigns for former U.S. Sen. Barbara Boxer.
In his summer travels around California, De León has drawn scant attention. His events are mainly small gatherings put together by labor leaders and other allies he has cultivated during his nearly 12 years representing central Los Angeles in the Legislature.
The settings give De León a chance to promote himself, but on nowhere near the scale required to swing a statewide election. He can't afford television advertising.
At a breakfast banquet in Universal City that same Saturday, De León touted a landmark bill that he passed to cut California's carbon emissions. He was warmly applauded, but most of the audience came from out of state.
From breakfast, he headed to a barbecue for farmers — who were also potential donors — at a hacienda in Ventura County; a couple dozen showed up.
A mariachi band played festive music outside a horse stable as the crowd ate brisket tacos and fresh berries harvested in nearby fields in the rolling hills above Camarillo.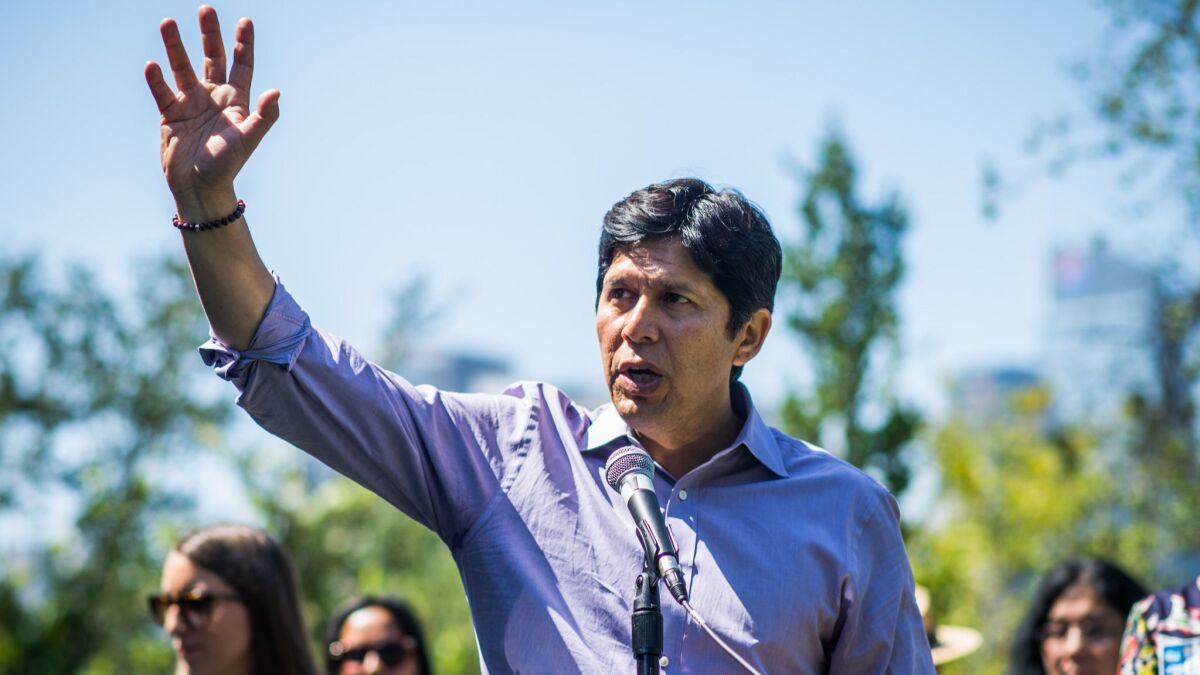 De León rolled up his sleeves and schmoozed with rancheros in cowboy hats. A supporter with a cordless mic introduced him to the full group. Before long, De León was denouncing Trump in a solemn baritone.
"These are very difficult times in our nation's history," he said to the subdued farmers sitting under squat palm trees that shaded them from the blazing midday sun.
De León, whose nearly four years as state Senate leader ended in March, has been one of California's most outspoken critics of Trump's crackdown on illegal immigration. It's a topic he brings up often, striking a tone of defiance.
"I am the author of the sanctuary state bill," he boasted to the farmers. "Yo soy el autor."
Born in Los Angeles and raised by a single mother, an immigrant housekeeper from Guatemala, De León toggles seamlessly between Spanish and English.
As he campaigns, his upbeat demeanor belies his grim political prospects.
"I'm incredibly enthusiastic, because people who grow up in the neighborhood where I grew up, they don't make it this far," he said on his way to a picnic in the Sierra foothills of Tuolomne County. De León spent much of his childhood in San Diego's Logan Heights neighborhood and now rents a home in Mount Washington.
Describing himself as the first person of color to lead the state Senate in more than a century, he said: "We have to have the audacity to stand up and have our voices counted. If we don't, the establishment authority will never choose us and say it's your turn, it's your time."
Signs of the steep challenge abound.
In San Joaquin, a mainly Latino immigrant farming town in the Central Valley, De León held a town hall last month at a Veterans of Foreign Wars auditorium. It was three-quarters empty.
A few dozen supporters sat on metal folding chairs near the front of the room. One of them showed De León a cellphone video of muddy water flowing from a local kitchen tap.
"We have many Flint, Michigans, right here in the Central Valley," the candidate said, referring to the municipal water crisis that struck the Midwestern city. "And your voices need to be heard."
Jose Lopez, 81, raised his hand and shared a story in Spanish. He was a bracero, a seasonal farmworker who came to the U.S. in 1958 to pick cotton and tomatoes. It was upsetting, he said, his voice cracking, to hear ugly talk of immigrants bent on robbing and killing people. It went without saying that he was referring to Trump.
De León was visibly moved. "Muchas gracias," he said before translating Lopez's words into English.
The handpicked crowd tossed De León more questions that yielded familiar talking points. One supporter asked about the importance of Feinstein's seniority in the Senate.
With that, he lit into his opponent.
"Seniority means nothing if you don't use it," he said.
He accused Feinstein of supporting "two Republican wars" in Iraq and Afghanistan and of squandering trillions of dollars that should have been invested in Medicare, debt-free college and clean energy.
He attacked her vote for "a huge Republican tax cut" for the rich under President George W. Bush.
Later, in an interview, he castigated Feinstein for telling a San Francisco audience last year that she hoped Trump would learn and change and become "a good president."
"It's bad enough to make that comment, period, but to make that comment 20 days after Charlottesville showed me how disconnected she is to the reality of what is happening in California," De León said.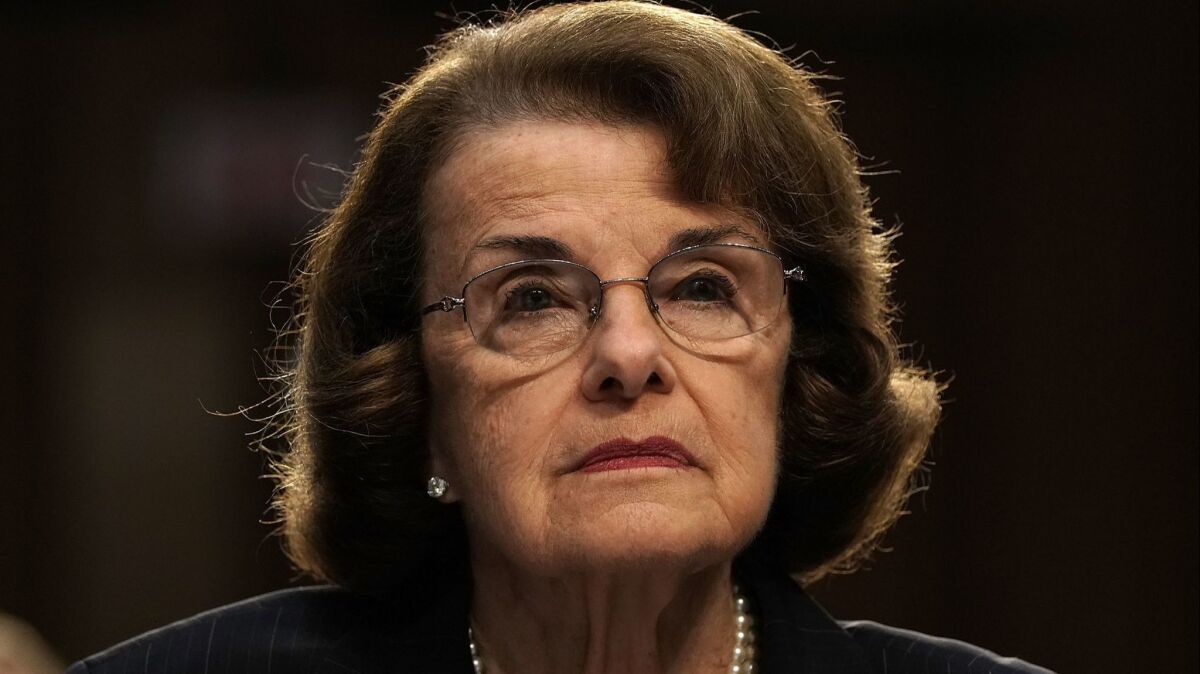 Feinstein strategist Bill Carrick accused De León of distorting the senator's record, saying she has been "out front on all kinds of progressive issues for years."
The tough outlook for De León has invited speculation that his main goal is just to raise his profile and run for another office in the future.
Not so, De León said.
"My mind-set is focused on the immediate and the now," he insisted after a reading at the Bel Air synagogue from a Ralph Fertig book on civil rights struggles.
Many of the Fertig friends and admirers at the reading were more in tune with De León's politics than Feinstein's.
Theresa Bonpane, 83, an antiwar activist since the 1960s, told De León that Feinstein was not progressive enough for her and her husband, who live in Santa Monica.
"We just think we need some good fresh blood of someone who's where we're at politically, but also who has the youth and the energy to do all the changes that we need," she said.
By emphasizing that he's more liberal than Feinstein, De León has diminished his appeal to the sizable minority of voters who would have preferred a Republican in the Senate race. Under California's voting system, the candidates who finish first and second in the primary advance to the general election, regardless of party.
"I think that Kevin de León running to the left of Dianne Feinstein in a general election is a perfect strategy for Dianne Feinstein," said Darry Sragow, a Feinstein advisor in the early '90s who now publishes the nonpartisan California Target Book election guide.
De León has won some powerful supporters, including the Service Employees International Union and California Nurses Assn. Unions helped him win the the state Democratic Party's endorsement, a major prize. Also backing him is San Francisco hedge-fund billionaire Tom Steyer, who worked with de León to pass the law curbing carbon emissions.
But whether any of that support translates into serious money spent on De León's behalf is uncertain.
At last count, De León had just $426,000 in the bank, and Feinstein, $3.8 million. Tight limits on fundraising for federal races — donations are capped at $2,700 — have hamstrung De León, who is accustomed to collecting bigger contributions under the state's more lax rules.
Feinstein's vast personal wealth gives her a major advantage. The former San Francisco mayor has lent her campaign $5 million so far. Millions more could follow if De León starts to look threatening.
"You're up against an incredibly powerful, rich opponent," Laura Stern, an avocado and citrus grower, reminded De León at the Ventura County barbecue.
That, he knew.
"If you're rich," he said after the drive back to Los Angeles, "the system is rigged for you."
Twitter: @finneganLAT
---
Life is stressful. Our weekly mental wellness newsletter can help.
You may occasionally receive promotional content from the Los Angeles Times.