Inside the push to mobilize Arizona's Latinos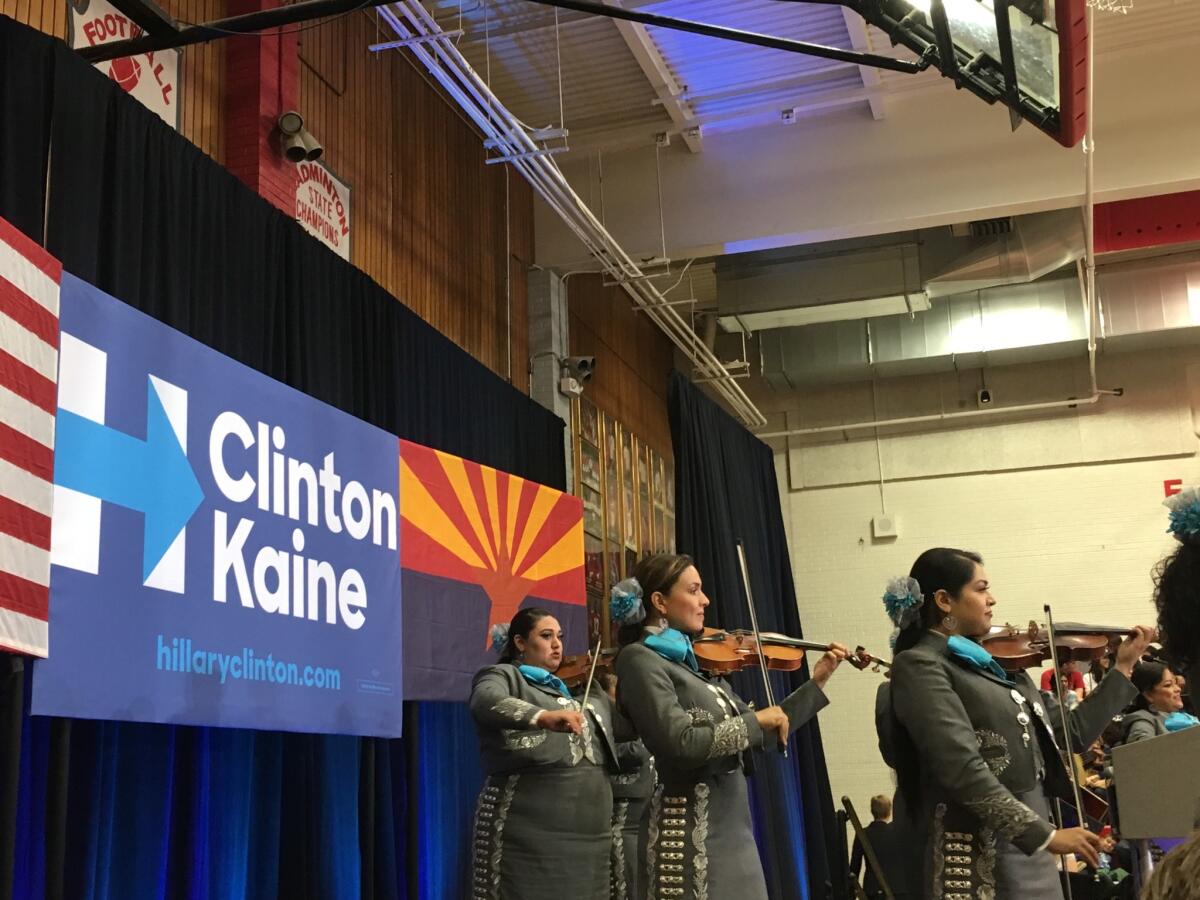 Reporting from Phoenix —
Each time Jesenia Angulo knocked on a door, there was potential for surprise. She might get an offer of homemade tamales, or confront a curt homeowner with a snarling dog, or even face her ex-boyfriend.
Her response was always the same: Have you voted already? Do you know where your polling place is? Do you need a ride there?
Then the 22-year-old canvasser for Mi Familia Vota, an advocacy group dedicated to turning out Latino voters, trudged on, an unglamorous march through Phoenix neighborhoods that she hoped would lead to a new chapter in Hispanic political power.
Arizona appeared on track to stay Republican on Tuesday, apparently handing its 11 electoral votes to Donald Trump. Once again, Democrats' hopes to capture the state were dashed.
It was not supposed to be a presidential battleground, not yet. The demographic changes that are turning the state younger and more Latino weren't expected to manifest at the polls until 2020 or 2024.
But the surge of early voting by Hispanics in Florida, Nevada and other swing states appeared here too, in a reliably red state that has voted for a Democrat for president only once since 1952. That was Bill Clinton in 1996.
This year, Latinos voted early at nearly twice the rate they did in 2012, a level of engagement that stunned even those steeped in the community.
"We didn't expect this to come so quickly," said Alejandra Gomez, co-director of Living United for Change Arizona, one of myriad groups mobilizing the Hispanic vote. "It's here now."
The groundwork was laid six years ago when the state Legislature, not Donald Trump, talked tough on illegal immigration. It passed a law that required police officers to demand people show their papers proving U.S. citizenship or lawful immigration status.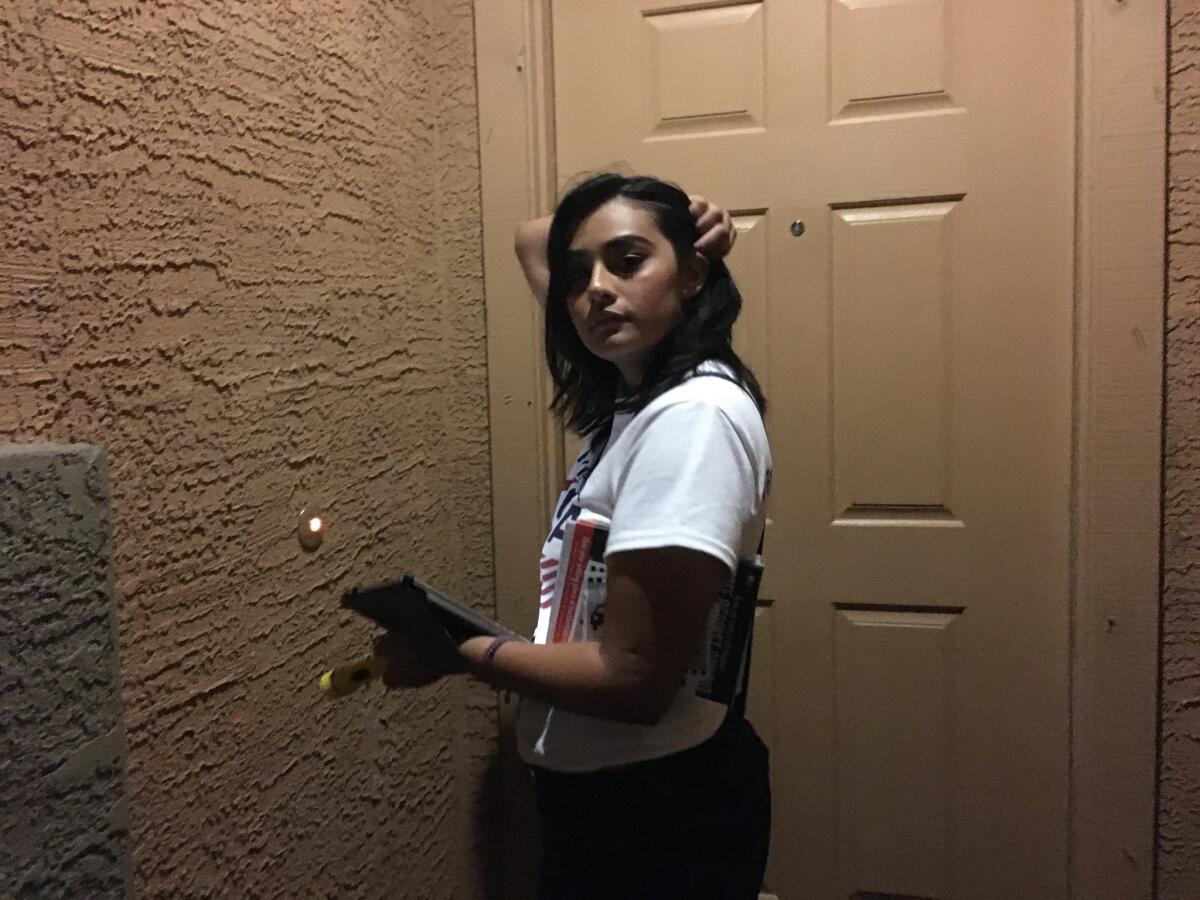 The law eventually was defanged by court rulings and legal settlements, but not before it spurred a new generation of activists into politics.
They began the plodding work of registering Latino and other new voters. From 2010 to 2015, One Arizona, a coalition that formed in response to the law, registered 120,000 voters.
"We were quietly building a ground game year after year after year," said Phoenix City Councilwoman Laura Pastor.
This year's election jolted those efforts into warp speed.
An initiative to raise Arizona's minimum hourly wage to $12 by 2020, a popular issue with Latinos, passed.
In Maricopa County, voters rejected Sheriff Joe Arpaio, an ardent Trump supporter whose crackdown on immigrants in the country illegally drew national attention and a legal backlash.
Sen. John McCain, the 2008 GOP presidential nominee, publicly feuded with Trump and at one point this year looked in danger. But he easily won his reelection battle Tuesday.
And then there is Trump, who kicked off his presidential bid in 2015 with claims that Mexico was sending criminals, drug dealers and rapists across the border.
Latinos in the state recoiled — and registered to vote. The One Arizona coalition signed up 154,000 new voters, mainly Latino, in 2016 alone. They now comprise 20% of the registered electorate.
"This is Trump's fault," said Adrian Fontes, the Democratic candidate for Maricopa county recorder.
He likened Hillary Clinton and Trump to "looking at side A that's like 'You guys are cool, come on in,' and side B that's like 'Oh, you guys are rapists and murderers and you can clean our houses.' Who are you going to go with?"
In the final, frenzied 36 hours before the polls closed, the push for votes took different forms.
Ruben Alvarez, 50, a GOP political strategist, phone-banked for Clinton. He had hoped to be making calls for Jeb Bush, who Trump beat for the GOP nomination. Instead he worked against his party and what he called Trump's "campaign based on hate."
"He's been able to do something that most Democrats haven't been able to do — galvanize the community" of Latinos, he said.
Lidia Flores, 18, and Cynthia Portugal, 19, roamed a sun-baked South Phoenix neighborhood to pitch the minimum wage initiative. In Spanish, they instructed Marisela Alcantar, 51, how to find her voter registration card so she could cast her first vote ever.
Angulo, who alternated between tamales and snarling dogs, said the race to the finish line had turned her life into one of sleepless nights and infrequent showers fueled by a diet of candy and caffeine.
What powered her was not one candidate or issue, but the hope that the Latino community — her community — would at last flex its muscle and become a force in Arizona politics.
"If things don't work out the way I wish ... then I will be doing this until it does," she said. "Until I see a change."
Follow @melmason for the latest on national politics.
Dejected? Empowered? The mood among Arizona voters varies by neighborhood
Clinton is seeing early turnout among the women and Latinos she is counting on in crucial states
Could anger over Donald Trump's rhetoric reinvigorate the push for immigration reform? Advocates hope so
Get our Essential Politics newsletter
The latest news, analysis and insights from our politics team.
You may occasionally receive promotional content from the Los Angeles Times.