Ahead of meeting with Xi, Trump voices optimism for 'productive' trade talks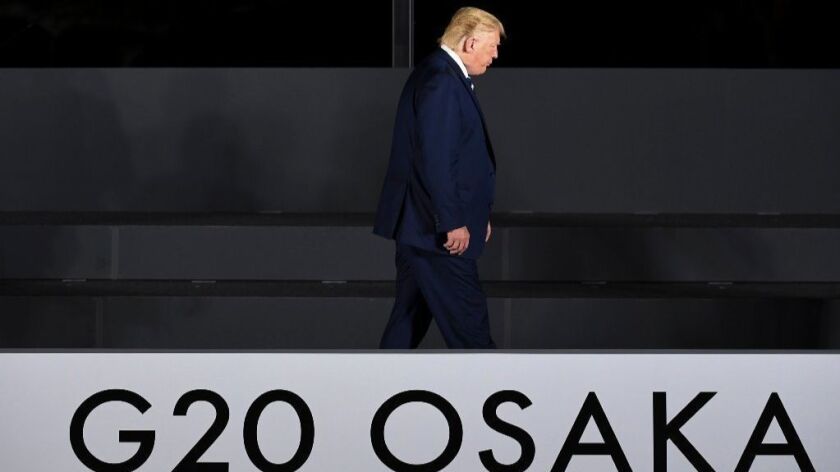 Reporting from Osaka, Japan —
President Trump sounded a note of optimism Friday about his highly anticipated meeting the next day with Chinese President Xi Jinping, suggesting that the leaders could again call a truce in their trade war as the two countries resume negotiations.
Although Trump gave no assurance that he would not slap new tariffs on China, he said of his upcoming discussions with Xi: "I think it'll be productive... It's going to come out, hopefully, well for both countries."
Trump spoke in Osaka, Japan, which is hosting the two-day G-20 summit of the world's leading economies.
The G-20 was formed to address problems in the global economy. Rising trade tensions, marked by Trump's aggressive use of tariffs on China and other countries, are at the top of the agenda.
U.S.-China trade talks broke down in early May, prompting Trump to ratchet up tariffs on some $200 billion worth of Chinese goods and to threaten to hit an additional $300 billion worth of Chinese imports with new duties.
Uncertainties over trade have slowed manufacturing and business investments in the United States and elsewhere. And world leaders at the summit said Friday that the world economy is on a knife's edge.
"I harbor great concern about the current situation on global trade," said Shinzo Abe, the Japanese prime minister, who is leading this year's G-20 proceedings.
At a news conference, European Commission President Jean-Claude Juncker directly blamed the difficult U.S.-China relations for contributing to the global slowdown.
Others voiced veiled criticisms of Trump's "America first" actions.
Russian President Vladimir Putin, at an informal meeting with Xi and Indian Prime Minister Narendra Modi, called for them to join in promoting a "modern, just international order that denies protectionism, unilateral actions and illegitimate sanctions."
Xi also denounced protectionism, saying it was "destroying the global trade order."
Trump administration officials, however, have defended the president's use of tariffs as as a tool to push trading partners, especially China, to play fairly and by the rules.
U.S. officials have been pressing China to slash its huge trade surplus with America, to protect intellectual property and to open up sectors to foreign firms, among other changes in the way the government-controlled economy operates.
Amid on-and-off talks, the Trump administration has applied several rounds of tariffs on a wide range of Chinese goods. Beijing has retaliated with counter-tariffs each time.
Last December, however, Trump and Xi met for dinner on the sidelines of the G-20 summit in Buenos Aires, and afterward the White House said Trump agreed not to escalate tariffs for 90 days while the two parties negotiated.
Trump extended the truce in spring, but things unraveled in May after U.S. officials accused Beijing of reneging on previously made commitments.
In addition to upping the tariffs on China, Trump formally listed the Chinese telecom firm Huawei Technologies Co. as a national security threat, effectively cutting off access to critical U.S. chips and other components.
Huawei is the world's largest telecom equipment maker and one of China's most successful global tech companies. Chinese officials have demanded that the ban on Huawei be lifted, and they also have insisted that U.S. officials must back away from tariffs if there is to be any chance of a deal.
On Friday, Trump said he had not promised China that he would hold off on imposing new tariffs, denying published reports that such assurances were given to secure a meeting with Xi.
Many analysts are looking for a repeat Saturday of the Buenos Aires outcome, although they caution that Trump is unpredictable and that a truce probably won't last long, given fundamental differences in their political economies.
With an eye toward reelection in 2020, they say, Trump also could end up settling for a deal without substantial changes. For one thing, he doesn't want to risk upending U.S. economic growth. And American farmers and other business people, who are among his staunchest supporters, would be happy to see tariffs removed.
Trump, speaking Friday to reporters while in a bilateral meeting with Brazilian President Jair Bolsonaro, issued his standard comment about future moves: "We'll see what happens," he said of Saturday's meeting.
He added: "It'll be a very exciting day, I'm sure."
---
Get our Essential Politics newsletter
The latest news, analysis and insights from our politics teams from Sacramento to D.C.
You may occasionally receive promotional content from the Los Angeles Times.