Narendra Modi's landslide reelection in India is another win for religious nationalism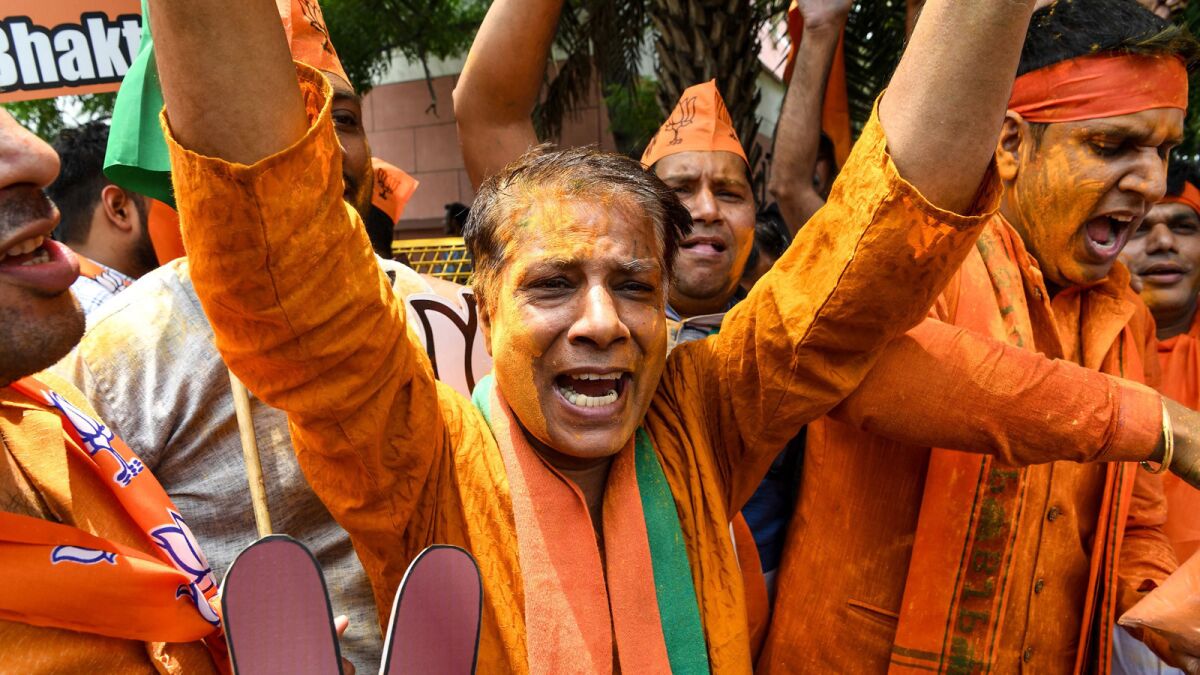 Reporting from New Delhi —
Indian Prime Minister Narendra Modi scored an overwhelming reelection victory on Thursday, winning a second five-year mandate while fighting off concerns about rising unemployment and his divisive Hindu nationalist policies.
Results released by India's Election Commission late Thursday showed Modi's Bharatiya Janata Party winning in more than 300 of 542 parliamentary races and parties allied with the BJP leading in dozens more, with some votes still to be counted. A total of 272 seats are needed to secure a majority and select the prime minister.
That tally, if confirmed, would represent one of the biggest landslides in Indian history, besting the absolute majority that the BJP won five years ago and surpassing even the most optimistic projections of many of Modi's partisans.
The result showed that Modi's naked appeals to patriotism and his party's frequent scapegoating of minorities, especially Muslims, resonated with Indians who believe that he has made Hindu majority India stronger and safer.
His message gained momentum after a terrorist attack against Indian forces in February triggered a brief military skirmish with rival Pakistan and raised the specter of an all-out war.
"This election was fought not by politicians but by the people of this country — and it's the people of this country who have emerged victorious," Modi told a raucous rally at BJP headquarters in New Delhi, where supporters braved a driving rainstorm to sing and dance in the streets.
Modi's chief opposition, the Indian National Congress, was on track to win barely 50 seats, the second consecutive dismal showing in a national election for what was once India's most powerful political party.
The opposition's disarray stood in stark contrast to the BJP's massive fundraising advantage and the larger-than-life persona of the 68-year-old Modi, the most popular Indian leader in decades.
Led by Modi's chief political strategist, BJP President Amit Shah, the party waged what many critics described as a campaign of fear. Modi and other party leaders frequently portrayed the political opposition as being in league with Muslim majority Pakistan, and called on voters to honor soldiers who died in the February attack by supporting the BJP.
"Modi and Amit Shah ran perhaps the most polarizing campaign in Indian history, an acknowledgement that they didn't think their policy record was adequate," said Irfan Nooruddin, director of the Georgetown India Initiative at Georgetown University.
Their tactics "showed a willingness to pander to the most extreme elements of the Hindu right wing," Nooruddin said. "A big win this week will be interpreted as vindication of this strategy, and, minimally, that there was no cost to the polarization caused over the past five years."
Exit polls released this week had indicated that Modi would win comfortably in what has been described as the largest democratic exercise ever held, with 900 million eligible voters.
But few expected the BJP to do better than it did when Modi stormed to power in 2014, when the once-moribund party won 282 seats out of 543, a rare single-party majority in a vast, fractious country most often ruled by coalition governments.
Modi's second five-year term "will be the age of the BJP's expansion," Shah said.
In office, Modi cast himself as a self-denying, uncorrupted leader bent on developing India by creating manufacturing jobs, empowering women, installing toilets and boosting the digital economy.
But his controversial 2016 decision to eliminate most of the cash in circulation — billed as an anti-corruption measure — kneecapped small businesses and worsened distress among a giant working class that transacts mainly in hard currency.
While India's economy continued to grow at a respectable annual rate of at least 6%, rising unemployment showed Modi had failed to meet his sweeping promises of providing jobs for the millions of educated young people entering the workforce every year.
"Modi ... ran perhaps the most polarizing campaign in Indian history.
— Irfan Nooruddin, Georgetown University professor
"The economic distress in India is very real, but Modi managed to make this an election about leadership by transforming a parliamentary contest into a presidential one, much like he did in 2014," said Milan Vaishnav, director of the South Asia program at the Carnegie Endowment for International Peace.
As his economic record came into question, Modi's government turned to darker political appeals to attract support from Hindu voters, who make up nearly 80% of the country's 1.3 billion people.
India's constitution enshrines religious freedom, and for most of the seven decades since independence from Britain, the country has been led by the secular Congress party. But as religious nationalism rises across the globe, Modi has edged India closer to the BJP's long-standing vision of a Hindu nation.
In the last five years, religious minorities, especially Muslims, have faced mob attacks from Hindu vigilante groups emboldened and in some cases directly supported by BJP politicians. On the campaign trail, Modi used the term "secular" as an epithet and lampooned Congress party leader Rahul Gandhi, whose great-grandfather Jawaharlal Nehru was India's first prime minister, as a scion of a dynasty out of touch with mainstream Indians.
Shah, the BJP president, pledged to institute a controversial citizenship verification process nationwide and "remove every single infiltrator from the country" except Hindus, Buddhists and Sikhs — a clear threat to Muslims, the largest religious minority.
The BJP also ran a parliamentary candidate, Pragya Singh Thakur, who has been indicted in connection with a terrorist attack that killed six people near a mosque in western India in 2008. In a campaign appearance, Thakur called independence leader Mahatma Gandhi's assassin a "patriot" — an apparent reference to Gandhi's policies of inclusion toward Muslims.
Modi spoke out against Thakur's remark, calling it unforgivable — but only after voting in her central Indian constituency had ended.
She was also poised to win her seat.
Modi's victory also reflected the success of BJP's relentless social media machine — which helped him win fawning domestic media coverage despite having not held a news conference in India in five years — and an expansive network of campaign workers in the field.
"People are not making up their opinions in a vacuum. They are constantly being visited, approached and contacted by members of the party organization," said Neelanjan Sircar, a senior fellow at the Center for Policy Research in New Delhi.
In the end, Sircar said, the BJP's tireless campaigning and media strategy carried more weight with voters than economic woes.
"One of the big lessons for the government will be perhaps to not have to focus on macroeconomic stability and health … because they may not have the kind of electoral impact that we once thought."
Special correspondent Malhotra reported from New Delhi and Times staff writer Bengali from Singapore.
---
Must-read stories from the L.A. Times
Get the day's top news with our Today's Headlines newsletter, sent every weekday morning.
You may occasionally receive promotional content from the Los Angeles Times.