Trump touts GOP unity, but Congress is split ahead of shutdown, immigration deadlines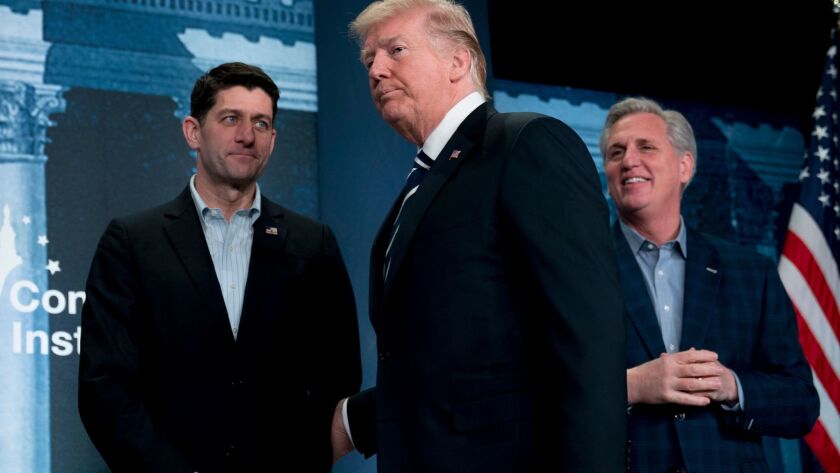 Reporting from Washington —
When President Trump addressed congressional Republicans at their recent retreat, he marveled at how unified the party appeared, "a great coming together," as Congress launches his 2018 agenda.
But the president's rosy outlook belied simmering tensions as the GOP majority charges into a daunting midterm election season with no clear strategy on Trump's priorities, such as infrastructure and immigration, and struggling over basic tasks, including preventing another shutdown when government funding expires Thursday.
A controversial GOP memo alleging FBI surveillance abuses has unified and galvanized some Republicans, particularly in the House. But GOP senators are far less supportive of the memo, which the Justice Department has called inaccurate. And even House Republicans are uncomfortable with Trump's attempt to use the memo as evidence to shut down the probe into his campaign's possible collusion with Russia.
GOP leaders say unity will be key if they are to hold onto their majorities in the House and Senate after November.
"We were able to accomplish a lot last year when we functioned and worked as a team," said the third-ranking Republican, Sen. John Thune of South Dakota. "If we want to get results this year, it's going to require again for people to come together. Sometimes that's hard."
Polling shows improvements in voter attitudes toward Republicans, particularly after the passage of the tax overhaul, narrowing what had been a widening gap in party preference before the fall elections. Democrats now have a negligible two-point edge over the GOP as the favored party, according to a Monmouth University poll.
Scores of Republican retirements, particularly among seasoned lawmakers and committee chairmen, and Trump's disapproval ratings have put the party's control of the House at risk. At the same time, a handful of Senate Democrats running for reelection no longer seem as endangered in conservative states that Trump won.
While some voters are beginning to see benefits of the tax cuts, such as bonuses or extra money in paychecks, the law still has not given Republicans the boost they anticipated, especially in the suburban districts where campaign officials acknowledge Democrats can make gains.
Rep. Steve Stivers (R-Ohio), chairman of the National Republican Congressional Committee, is counting on turning those numbers around. The committee is pillorying a quip by House Minority Leader Nancy Pelosi (D-Calif.) that the tax benefits amounted to "crumbs" — she was comparing ordinary Americans' benefits to the billions companies will reap — to help win back independent voters.
"We've got a lot of work to do to sell the tax reform package," Stivers acknowledged. Outside groups, including one aligned with House Speaker Paul D. Ryan (R-Wis.), have already spent more than $20 million backing the GOP effort, with more expected. "The 'crumbs' comment is something we can use pretty effectively."
But passage of the tax cuts may only take Republicans so far. Ryan was ridiculed for having heralded one anecdote, of a worker's meager $1.50 weekly pay boost, as an example of the tax law's accomplishments for Americans.
To be sure, Democrats have their own party divisions, fueled by an increasingly vibrant liberal wing that pushed Pelosi and Senate Minority Leader Charles E. Schumer (D-N.Y.) into last month's three-day shutdown. More moderate lawmakers have no interest in repeating a shutdown Thursday, when a stopgap spending bill expires.
Democrats had been using the funding measure as leverage to force an immigration debate, as Congress wrestles over protections for young Dreamers, the immigrants who arrived illegally in the United States as children and are now facing deportation. Trump will end the Obama-era Deferred Action for Childhood Arrivals program next month, though a court order is keeping it in place temporarily.
The White House offered its own immigration proposal — a path to citizenship for 1.8 million young immigrants in exchange for $25 billion in border security measures, including parts of the border wall, and deep reductions in legal immigration of family members and those using a diversity lottery.
But Trump's framework fell flat among both parties. Immigration wasn't even on the agenda at the GOP retreat, despite the president pumping up his plan and telling Republicans he wanted it brought up for a vote.
Instead, Republicans have been working privately in groups, including in a coalition with Senate Democrats that is meeting again Monday, to float alternatives.
One potential compromise offered Monday by Sen. John McCain (R-Ariz.) and Sen. Chris Coons (D-Del.) mirrors a bipartisan effort in the House that has growing support from moderates, though it has been panned by conservatives.
Sen. James Lankford (R-Okla.) acknowledged to reporters that on immigration, "we won't have a single unified position."
More pressing, House Republicans are likely to present another stopgap funding measure, with votes as soon as Tuesday, to keep the government running past this week's deadline.
This would be the fifth temporary funding bill in the current fiscal year, and lawmakers of both parties have tired of running federal offices on autopilot.
"Moving from stopgap measure to stopgap measure is no way to govern," White House Principal Deputy Press Secretary Raj Shah told reporters. "We're disappointed in Congress that we're potentially facing something like that."
GOP leaders are confident they can rely on their majority to muscle another weeks-long bill through Congress, even if House Democrats object — as some are likely to do as the DACA fix stalls.
"I don't see a government shutdown coming," said Sen. Richard J. Durbin of Illinois, the Democratic whip, said Sunday on CNN.
But restless rank-and-file lawmakers, particularly conservatives who want more spending cuts, may withhold their votes, putting passage in jeopardy.
Rep. Mark Meadows (R-N.C.), chairman of the conservative House Freedom Caucus, said the group has grown weary of promises from leaders that their priorities will be tackled in the next round of budget talks.
"We have to break that cycle of dysfunction," Meadows said. "Even if breaking that cycle of dysfunction sends us home."
Twitter: @LisaMascaro
ALSO:
Congress will try again on immigration reform — but will this time be different?
Trump is transforming the GOP against legal immigration. Will Congress follow?
Is this small-town congressman from New Mexico tough enough to win Democrats the House majority?
---
UPDATES:
2:20 p.m.: This article was updated with comments by White House Principal Deputy Press Secretary Raj Shah.
This article was originally published at 12:15 p.m.
---
Life is stressful. Our weekly mental wellness newsletter can help.
You may occasionally receive promotional content from the Los Angeles Times.