Republican leaders still hammering out differences on tax bill, with final votes expected next week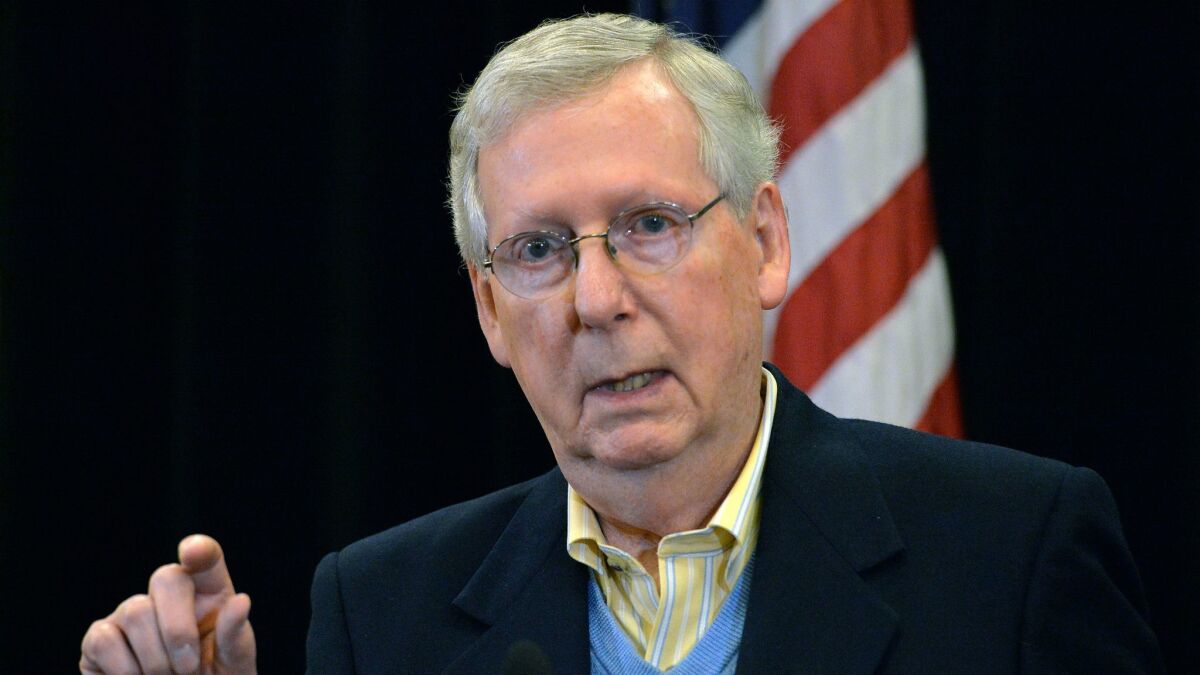 Reporting from Washington —
Ahead of a pivotal meeting Wednesday, House and Senate negotiators swapped new offers on the GOP tax bill as they hurry to resolve differences and regain momentum for passage of President Trump's top priority.
The focal point of the $1.5-trillion tax plan — the steep reduction in corporate rates from 35% to 20% — is expected to be relaxed slightly in the final deal, perhaps to 21%, as negotiators scramble to generate revenue that can be used to offset tax breaks elsewhere.
Trump indicated he would be open to higher corporate rates than Republicans first agreed to under a GOP framework, and House Ways and Means Committee Chairman Kevin Brady (R-Texas) said Tuesday that lawmakers also were willing to shift. But others said the reported 21% corporate rate was not yet set.
"We're still talking," said the majority whip in the Senate, John Cornyn of Texas, late Tuesday. "We're in the process of sending over a, hopefully, final proposal."
Republicans were struggling to make progress before Wednesday's planned open meeting of a conference committee, which is working out the differences between the House- and Senate-passed measures before final votes expected next week.
At issue are individual rates, brackets and changes to the treatment of so-called pass-through businesses, as well as the repeal of many popular write-offs and deductions.
One idea reportedly under consideration — to make additional cuts in the rates paid by the richest Americans — could become a political liability for Republicans as polling shows most Americans already view the tax bill as tilted toward the wealthy. It remained in flux, lawmakers said. The House proposal retained the current 39.6% rate but raised the income levels, while the Senate version cut the top rate to 38.5%
The cap on the mortgage interest deduction, lowered from $1 million under current rules to $500,000 in the House bill, was expected to settle in a middle range.
New limits on state and local tax deductions — which are now expected to be capped at $10,000 for property or income taxes — continue to be opposed by some Republicans from California and other high-tax states, whose residents could wind up with higher tax bills.
Rep. Darrell Issa (R-Vista), who voted against the House bill in part because it repealed the state and local tax deduction except for $10,000 in property taxes, said Tuesday he was likely to oppose the final deal because the $10,000 deduction on combined taxes would be "minuscule" for upper-income families in his district earning around $200,000.
"Very fluid," said Sen. John Thune of South Dakota, the third-ranking Republican, as talks continued.
Republicans, who have the majority in both houses of Congress, are negotiating among themselves, leaving Democrats on the sidelines. They intend to use special budget rules for passage with a simple majority vote that avoids the threat of a filibuster in the Senate.
Democrats, and even some Republican lawmakers, have balked at the accelerated process, without the typical hearings and debate of a measure of this magnitude. Work slowed slightly in recent days as lawmakers paused to take a second look.
The package is expected to add $1.5 trillion to the federal deficit over 10 years, but Republicans say the tax cuts will more than pay for themselves by generating new economic growth. Economists dispute that assertion, and the nonpartisan congressional Joint Committee on Taxation estimated that even with growth, the package would add $1 trillion to the deficit.
On Tuesday, though, Brady scoffed at "these people who say, 'Let's have more studies,'" arguing that the economy will benefit from the jolt that Republicans believe the tax cuts will provide. "We got to act now," he said on Fox News.
Trump is expected to address the nation Wednesday, making closing arguments for the package, which Republicans are eager to vote on next week.
"They're not going fast enough for me," said Sen. John Kennedy (R-La.). "I don't want to see their analysis turn into paralysis, and the longer we wait, the more it worries me."
ALSO
Bannon's ouster could boost the powerful Koch network, which has surprising sway in Trump's White House
Amid the rush to finish GOP tax bill, a sudden slowdown for second thoughts
Is this small-town congressman from New Mexico tough enough to win Democrats the House majority?
More coverage of politics and the White House
---
Life is stressful. Our weekly mental wellness newsletter can help.
You may occasionally receive promotional content from the Los Angeles Times.