House Democrats open new inquiry that could lay the groundwork for impeachment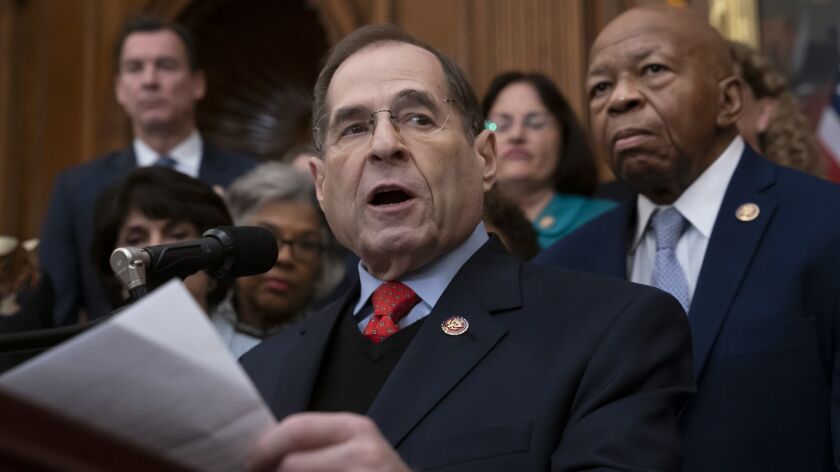 Reporting from Washington —
House Democrats launched a sweeping investigation Monday into whether President Trump and administration officials have obstructed justice, abused their power or acted corruptly, a massive undertaking that could lay the groundwork for impeaching the president.
The investigation will probe nearly every major controversy that has shadowed Trump since he took office, including suspicious Russian contacts, efforts to impede the special counsel's office and hush money payments involving the National Enquirer. Also under scrutiny is whether Trump has violated the Constitution's emoluments clause because he profits from his private company, which continues to do business with foreign governments.
Democratic leaders such as House Speaker Nancy Pelosi (D-San Francisco) have been trying to tamp down talk of impeaching Trump. The announcement reflects their strategy of opening wide-ranging investigations that increase pressure on the president and perhaps fuel a push to remove him from office if they choose to take that step.
The House Judiciary Committee, which would be responsible for initiating impeachment proceedings, asked for documents from 81 people and organizations, and no corner of Trump's life was spared.
The president's eldest sons, Donald Trump Jr. and Eric Trump, and his son-in-law, Jared Kushner, all received letters. So did Trump Organization executives, including chief accountant Allen Weisselberg and Trump's longtime personal secretary Rhona Graff, as well as longtime Trump associates like David Pecker, the publisher of the National Enquirer.
The committee also sent letters to all major organizations linked to the president, including his business, campaign, foundation, inaugural committee and the White House itself.
The initial flood of requests adds to the escalating congressional investigations that encircle Trump's presidency, and it's another example of how Democrats are flexing their newfound political power after retaking control of the House of Representatives in the midterm election.
"We have seen the damage done to our democratic institutions in the two years that the Congress refused to conduct responsible oversight," Rep. Jerrold Nadler (D-N.Y.), chair of the House Judiciary Committee, said in a statement. "Congress must provide a check on abuses of power."
In addition to Nadler's probe, the House Intelligence Committee chaired by Rep. Adam Schiff (D-Burbank) is continuing to look into Trump's behind-the-scenes, election-year effort to build a luxury skyscraper in Moscow, calling a hearing with one of his former business associates, Felix Sater, later this month.
And the House Committee on Oversight and Reform chaired by Rep. Elijah Cummings (D-Md.) is demanding more information about how the White House has granted security clearances in the wake of recent reports that Trump overruled career officials to increase Kushner's access to classified materials.
Monday's announcement was also a sign that Democrats do not plan to wait for special counsel Robert S. Mueller III to finish his work on the Russia investigation. They've raised concerns that Mueller's investigation, which is focused on Moscow's interference in the last presidential election and potential coordination with Trump's campaign, will be too narrow and may not produce the kind of public report they believe is needed.
"We must protect and respect the work of Special Counsel Mueller, but we cannot rely on others to do the investigative work for us," Nadler said. "Our work is even more urgent after senior Justice Department officials have suggested that they may conceal the work of the Special Counsel's investigation from the public."
Rep. Doug Collins (R-Ga.), the top Republican on the Judiciary Committee, accused Democrats of "hedging their bets" because Mueller may not find wrongdoing by the president. He also said that Nadler was "recklessly prejudging the president" and is "pursuing evidence to back up his conclusion."
Trump dismissed the investigation when asked by reporters at the White House, where he was hosting North Dakota State's championship football team.
"It's a political hoax," he said.
Trump has repeatedly lashed out at Democrats in recent days, calling them "crazed" and describing their plans for congressional oversight as "presidential harassment." He's also started blaming them for last week's failed summit in Hanoi, where he hoped to persuade North Korean leader Kim Jong Un to give up the country's nuclear weapons.
While Trump was meeting with Kim, the House Committee on Oversight and Reform was holding an explosive hearing with Michael Cohen, the president's former lawyer who is going to prison for three years. He pleaded guilty last year to several crimes, some connected to Trump himself.
"For the Democrats to interview in open hearings a convicted liar & fraudster, at the same time as the very important Nuclear Summit with North Korea, is perhaps a new low in American politics and may have contributed to the 'walk,'" Trump tweeted on Sunday, a reference to the decision by Trump and Kim to walk away from the bargaining table without a deal.
White House Press Secretary Sarah Huckabee Sanders responded tersely to Democrats' request for documents on Monday, saying that officials "will review it and respond at the appropriate time."
The White House will likely claim executive privilege allows it to withhold some records, and the Justice Department is expected to resist handing over sensitive documents related to the Russia investigation.
Later in the day, another request for documents arrived from the House Intelligence, Oversight and Armed Services committees on Monday. The three panels are probing whether Trump has tried to cover up his conversations with Russian President Vladimir Putin, citing reports that records may have been destroyed or interpreters sworn to secrecy.
They've asked the White House and State Department for documents used to prepare for meetings and notes on what was discussed. They're also seeking interviews with interpreters and diplomatic officials who participated in the conversations or were briefed on them afterward.
The committee chairs issued a statement saying there are "profound national security, counterintelligence, and foreign policy concerns."
Despite the proliferation of scandals and criminal investigations during the Trump administration, sustained congressional oversight has been largely absent until this year, when Republicans ceded control of the House to Democrats.
The renewed focus on investigating the president and his associates mirrors the approach during the Watergate era, when President Nixon was simultaneously scrutinized by a special prosecutor and lawmakers on Capitol Hill. Nixon resigned once articles of impeachment were approved by the Judiciary Committee.
Lisa Gilbert, the vice president of legislative affairs at the watchdog group Public Citizen, said Congress can operate "outside the more narrow mandate" that Mueller was granted.
"We need a deeper understanding," she said. "There has been ongoing corruption, and there needs to be a space to examine all of it."
Liberal activists and major donors like San Francisco's Tom Steyer have demanded that Democrats begin impeachment proceedings, but Nadler told ABC News on Sunday that's "a long way down the road."
"We don't have the facts yet, but we're going to initiate proper investigations," he said.
However, he said it's already "very clear that the president obstructed justice," referring to Trump's alleged efforts to short circuit the investigation into his first national security advisor, Michael Flynn, who later pleaded guilty to lying about his conversations with the Russian ambassador.
Even if Democrats decide to push for impeachment, it's unlikely that Trump would be removed from office. Such a step requires a two-thirds vote in the Senate, which is still under Republican control.
---
Get our Essential Politics newsletter
The latest news, analysis and insights from our politics teams from Sacramento to D.C.
You may occasionally receive promotional content from the Los Angeles Times.