Kamala Harris tells Iowa voters she would eliminate private health insurance companies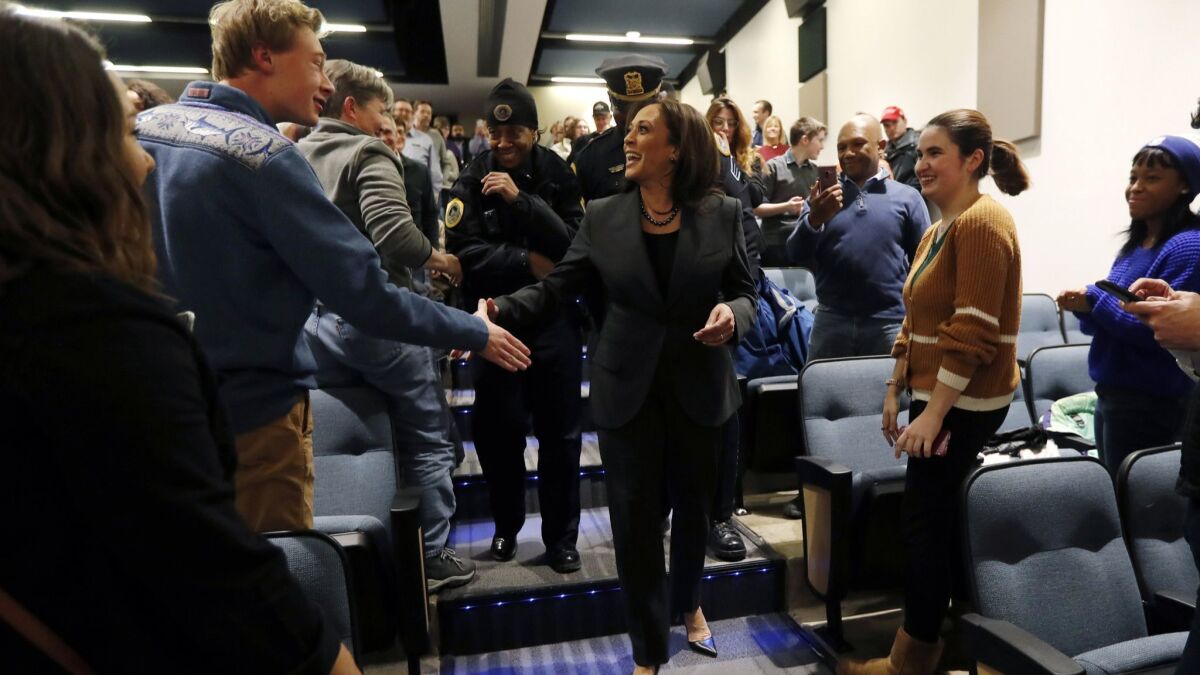 Kamala Harris, meeting Iowa voters face-to-face on Monday for the first time since becoming a presidential contender, laid out a progressive pitch centered on sweeping government initiatives on healthcare, climate change and middle-class tax cuts.
Appearing at a televised CNN town hall at Drake University in Des Moines, Harris seemed at ease appealing to the Democratic base, including vowing never to vote for President Trump's proposed border wall, which she called "a medieval vanity project."
But she walked a delicate line in explaining her record as a prosecutor, which has garnered some criticism on the left for contributing to mass incarceration and running counter to progressive values.
"I've been consistent my whole career… As a prosecutor, my duty was to seek and make sure that the most vulnerable and voiceless among us are protected, and that is why I have personally prosecuted violent crimes," said the first-term U.S. senator from California.
Though Harris made no apologies for her past work, she conceded the larger shortcomings of the criminal justice system she worked in for years.
"Do I wish I could've done more? Absolutely," she said.
Largely, her policy positions aligned with progressives' wish lists. She said that the country needed Medicare for All, a single-payer system that would massively expand the nation's healthcare program for Americans over 65. She acknowledged that proposal would do away with private insurers.
"Let's eliminate all of that," she said of insurance companies. "Let's move on."
Her platform also included ambitious — and expensive — programs such as a Green New Deal, championed by freshman Rep. Alexandria Ocasio-Cortez, which would pump money into clean energy jobs, and Harris' own tax cut plan, directed at working low- and middle-income people.
When one questioner, a pastor, asked about gun violence and its devastating effect on communities, Harris responded with a forceful call for "smart gun laws."
She criticized Congress for not passing stricter background check rules after a fellow lawmaker, Gabrielle Giffords, was shot, or after the massacre of children at Sandy Hook Elementary School.
"Somebody should have required all of those members of Congress to go in a room … and look at the autopsy photograph of those babies," Harris said. "And then you vote your conscience."
Harris also portrayed herself as an ardent defender of the the Deferred Action for Childhood Arrivals program, or DACA, the Obama-era protection for immigrants who were brought to the country illegally when they were young. The Trump administration has tried to rescind those protections and use them as a bargaining chip in its effort to build a border wall.
"I stand with you. There are so many of us who do," Harris told a young woman who is a DACA recipient. "And we should not be trading on your life for the sake of the political games that this president is playing in trying to vilify young people like you who are doing nothing except being productive and believing in and living the American dream."
The answer prompted some of the loudest applause of the night.
But the audience was most enthusiastic when talk turned to Trump — and which Democrat could beat him.
Though Harris did not mention Trump by name, she promised to conduct herself as a forceful counterweight to the president.
"Speaking like a leader … means speaking in a way that expresses and indicates some level of interest and concern in people other than oneself," Harris said. "And so right there, we will see a great contrast."
Fresh off an Oakland mega-rally on Sunday with an adoring hometown crowd, Harris found her Iowa audience of Drake students and likely Democratic caucusgoers largely friendly as well.
As the hourlong event progressed, Harris left her seat several times to address questioners, bantering with some of them. When a new mother asked whether Harris supported a national paid family leave policy, the senator answered in the affirmative before turning more personal.
"Congratulations! What'd you have?" she asked.
At times, Harris' tendency to slip into talking points was on display. Her lament that there are "powerful forces trying to sow hate and division" appeared in answers to two questions, one about how to address racism and one about the #MeToo movement.
Asked about the historic nature of her bid — if successful, Harris would be the first woman and first woman of color to be president — Harris recited an oft-told quote from her late mother: "You may be the first to do many things but make sure you're not the last."
---
Life is stressful. Our weekly mental wellness newsletter can help.
You may occasionally receive promotional content from the Los Angeles Times.