Jared Kushner is finally granted a White House security clearance after downgrade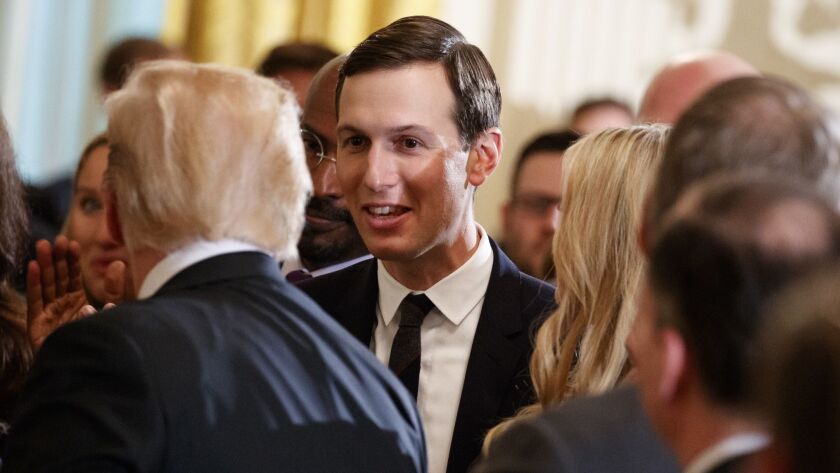 Reporting from Washington —
Jared Kushner has received his full security clearance after more than a year of delay and controversy, removing a hurdle to his continued service as a key White House advisor to President Trump, his father-in-law.
Kushner lost his access to top-secret intelligence in February, an embarrassing setback for a senior White House official who had become accustomed to highly classified briefings and working on sensitive international issues.
The downgrade came during a political firestorm over Rob Porter, Trump's staff secretary, who had kept his own job even though he was unable to get a permanent security clearance because of allegations he had physically abused his ex-wives.
Now Kushner has been returned to his previous high-level status — and according to his lawyer, on a permanent basis.
"His application was properly submitted, reviewed by career officials, and went through the normal process," attorney Abbe Lowell said in a statement. "Having completed these processes, Mr. Kushner is looking forward to continuing the work the president has asked him to do."
Kushner's access to highly classified intelligence was a source of criticism because he repeatedly amended his disclosure reports, complicating the vetting process and raising questions about whether he was trying to hide some of his sprawling financial interests or contacts with Russians and other foreigners.
Mark Zaid, a lawyer who works on national security issues in Washington, called the permanent clearance a "significant achievement" for Kushner.
"I think it goes a long way to placing Kushner in the free and clear," he said. "If I were him, I'd sigh a deep breath of relief.'"
Some suggested that Kushner's path was smoothed by his status as the president's son-in-law — he is married to the Trump's daughter Ivanka, who is also a White House advisor.
"I don't believe an ordinary citizen would have been able to get that clearance," Rep. Ted Lieu (D-Torrance) said in an interview on Wednesday.
The White House did not respond to a request for comment, but Lowell denied any outside interference. "There was nobody in the political process that had anything to do with" the security clearance, he told CNN.
Kushner has faced questioning from special counsel Robert S. Mueller III, who is investigating whether anyone from Trump's team conspired with Russians to influence the 2016 presidential election. His lawyer said Kushner has fully cooperated with the prosecutors.
"He has continued this complete cooperation, providing a large number of documents and sitting for hours of interviews with congressional committees and providing numerous documents and sitting for two interviews with the Office of Special Counsel," Lowell said in his statement. "In each occasion, he answered all questions asked and did whatever he could to expedite the conclusion of all the investigation."
Kushner previously ran his family's real estate empire, which is anchored by a Manhattan skyscraper but includes widespread holdings in apartment buildings.
He worked on his father-in-law's campaign and followed him into the White House, where he received a significant portfolio of responsibility — negotiating peace between Israelis and Palestinians, reforming the prison system and handling relations with Mexico, among others — despite lacking any government experience.
It's unclear how Kushner's ability to receive a permanent security clearance relates to the special counsel investigation, which is ongoing. He faced significant scrutiny for his contacts with Russians, including Moscow's ambassador to Washington during the presidential transition. Kushner has denied any wrongdoing.
Mieke Eoyang, a former senior staff lawyer on the House Intelligence Committee, said the granting of a clearance should not be viewed as a "Good Housekeeping seal of approval."
The FBI, which is also working on the Russia investigation, handles background checks for political appointees like Kushner.
"The only question that they evaluate is whether or not someone is vulnerable to foreign influence for actions that they might take or information that they might disclose," Eoyang said.
In a separate development Wednesday, the special counsel's office took a step toward sentencing for George Papadopoulos, a former foreign policy advisor to the Trump campaign who pleaded guilty to lying about his contacts with Russians. Papadopoulos was the first of several former Trump aides to plead guilty and cooperate with prosecutors.
Sentencing generally doesn't take place until after a defendant's cooperation is no longer needed. Papadopoulos has not testified in court, nor have prosecutors cited evidence provided by him in any other proceedings.
Probation officers have until Aug. 1 to prepare a pre-sentencing report, suggesting that Papadopoulos could be sentenced sometime this summer.
Follow the latest news of the Trump administration on Essential Washington »
Twitter: @chrismegerian
---
UPDATES:
3:30 p.m.: This story was updated with reaction from Kushner's lawyer and others.
This story was originally published at 12:25 p.m.
---
Life is stressful. Our weekly mental wellness newsletter can help.
You may occasionally receive promotional content from the Los Angeles Times.