Indicted former Senate staffer appears in court as Russia leak inquiry sets off partisan fireworks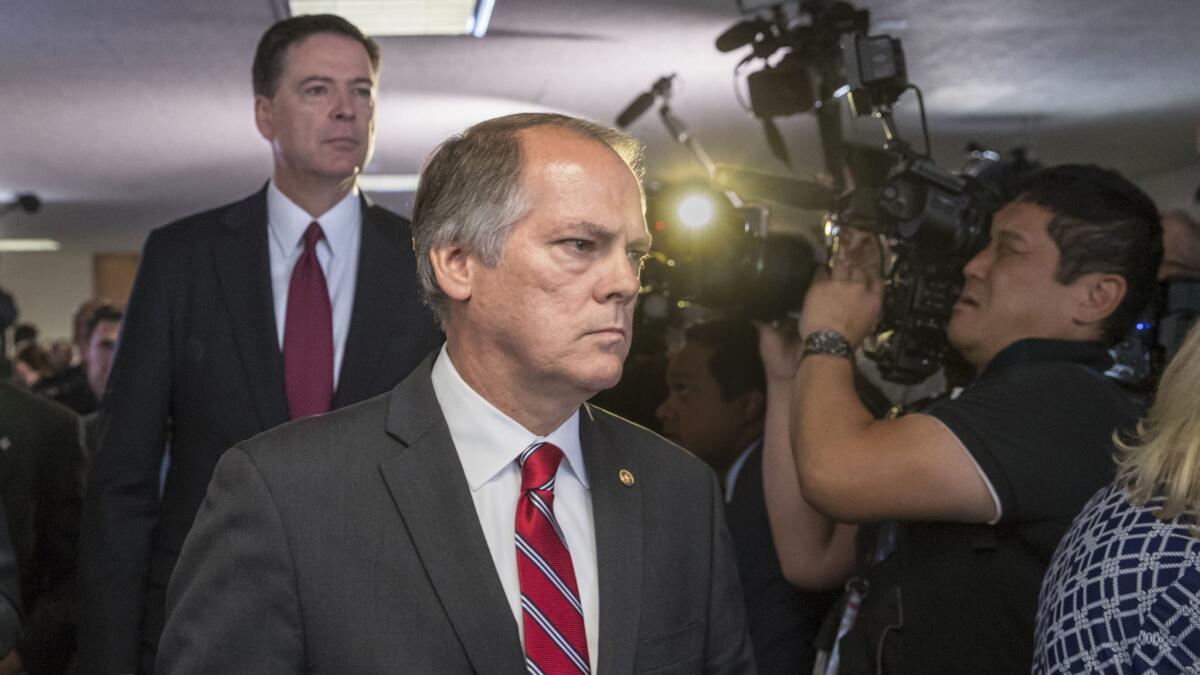 Reporting from Washington —
The former security director for the Senate Intelligence Committee made an initial court appearance on Friday after his indictment on charges that he lied to federal investigators probing a leak involving a former campaign aide to President Trump.
The indictment of James A. Wolfe, 57, indicates that FBI agents were trying to determine how reporters learned that Carter Page, the former Trump campaign aide, had contacts with Russian intelligence operatives. The contacts were revealed to the Senate committee by law enforcement officials in classified documents, according to the indictment, which was unsealed late Thursday after his arrest.
On Friday afternoon, Wolfe appeared before Magistrate Judge J. Mark Coulson at the U.S. District Court in Baltimore. Dressed in a white shirt and gray pants, Wolfe was expressionless and composed. He was represented in court by a public defender and requested a court-appointed lawyer.
By Friday morning the case had already begun setting off partisan fireworks. The Breitbart news site and other conservative media dubbed Wolfe a "deep-state leaker," saying the charges against him bolstered their theory that a cabal of government officials conspired to go after Trump and members of his campaign team after he won the presidency.
Trump, speaking to reporters at the White House before departing for the G-7 summit in Quebec, called the case "very important — it's a very important leaker."
"It could be a terrific thing," Trump said "I'm a big, big believer in freedom of the press. But I'm also a believer in classified information has to remain classified."
The extent to which the case involves classified information remained uncertain. The chairman of the Intelligence Committee, Sen. Richard Burr (R-N.C.), and the panel's ranking Democrat, Sen. Mark R. Warner of Virginia, issued a joint statement noting that "the charges do not appear to include anything related to the mishandling of classified information" but adding that "the committee takes this matter extremely seriously."
The two said the news of Wolfe's arrest was "disappointing," noting that he had worked on the committee staff for more than 30 years, under both Democratic and Republican majorities. The Intelligence Committee has "fully cooperated" with investigators since learning about the case "late last year," they said.
Get the latest news from the nation's capital on Essential Washington >> »
The case took on additional sizzle because one of the reporters to whom Wolfe is alleged to have provided information, Ali Watkins, now works for the New York Times — a favorite target of Trump's — and had a romantic relationship with Wolfe, the paper reported.
Federal law enforcement officials seized several years' worth of Watkins' email and phone records in connection with the Wolfe investigation, the New York Times reported Thursday.
The seized material does not include the contents of Watkins' emails, but does include customer records from Verizon and Google covering two email accounts and a phone she used, the newspaper reported.
The seizures would mark the first time that the Justice Department under Trump is known to have authorized prosecutors to obtain a reporter's records as part of a leak investigation.
Federal prosecutors obtained reporters' records in several cases under President Obama, but the Justice Department in Obama's second term adopted rules designed to shield reporters in many circumstances. Atty. Gen. Jeff Sessions has said that the Justice Department may change some of those rules, which some prosecutors say have hindered investigations. No changes have been made public to date, however.
In a statement Thursday, Watkins' personal lawyer, Mark J. MacDougall, said "it's always disconcerting when a journalist's telephone records are obtained by the Justice Department — through a grand jury subpoena or other legal process."
"Whether it was really necessary here will depend on the nature of the investigation and the scope of any charges."
Free-press advocates also questioned whether prosecutors had acted appropriately.
"Seizing a journalist's records sends a terrible message to the public and should never be considered except as the last resort in a truly essential investigation," Bruce Brown, executive director of the Reporters Committee for Freedom of the Press, said in a statement. The Justice Department should "explain how its actions adhered to its own guidelines," he said.
Wolfe was charged with three counts of making false statements to investigators when they interviewed him in December. He denied then being in contact with reporters, but, according to the indictment, he had communicated extensively with four reporters in part by using encrypted phone apps. The indictment indicates that investigators obtained copies of many of those messages.
According to Judge Coulson, each count carries a maximum penalty of five years in prison, a $250,000 fine and three years of supervised release.
Wolfe officially retired from the committee staff last month.
According to the indictment, a journalist identified as Reporter 2 published an online article on April 3, 2017, revealing the identity of a person the indictment calls "Male 1."
An article under Watkins' byline appeared online on the BuzzFeed news site on that date revealing Page's contact with a Russian intelligence operative.
The indictment does not name Watkins, but the description of Reporter 2's employment history matches hers.
Watkins began her career in Washington in 2013 as an intern for the McClatchy news service's Washington bureau while she was a journalism student at Temple University in Philadelphia. She later worked for BuzzFeed and Politico. She began working for the New York Times late last year, covering national security. The seized records all predate her employment there, the paper reported.
A prosecutor informed Watkins on Feb. 13 about the seizure of her records, the New York Times reported. The paper learned of the matter on Thursday, the day after the Intelligence Committee made a terse announcement that it was cooperating with the Justice Department "in a pending investigation."
Wolfe, who was arrested in Maryland but charged in D.C., was released Friday without bail. A federal prosecutor did not seek pretrial detention. His pretrial conditions included an appearance at the FBI Field Office in D.C. for processing on Monday at 9 a.m., and an appearance before Magistrate Judge Robin Meriweather at 1:45 p.m. Tuesday at the D.C. District Court.
Wolfe must also surrender his passport by Monday, cannot travel beyond Maryland except for his court appearance in D.C., cannot apply for employment involving security clearance without court approval and must check in regularly with his pretrial office, among other conditions.
For more on Politics and Policy, follow me @DavidLauter
---
UPDATES:
1 p.m.: This story was updated with details from Wolfe's court appearance.
This story was originally published at 11:55 a.m.
Get our Essential Politics newsletter
The latest news, analysis and insights from our politics team.
You may occasionally receive promotional content from the Los Angeles Times.