McCaskill and other red-state Democratic senators court Trump supporters in bid to keep their seats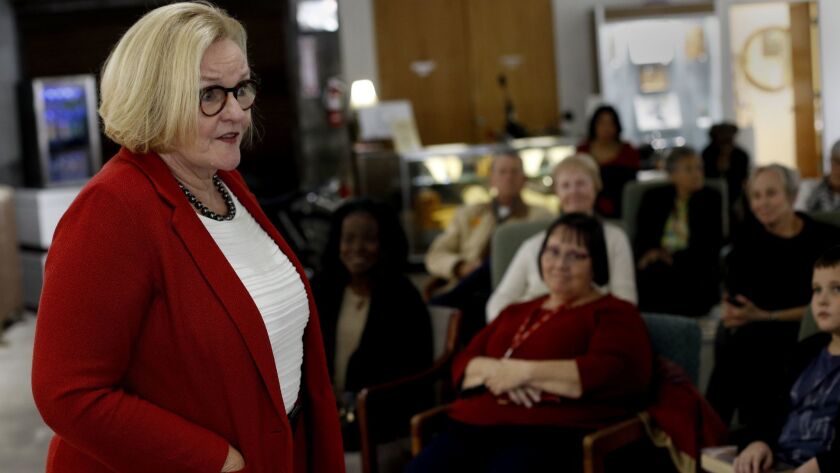 Reporting from Poplar Bluff, Mo. —
The Butler County Democrats of Missouri came out in full force this week to greet Sen. Claire McCaskill — all three dozen of them.
In the party's field office, the Democratic faithful cheered for their two-term senator and laughed at jokes about how her younger rival, Josh Hawley, can't keep up with her busy campaign schedule. But they also got a dose of electoral reality from one of Missouri's last Democratic statewide officials.
"I think we can all agree that I'm probably not going to carry this county. Does everyone agree with that?" McCaskill said in this southern stretch of Missouri, where gun shops advertise on the radio and billboards blare antiabortion messages. "But that doesn't mean I don't show up, show respect and fight for every vote I can get."
McCaskill is one of the 10 so-called red-state Democrats: senators who are defending their seats this year in states won in 2016 by President Trump. They are among this election's most-watched races and will probably determine whether Republicans keep their 51-49 Senate majority or widen it.
Republicans began salivating nearly two years ago at the idea that Democrats had to compete in such hostile territory, confident that Trump supporters in these states would make all 10 of the races competitive.
But in the final days before the midterm election, only one appears all but certain to flip to the GOP: in North Dakota, where Sen. Heidi Heitkamp's vote against Trump's Supreme Court pick, Brett M. Kavanaugh, appeared to give the final boost to her challenger, Kevin Cramer.
Democrats are extremely comfortable in four of the 10 races — Michigan, Ohio, Pennsylvania and Wisconsin — and polls are trending positive for them in West Virginia.
Only four are considered true toss-ups by political pollsters and strategists: Indiana, Florida, Montana and Missouri, where McCaskill, who — in the closing days of the race — is courting Trump voters and dropping the word "moderate" as often as she can.
This week, McCaskill called for the federal government to block the caravan of Central American migrants working its way through southern Mexico and derided the "crazy wing" of her own party in radio ads. Trump has made the caravan one of his top issues, ordering 5,200 troops to the border.
Democratic Sen. Joe Donnelly is also tacking to the right as he fights to hang on in Indiana, and Sen. Joe Manchin III has followed a similar strategy in West Virginia, where he has a sizable lead in the polls.
"If I don't pick up Trump voters, I'm not going to win," McCaskill told the Los Angeles Times between campaign stops. "There is a whole swath of Missourians who don't make a decision based on party. They make each decision individually and look at pros and cons. I think the fact that I'm a moderate and I get things done appeals to them."
Trump won the state by nearly 20 percentage points. But McCaskill is buoyed by the Missouri voters who cast ballots for both Trump and Democratic Senate candidate Jason Kander in 2016, and for GOP presidential candidate Mitt Romney and her in 2012.
But that mixed-party voting didn't happen throughout the state. Voters in Butler County, where McCaskill stopped Tuesday, backed Trump by a whopping 80% in 2016. The president is returning to neighboring Cape Girardeau to rally his supporters to back Hawley, the state attorney general and Republican Senate hopeful. Trump was in Columbia, Mo., on Thursday.
McCaskill sees Trump's visits to Missouri as a good sign for her.
"Ask yourself why the president is coming here twice in five days," she told the crowd at a stop in Cape Girardeau on the banks of the Mississippi River on Tuesday. "He's not coming here twice in five days because they've got this wrapped up."
The rally is one of several that Trump is holding in the final days before the midterm election in many of the most contested Senate races. He's making two trips each to Florida, Missouri and Indiana, and single trips to West Virginia, Montana, Ohio, Georgia (where there is no Senate race, but a highly contested battle for governor) and Tennessee (where Republicans are expected to hang on to a GOP-held seat).
The red-state Democrats have taken different paths to compete on Trump's playing fields.
Some, including Manchin and Donnelly, cozied up to Trump voters. Donnelly ran a television ad touting a GOP trifecta: support for the border wall, opposition to abolishing the Immigration and Customs Enforcement and a quote from Republican President Reagan.
Manchin's support for Kavanaugh was viewed as sealing his reelection effort. Heitkamp and Donnelly's opposition to the nominee probably hurt them.
The Democrats who are considered safest today — including senators in Wisconsin, Ohio and Pennsylvania — kept a sizable distance from Trump, although their states had smaller Trump margins than others. And Democrats in Montana and Wisconsin probably benefited from GOP candidates who weren't as formidable as some Republicans had hoped.
Wisconsin Sen. Tammy Baldwin has a double-digit lead over GOP challenger Leah Vukmir in a recent Marquette Law School poll, leading all demographic groups except white, non-college-educated men — a major Trump constituency that also supports Vukmir.
In Montana, Libertarian candidate Rick Breckenridge said Wednesday that he would exit the race, a move that may help bolster support behind Republican Matt Rosendale, who is trailing in the polls. Both major parties have put a significant investment into advertising there, a sign they view it as competitive.
Elsewhere, Democrats are trying to pick up a couple of GOP-held seats, though those opportunities are fewer. In Arizona — which was an open seat after the retirement of Republican Sen. Jeff Flake — the race is still a toss-up, as is the one in Nevada, where Republican Sen. Dean Heller is trying to defend his seat in a state that Hillary Clinton won in 2016.
The fact that half of the red-state Democrats seems to be safe and only one appears certain to lose is a setback for the GOP, which had expected to be doing much better.
"It's a little bit disappointing because the map alone should be putting us in a position where we can pick up five or six seats," said GOP strategist Matt Mackowiak of Potomac Strategy Group. "I think we'll never have a better map than this."
Certainly not in 2020, when the electoral math flips strongly toward the other side as Republicans defend nearly twice as many incumbent seats as Democrats.
One GOP strategist, granted anonymity to speak freely, blamed gaps in campaign donations.
"Democratic enthusiasm is as high as it has ever been in a midterm," the strategist said. "Democratic fundraising has far outpaced Republican fundraising. It's stunning how badly our candidates are being outraised."
McCaskill has outraised Hawley by a 4-1 ratio, an imbalance that should be insurmountable. But Trump's popularity in Missouri — particularly this far-southern part of the state known as the "boot heel" — is proving to be one of the most difficult for Democrats.
McCaskill and other red-state Democrats have leaned heavily on the GOP effort to repeal the Affordable Care Act, noting that doing so would eliminate protections for people with preexisting conditions. McCaskill has tried to focus her race on the issue, hoping to take advantage of the fact that Hawley led a GOP lawsuit to try to repeal the healthcare law.
Hawley has run on immigration and border security and is closing his race with accusations that McCaskill has been in office too long. He frequently cited her 12 years in the Senate in their last debate.
"She's a liberal Democrat who has opposed the president at every turn," he said at the event.
McCaskill has been careful to aim her campaign fury at Hawley, not at the president.
"Josh Hawley can call me old all day," McCaskill said in Cape Girardeau. "But I'll tell you this: In terms of how hard we're working on this campaign, he can eat my dust."
jennifer.haberkorn@latimes.com
Twitter: @jenhab
---
Get our Essential Politics newsletter
The latest news, analysis and insights from our politics teams from Sacramento to D.C.
You may occasionally receive promotional content from the Los Angeles Times.