Democrat TJ Cox grabs lead over Republican David Valadao in nation's last undecided House race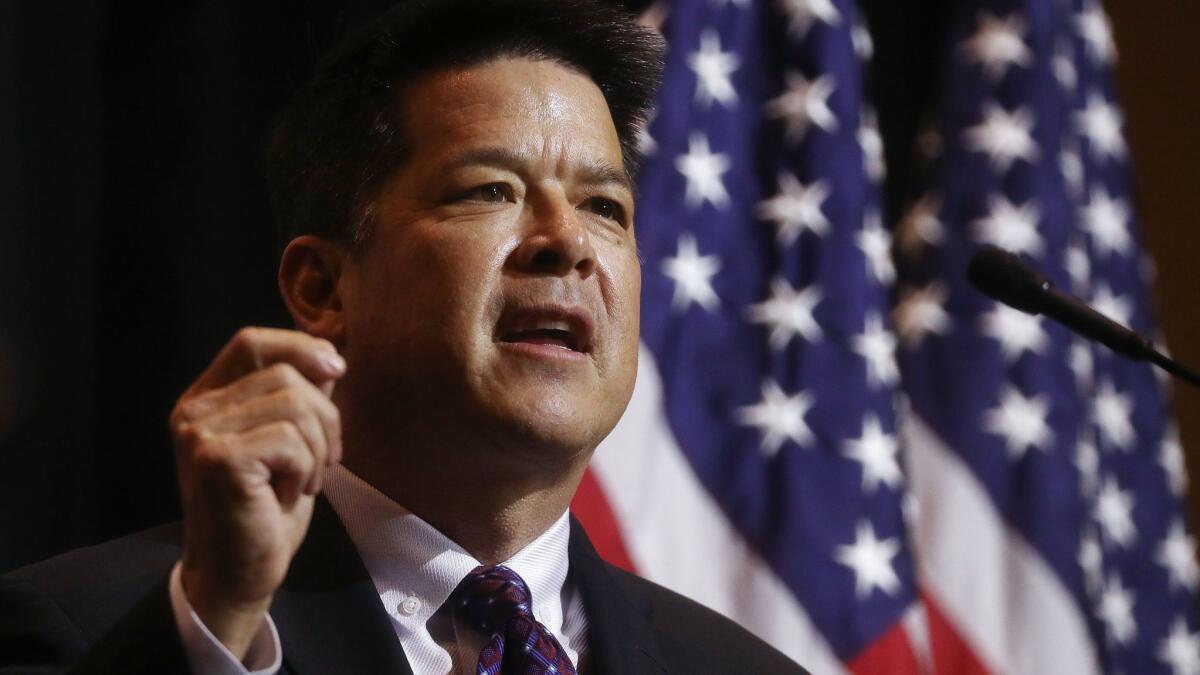 Democrat TJ Cox slipped past Republican incumbent David Valadao on Monday to take the lead in the country's sole remaining undecided congressional race, positioning Democrats to pick up their seventh House seat in California and 40th nationwide.
Cox, who trailed by nearly 4,400 votes on election night, has steadily gained as ballot counting continues nearly three weeks after the Nov. 6 election, a pattern consistent with the state's recent voting history.
On Monday, he pulled ahead by 436 votes after Kern and Tulare counties updated their results.
"Every update has kept us on track to win," said Phillip Vander Klay, a Cox spokesman, "and we're still on that track."
Valadao's campaign did not respond to requests for comment.
The mostly rural 21st Congressional District, which Cox and Valadao are vying to represent, takes in portions of Fresno, Kern, Kings and Tulare counties. Several thousand ballots remain to be counted before the state's Dec. 7 deadline for county election officials to finalize and certify their results
The next, and potentially decisive, update is scheduled to come Wednesday, when Fresno County — which is home to one-third of the district's registered voters — releases fresh totals.
A Cox victory would give Democrats a sweep of the California districts they targeted this election and expand the party's biggest gain nationally since the Watergate era — more than enough to take control of the House in January.
A loss by Valadao, a three-term incumbent and perennial Democratic target, would also mark yet another significant setback for a Republican Party struggling to keep a meaningful toehold in a state the GOP dominated for much of its history. It would give Democrats 46 of California's 53 House seats — leaving Republicans with their smallest share of the state's delegation in well over half a century.
In a further blow to the party nationally, two-term Rep. Mia Love of Utah — once seen as rising Republican star — conceded defeat Monday to Democratic Salt Lake County Mayor Ben McAdams after a prolonged vote count.
Love, who was taunted by President Trump in a postelection news conference, returned the animus Monday.
The day after the election, when the outcome of the race was still very much in doubt, Trump had declared Love the loser and had blamed her for keeping him at arm's length. "Mia Love gave me no love and she lost," Trump said then. "Too bad. Sorry about that, Mia."
Trump's derisive comment, Love told reporters in Salt Lake City as she conceded, "gave me a clear vision of his world as it is: No real relationships, just convenient transactions."
Love's concession left the Valadao-Cox race as the only contest still unresolved.
Valadao, first elected in 2012, was one of seven California Republicans representing a district carried by Democrat Hillary Clinton in 2016. Given his past success, he always seemed the most likely to withstand anything short of a Democratic tidal wave.
Registered Democrats considerably outnumber Republicans in the mostly rural district, which roughly parallels Interstate 5 between Fresno and Bakersfield. But Valadao withstood repeated efforts by the national Democrats to dislodge him, easily winning reelection in 2016 at the same time Clinton carried the district by double digits.
A Hanford native long active in the agriculture industry, the area's lifeblood, the 41-year-old Valadao was a well-known and well-liked commodity in a part of California that leans conservative despite Democrats' numerical advantage. He used his perch on the Appropriations Committee to great advantage in a region that counts on federal largess and withstood previous challenges by focusing heavily on local issues such as irrigation and water storage.
Cox, 55, is an engineer by training and local business owner who founded two nut-processing companies. He serves as president of a community development organization, the Central Valley New Markets Tax Credit Fund, which focuses on local investment.
The race was his second try for Congress. In 2006, Cox ran against GOP Rep. George Radanovich in a different Central Valley district and was crushed by more than 20 percentage points.
Cox also began this election cycle running in a different district, the 10th, in the northern San Joaquin Valley. He dropped out of a crowded primary field there and jumped into the race against Valadao after national Democrats helped ease aside Emilio Huerta, a Bakersfield attorney who ran in 2016 and lost badly to the incumbent.
In the 10th District, Democrat Josh Harder went on to win, unseating incumbent Jeff Denham.
Like many Democratic challengers, Cox battered Valadao for his support of Trump, citing his nearly 100% voting record for the president's agenda.
Valadao attacked Cox for some of his business dealings and his residency. Cox had relocated to Modesto to run in the 10th District before moving back to Fresno to face Valadao; Cox also owns a home in the Maryland suburbs of Washington, D.C.
The president — and his unpopularity — seems to have been the greater factor.
"There was, in fact, a lot of anti-Trump vote in these congressional elections," said Carol Whiteside, a former Modesto mayor and longtime Central Valley policy expert. "People who might have otherwise supported a Republican were concerned that the president not control both houses of Congress, and many voted for a Democrat to provide that balance."
In addition to the 10th District, Democrats flipped five other Republican-held districts, unseating Rep. Steve Knight in the suburbs north of Los Angeles and incumbent Reps. Dana Rohrabacher and Mimi Walters in Orange County. Democrats also won the Southern California seats of retiring Reps. Ed Royce and Darrell Issa.
As the processing of hundreds of thousands of ballots continued Monday, Democrats extended their lead in several contests.
In Orange County, Gil Cisneros, who won the Royce seat, and Katie Porter, who defeated Walters, upped their margins to 3 percentage points. Democrat Harley Rouda, who defeated Rohrabacher, expanded a 2,700-vote election night lead to almost 20,000 votes.
The pattern is consistent with previous elections; California Republicans tend to cast their votes early, and Democrats typically make significant gains from mail-in and other ballots tallied after election day.
@mayasweedler
---
UPDATES:
6:15 p.m.: The article was updated with vote totals from Tulare County and a quote from the Cox campaign.
The article was originally published at 4:55 p.m.
Get our Essential Politics newsletter
The latest news, analysis and insights from our politics team.
You may occasionally receive promotional content from the Los Angeles Times.