Overcoming assault charge, Republican Gianforte wins Montana congressional seat
Montana voters will fill the state's open House seat in a race marked by an alleged assault on a reporter by the GOP candidate on a reporter.
Reporting from Missoula, Mont. —
Republican Greg Gianforte overcame a last-minute assault charge to win Montana's special congressional election Thursday, keeping its lone House seat in GOP hands and dealing Democrats a setback in their bid to gain a red-state toehold ahead of the 2018 midterm election.
Gianforte, 56, a wealthy businessman who ran unsuccessfully for governor in November, had long been the front-runner against Democrat Rob Quist, a professional bluegrass musician making his first run for public office.
With more than 90% of the votes counted, Gianforte was holding a healthy lead with just over 50% support.
Appearing at an exuberant victory rally in Bozeman, the congressman-elect hushed the crowd and apologized to the reporter with whom he tangled on election eve, reversing his campaign's initial assertion that the journalist was to blame.
"Last night, I made a mistake," Gianforte said, "and I took an action that I can't take back, and I'm not proud of what happened … and for that I'm sorry."
After spending the day in seclusion, he also apologized to his supporters "that we had to go through this."
"That's not the person I am," he said soberly, "and it's not the way I'll lead in this state."
The scuffle between Gianforte and the reporter, the Guardian's Ben Jacobs, seemed for a time to throw the outcome into doubt and shined an even brighter spotlight on the contest, which already drew nationwide attention and more than $17 million in spending — an extraordinary sum in the sparsely populated state.
Overnight, what many viewed, correctly or not, as a referendum on President Trump became instead a kind of inkblot test on attitudes toward the news media.
I took an action that I can't take back, and I'm not proud of what happened … and for that I'm sorry.
— Greg Gianforte, apologizing for roughing up a reporter
Gianforte was cited for misdemeanor assault Wednesday night after accusations that he body-slammed Jacobs when he approached the candidate at his Bozeman headquarters to ask about the House GOP healthcare bill. Gianforte was ordered to appear in court no later than June 7, and faces a maximum $500 fine or six months in jail if convicted.
Several of Montana's largest newspapers retracted their endorsement of the front-runner, who has had a reputation in the state for prickliness — especially when dealing with reporters.
"We're at a loss for words," wrote the Billings Gazette editorial board, which went on to condemn Gianforte and suggest the country needed to "take a long look in the mirror and a few deep breaths. This incident is not Montana. It's not America…. We must adopt zero tolerance for such behavior if freedom of expression means anything."
But many Gianforte supporters stuck by the candidate, minimizing the episode or saying they were not sure they trusted the media's account.
Payne Stidham of Billings was among more than half of Montanans who voted absentee, casting his vote earlier this month for Gianforte.
"I don't know all the facts, so I'm not going to pass judgment," Stidham said Thursday. "I mean, you watch the news and it makes it seem like he beat the crap out of the guy. Did he? I don't know. I really just do not know."
The impact of the episode was further minimized by the fact that more than 250,000 absentee ballots had already been cast by Wednesday, a substantial number in a state with about 700,000 eligible voters.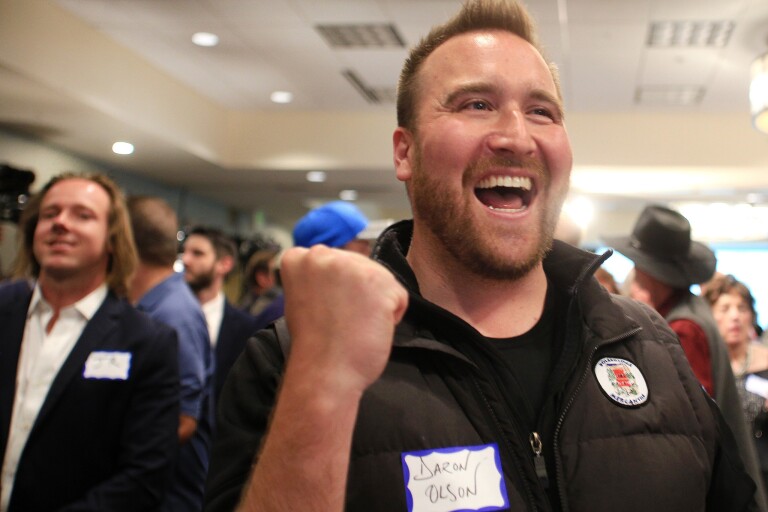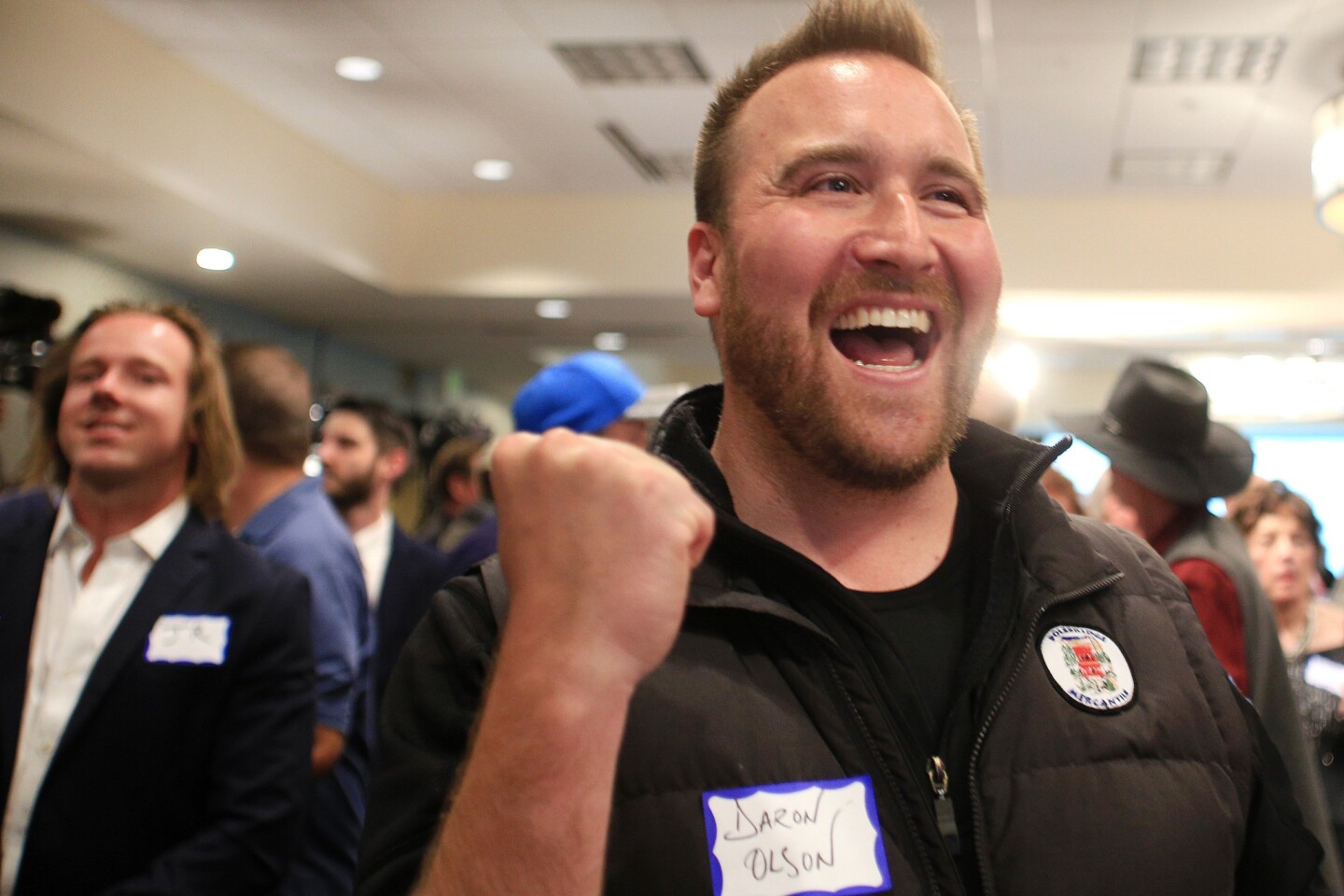 Daron Olson reacts as Republican Greg Gianforte's election lead is announced in Bozeman, Mont.
(Janie Osborne / Getty Images)
Democratic candidate Rob Quist begins his concession speech at the DoubleTree Hotel in Missoula, Mont.
(Tommy Martino / Associated Press)
Quist chose not to mention the violent episode in his concession speech Thursday night in Missoula, saying he had been honored to run and would remain a voice in Montana politics. "The fight goes on," Quist said, "and we will always be somewhere."
Even as Gianforte headed to victory, reverberations from his dust-up were felt as far as Capitol Hill, where Republican lawmakers scrambled to deal with the unflattering portrayal of their candidate behaving like a hockey goon.
House Speaker Paul D. Ryan criticized Gianforte and said he should apologize.
"There is no time where a physical altercation should occur," the Wisconsin Republican told reporters at his weekly news briefing. "It should not have happened. Should the gentleman apologize? Yeah, I think he should apologize."
But he stopped short of saying Gianforte would not be welcomed within the House GOP. "If he wins, he has been chosen by the people of Montana," Ryan said. "I'm going to let the people of Montana decide who they want as their representative."
The special election was set when Republican Rep. Ryan Zinke vacated the seat to head the Interior Department.
Quist benefited from millions of dollars and the support from liberal activists around the country who defied national Democratic Party leaders prepared to essentially write the race off. Eventually, the party stepped up its engagement, but it still fell short of the commitment from Republicans and their allies.
With Gianforte's victory, the GOP managed to hold its ground after a series of special elections. Democrats need 24 seats to take control of the House in the 2018 election, and the focus now turns to a runoff next month for an open seat in Georgia, where Democrat Jon Ossoff fell just shy of 50% in April.
Before the scuffle consumed the final 24 hours of the contest, the race had been much more about local concerns, including the candidates' position on firearms — each presented himself as a firm champion of 2nd Amendment gun rights — and their personalities and back stories.
Quist was battered by TV ads that spotlighted his history of tax liens and other checkered financial dealings. Gianforte was portrayed as an elitist who sued to block public access to a fishing spot on his Bozeman property — a quite serious matter in a state where hunting and fishing are held sacred.
Quist sought to make the GOP healthcare bill an issue, saying it would cost more than 70,000 Montanans their coverage under the existing law and cause premiums to skyrocket, especially for the majority of residents who live in rural areas.
While some, especially outside the state, treated the contest as a test of President Trump's political standing, neither side tried to make the election a proxy vote on the president. Gianforte backed Trump and welcomed support from his surrogates, including Vice President Mike Pence.
Mostly, though, he focused on attacking Quist as a liberal out of step with Montana.
Quist, in turn, shied away from direct attacks on Trump, instead focusing on Gianforte and the Republican majority in Congress.
At the Democrat's sullen election-night party, disappointed Quist supporters took solace where they could.
Stacy Coulter said she only wished Gianforte's "volatile temper" had been exposed earlier.
"At least he has showed his true colors," said the 44-year-old Democrat, an office manager for the Bitterroot Irrigation District. She suggested the alleged assault recalled some of the more belligerent moments of Trump's 2016 campaign. "And this might force the GOP to address the bullying issue."
Sakariassen reported from Missoula and Barabak from San Francisco. Times staff writers Kurtis Lee in Los Angeles and Lisa Mascaro in Washington contributed to this report.
ALSO
All is not peachy as Georgia congressional race takes a detour through San Francisco
In Montana, miles from Trump's Russia crisis, there's no clamor to impeach
How a Montana county became a stage for the national debate over refugees
---
UPDATES:
11 p.m.: This story has been updated with quotes from Quist's concession speech.
10:25 p.m.: This story has been updated with quotes from Gianforte's victory speech.
9:50 p.m.: This story was updated with Gianforte's victory.
9:30 p.m.: This story has been updated with election returns reflecting three-quarters of precincts reporting.
8:55 p.m.: This story has been updated with election returns reflecting more than half of precincts reporting.
8:10 p.m.: This story has been updated throughout with election returns reflecting about one-third of precincts reporting.
3:50 p.m.: This story has been updated with new comments from voters and more reaction about the assault charges.
10:50 a.m.: This article was updated with additional details and reaction from lawmakers and Montana voters.
This story originally published at 8:50 a.m.
---
Get our Essential Politics newsletter
The latest news, analysis and insights from our politics team in D.C.
You may occasionally receive promotional content from the Los Angeles Times.