Harry Reid is not on the ballot. But the race in Nevada is his last stand
Reporting from Las Vegas —
Sen. Harry Reid's name is not on the ballot this year, and he hasn't campaigned much in public since an accident left him blind in one eye and walking with a cane to steady his slowing stride.
But there is no doubt that the election in Nevada to select his successor is Reid's last stand.
Hours after Reid announced last year he would not run for another term, he anointed the state's former attorney general, Catherine Cortez Masto, as his preferred choice — clearing the field for potentially the first Latina in the U.S. Senate and cranking up the "Reid Machine" for one of the most contested congressional races in the country.
Scope of Donald Trump's falsehoods unprecedented for presidential candidate »
Cortez Masto's battle against Republican Joe Heck, a three-term congressman from suburban Las Vegas, will test the power of a political organization that may be Reid's most valuable parting gift to the Silver State.
"The work he's done to build the Democratic Party in Nevada, that will be his legacy," said Yvanna Cancela, political director at the powerful Culinary Union. "It took a long time for the Democratic Party to be where we are today. They wanted to build one of the strongest Democratic parties in the nation. And they did."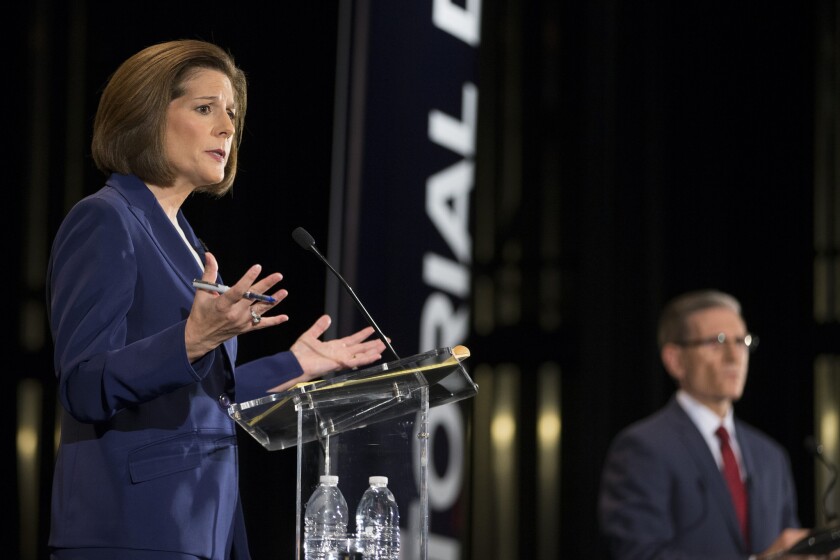 Legendary party machines have long orchestrated politics in other states, but tiny Nevada was more of a gambling and mining outpost — a playground for speculators, not voting residents — when Reid started his career nearly 40 years ago.
As the gritty son of an impoverished family rose to become one of the longest-serving Senate leaders in history, he invested his political capital into building Nevada into what is now among the most important political battlegrounds of the West.
Historian Michael Green said it's not that Nevada didn't have political bosses before Reid. But as the state developed into a diverse reflection of America's changing electorate, with a track record for choosing presidents, the senator turned the power structure toward party politics.
Health episode raises new doubts and old concerns about Hillary Clinton »
"The man and the moment are met — and in this case, Nevada was in a place to play this role and Reid was in a place to enable it to do so," said Green, associate professor at the University of Nevada, Las Vegas.
The senator didn't just tap his successor then let the chips fall. He dispatched top personnel to staff her campaign and rallied supporters. President Obama cut a radio ad, and fellow senators, including Elizabeth Warren and Bernie Sanders, stumped in Nevada. Money poured in.
Reid has said he feels a "proprietary interest in this seat" because he has held it longer than any other senator in Nevada's history. He calls Cortez Masto "my candidate."
Republicans have no comparable apparatus here, a problem that festered long before GOP presidential candidate Donald Trump cracked open the divisions between Republicans.
Though Hillary Clinton, the Democratic nominee, is enjoying a slight edge in polls, Trump remains popular in Nevada, where his glitzy hotel towers above the Las Vegas Strip. Heck dropped his support for the GOP nominee after Trump's sexually aggressive talk, angering Trump supporters and some top GOP leaders in the state.
Heck, 54, has tried to fill the GOP leadership vacuum in Nevada by coordinating with other down-ballot Republicans in a sophisticated ground game he believes can one day rival what Reid has built.
"Look, it's no secret that for the longest time, the Nevada Republican Party has not been seen as the most functional Republican Party around the country," said Heck, a former emergency room doctor and Army reservist.
"We decided that we were going to be the one that tried to do it this year," he said at his suburban Henderson office. "We will now have the foundation to be able to grow a machine that I think will be able to surpass the Democratic operation."
In the too-close-to-call Senate race, both candidates have struggled to make themselves heard over the roar of the presidential election and in the shadow of the quirky and cantankerous Reid.
At the only debate between the candidates this month in Las Vegas, the first question asked was how either one, with less experience than Reid, could provide "the influence that Nevada voters have come to expect?"
Cortez Masto, 52, pointed to the "bipartisan problem-solving" skills she honed during her eight years as attorney general under Republican governors and her efforts after the Great Recession to negotiate settlements for borrowers hurt by abusive lending practices.
Her grandfather came from Mexico to settle in Las Vegas, and her father was a prominent Clark County official. But Republicans have questioned her political patronage, derisively calling Reid her "godfather." Even as she acknowledges his contributions to the state, Cortez Masto has sought to assert her independence.
"I know that Sen. Reid is going to leave an incredible legacy in this state that we should be proud of," she said after a campaign stop at a North Las Vegas soul food restaurant. "I'm a different voice."
Voters seem to view both candidates with a question mark in an election year many see as having gone off the rails.
"It's embarrassing," said Richard Marin, with his wife, Devin, after a weekend brunch with their two daughters in upscale suburban Summerlin.
The couple struggled to remember either Senate candidates' name, despite an endless loop of TV ads and more than $70 million spent by both sides, making it one of the costliest Senate races of the cycle.
They both agree they'll probably vote for Cortez Masto, preferring her lawyerly background to Heck's military one.
Up the road in a planned golf community, Frank Barbera, a retired police officer, and Nanci Meek, a TV actress, stopped by Heck's campaign office to see if they could help. They don't know a lot about Heck, but as Trump supporters, they like him more than his opponent.
"I don't like Cortez Masto for almost the same reason I don't like Hillary," said Meek, who sees the two as traditional politicians in a year when she is looking for change. "She was put in there by the Reid people."
Reid has always been a controversial figure in Nevada — beloved by some, despised by others, but always looming large.
From his time as Nevada's gaming commissioner when the mob planted a bomb under his family car to his own near-defeat in a 1998 Senate election won by fewer than 500 votes, Reid's political longevity has become the stuff of Nevada lore.
Just over a decade ago, when Reid became the Senate Democratic leader, he started building Nevada's Democratic Party.
He hired permanent staff, often plucked from the ranks of his Senate operation, and seeded the party with financial resources to organize. He pushed to make Nevada an early caucus state in 2008, putting it on the map with Iowa and New Hampshire as a must-watch national battleground.
Central to Reid's operation has been his understanding of the power of the growing Latino electorate in Nevada.
Latinos make up almost 30% of Nevada's population, and nearly 1 in 5 voters. The Latino vote was central to Obama's coalition, and Latinos carried Reid to a hard-fought victory in 2010, when he was expected to lose.
Nevada has become a training ground for a new generation of Latino leaders, many alumnae of Reid's office, including Ruben Kihuen, who is running as the first Mexican American immigrant from Nevada for a Las Vegas congressional seat. Many are now integral to Clinton's campaign.
Enthusiasm among Latino activists is intense — not just among Culinary's service workers, the hotel maids and cooks who power campaigns — but also in the ranks of rising young advocates.
Nineteen-year-old Miriam Cadenas, a "Dreamer" who came to the U.S. from Mexico when she was a child, was going door to door urging Latino citizens to vote because she can't.
"I tell them the least I can do is translate my vote through you," said Cadenas, handing older, Latino residents in working-class North Las Vegas literature about the Democratic ticket. "If you seeing me at the door makes you go out to vote, I'm going to be here."
Canvassers acknowledged that it was tough at first to raise awareness of Cortez Masto. But with Trump's attacks on Latinos and after a former Heck aide questioned his rival's Latina heritage, voters tell the canvassers they are on board with "la señora con Hillary."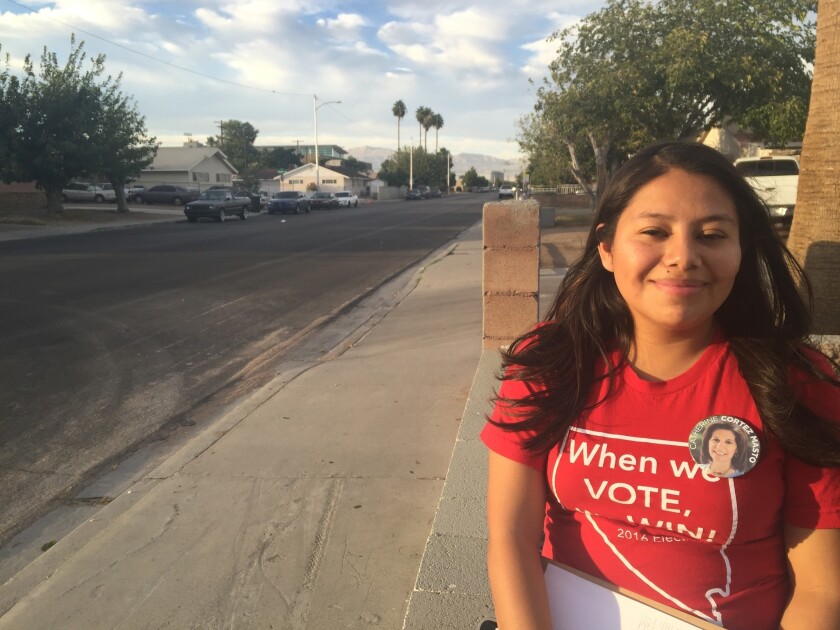 Outside groups, including those aligned with the Koch network, have tried to wrest the Latino vote away from Democrats.
Ronnie Najarro, a spokesman for Koch-backed Libre Initiative, a free market group aimed at Latinos, was slipping fliers bashing Cortez Masto into the doors of targeted suburban households ahead of Saturday's early vote.
But even with popular Republican Gov. Brian Sandoval and GOP control of the state Legislature, operatives say it has been a tough year for the GOP.
This spring, Reid convened a meeting of all the Democratic campaigns on the ballot, asking them to pony up funds for the coordinated effort now underway to elect Democrats up and down the ticket in Nevada.
At the coordinated campaign headquarters in a deserted office park off the Strip, posters of Reid form a mini-shrine in a back room. One activist warned all comers, "Don't mess with the house that Harry Reid built."
Heck's best chance will be to tamp down the vote in Las Vegas and take his operation to the rural counties, where Republicans typically have been able to overpower Democrats.
As he headed out for rural Ely, Heck was asked whether he would have run this year had Reid decided to stay another term.
"Probably not," he said.
Twitter: @LisaMascaro
ALSO
'Believe me': People say Trump's language is affecting political discourse 'bigly'
When it comes to Trump, GOP senators battling for their seats are used to contortions
Hillary Clinton has a massive fundraising advantage. She's using it to leave no vote to chance
---
Get our Essential Politics newsletter
The latest news, analysis and insights from our politics teams from Sacramento to D.C.
You may occasionally receive promotional content from the Los Angeles Times.