Ohio cliffhanger signals peril for GOP in midterm battle for control of Congress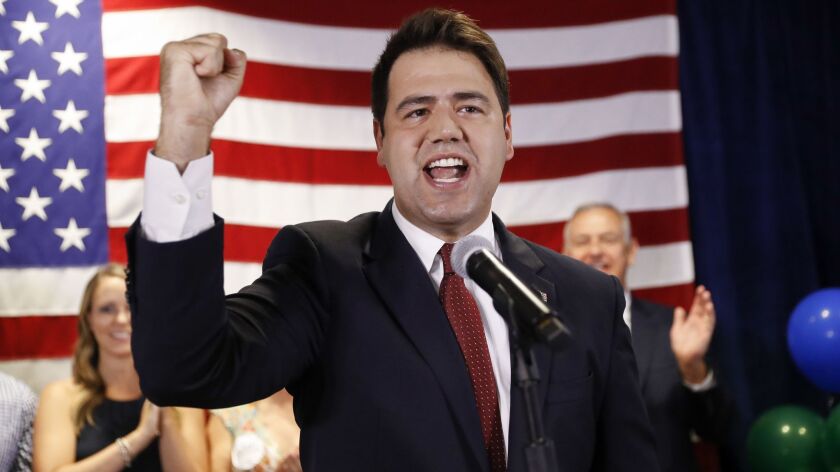 Republicans' brush with defeat in an Ohio congressional district that President Trump easily won fit the nationwide pattern for special elections during his White House tenure: Democrats are faring far better than they did in 2016.
Even if the final vote count confirms that GOP candidate Troy Balderson squeaked out a slim victory Tuesday, the lackluster support spells trouble for Republicans from coast to coast as they fight to keep control of the House in November's midterm election.
"Whether it's Montana or Kansas or South Carolina or Arizona, Pennsylvania, now Ohio, Democrats have been overperforming that 2016 baseline, and I think that's good news for Democrats," said Nathan Gonzales, editor and publisher of the nonpartisan Inside Elections guide.
The fervor of the president's opposition was a potent force in the Ohio contest. Turnout was strikingly high in the Columbus suburbs that favor Democrats, but modest in rural areas that backed Trump in 2016.
"Democratic energy and enthusiasm is far superior to that of Republicans, and that's because anger is a stronger motivator than love in politics," said David Wasserman, who tracks House races for the nonpartisan Cook Political Report.
That dynamic has encouraged Democrats who hope to seize House seats now held by Republicans, including seven in California districts that Trump lost to Hillary Clinton in 2016. Some, if not all, could be easier for Democrats to win than the one in Ohio, which Trump carried by 11 points.
"We've got the intensity, and they don't," said Sean Clegg, a Democratic consultant working on some of the California races. Trump's racial provocations and separation of immigrant children from their parents at border crossings, he suggested, are sure to damage the GOP.
"It's hard to go back from Charlottesville and putting kids in cages," he said. "You've got about 55% of the country who are looking at this and saying, 'This is a horror show.'"
Also disturbing for Republicans were the results Tuesday from House primaries in Washington state. Two GOP incumbents, Cathy McMorris Rodgers and Jaime Herrera Beutler, finished with less than 50% of the vote, a sign of danger in November.
Republicans conceded Wednesday that the Ohio vote was worrisome.
Trump might have "driven suburban women and other elements of the Republican coalition away from the party," said Doug Preisse, the Republican chairman in Ohio's Franklin County. But it's not unusual for a new president to suffer setbacks in his first midterm election, he noted, and the GOP appears to have kept the Ohio seat.
"It's a warning, but it's not a disaster siren," Preisse said.
Michael Steele, who was Republican National Committee chairman when the party retook control of the House during the Obama presidency in 2010, said the GOP needed to quickly figure out how to match Democrats' enthusiasm in an election that's just three months away.
"There is a lack of energy on the Republican side that we are not acknowledging," he said on MSNBC.
The Cook Political Report estimates that Republicans hold 68 seats in districts that are less favorable to the GOP than the one that gave the party a scare in Ohio. Democrats need to pick up 23 seats to capture control of the House.
In a string of special elections for House seats, Republicans have consistently fallen short of their 2016 vote. Even before the Ohio election, nonpartisan analysts were projecting a Democratic takeover of the House in November.
In Ohio, Democratic candidate Danny O'Connor raised far more money than Balderson, so outside groups came to the Republican's rescue, spending more than $3.5 million on his behalf.
That kind of assistance is all but impossible for GOP forces to provide on a national scale for the November election.
"They don't have enough money to spend a few million dollars on every race in the fall," Gonzales said. "We're talking about a universe of 65-plus vulnerable Republican seats. Republicans just don't have that kind of cash."
Twitter: @finneganLAT
---
Get our Essential Politics newsletter
The latest news, analysis and insights from our politics team in D.C.
You may occasionally receive promotional content from the Los Angeles Times.