North Carolina Gov. McCrory concedes he lost reelection bid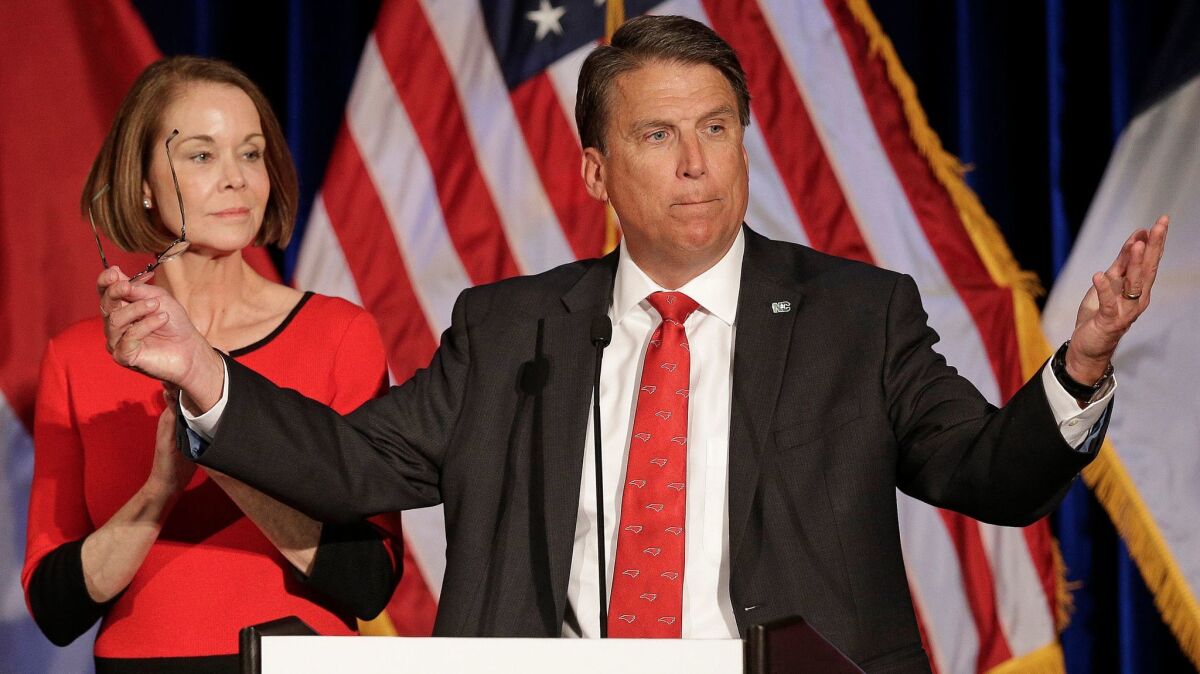 Reporting from Atlanta —
The bitter feud over the nation's most fiercely contested gubernatorial race ended Monday when Republican North Carolina Gov. Pat McCrory conceded Monday—nearly a month after election day—to Democrat Roy Cooper.
"Despite continued questions that should be answered regarding the voting process, I personally believe that the majority of our citizens have spoken, and we now should do everything we can to support the 75th governor of North Carolina, Roy Cooper," McCrory said in a video message posted to YouTube.
The victory of Cooper, the state's attorney general, represented a rare upbeat note for the Democratic Party after Republican candidates celebrated sweeping success across a state that Democrats had hoped they could turn purple.
Donald Trump won the state by nearly 4%, Republican Sen. Richard Burr was reelected by 5% in a race against Democrat Deborah Ross, and Republican legislators held on to their super majorities in the state House and Senate.
"It will be the honor of my life to serve this great state," Cooper said in a statement Monday after McCrory conceded. "While this was a divisive election season, I know that there is more that unites us than divides us."
McCrory became the first North Carolina governor to lose reelection. It was quite a turnaround from 2012, when McCrory won the governorship by 500,000 votes, amassing more support in the state than Republican presidential nominee Mitt Romney.
Cooper had declared victory the morning after election day in November, when state tallies showed him winning by fewer than 5,000 votes.
Yet McCrory, who faced national criticism for his staunch defense of his state's contentious House Bill 2 law that limits transgender bathroom access, refused to concede until thousands of provisional and absentee ballots were counted.
Last month, North Carolina Republicans cited "malfeasance" in tabulating votes in Durham County, a county that leans toward Democrats, as well as "staggering evidence of voter fraud" in Bladen County.
The general counsel for the state GOP filed a formal protest, demanding that the Durham County Board of Elections recount disputed votes. The McCrory campaign also alleged a "massive scheme" in Bladen County to cast several hundred fraudulent absentee ballots for Cooper and other Democrats in that county.
Yet Republicans' vote challenges ultimately did not produce evidence of any voter fraud that could swing the election. Of a total of about 4.7 million votes, Cooper beat McCrory by 10,263 votes, according to unofficial figures from the state Board of Elections.
If the margin of victory had remained under 10,000 votes, McCrory could have called for a recount.
In his video message Monday, McCrory said it was time to "celebrate our Democratic process and respect what I see to be the ultimate outcome of the closest North Carolina governor's race in modern history."
Cooper won partly on his stance against HB2, an unpopular law that requires multiple-occupancy restrooms to be used by people based on the sex listed on their birth certificate. The law, which also prevents cities from extending anti-discrimination laws to lesbian, gay, bisexual and transgender people and passing any increase in the minimum wage, was opposed by at least two-thirds of voters.
The law drew strong opposition from major corporations including Apple and Google. PayPal abandoned its plan to bring 400 jobs to the state, entertainers such as Bruce Springsteen canceled concerts, and the NBA relocated its All-Star game away from the state. In May, the Department of Justice filed a lawsuit against North Carolina.
Still, even with Cooper's win, there is little chance of repealing HB2: Republicans maintain strong majorities, with veto power, in the state House and Senate.
Jarvie is a special correspondent.
ALSO
Army halts Dakota Access pipeline: 'Today, the voices of indigenous people were heard'
At defense forum, Trump's promises on spending draw praise, but other questions linger
Hawaii's highest peaks get 2 feet of snow — and more is on the way
---
UPDATES:
12:10 p.m.: The story was updated throughout with staff reporting.
This story was originally published at 9:40 a.m.
---
Life is stressful. Our weekly mental wellness newsletter can help.
You may occasionally receive promotional content from the Los Angeles Times.