After beating back rival for House leadership post, Nancy Pelosi says Democrats are ready for Trump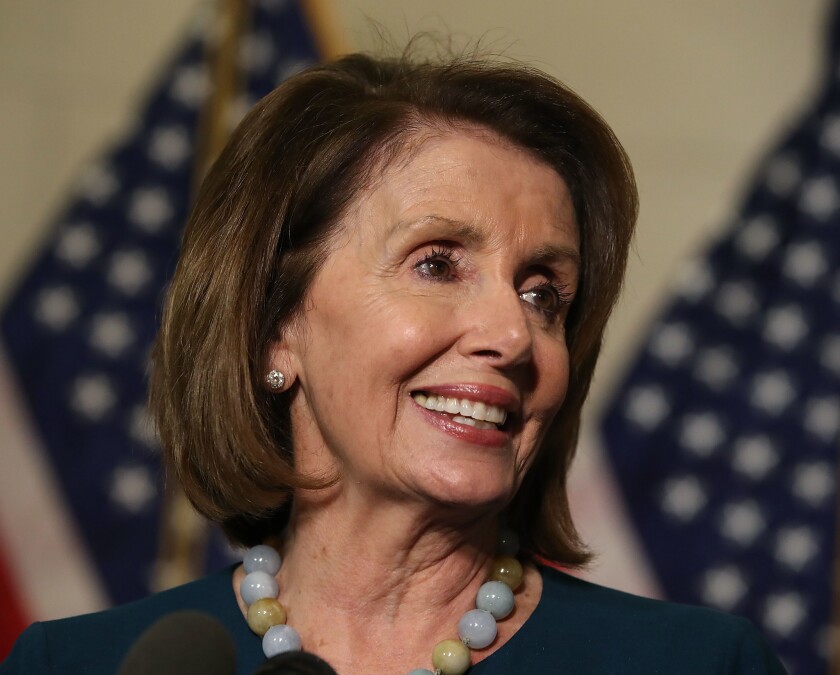 Reporting from Washington —
House Democratic leader Nancy Pelosi has done it again, fending off a rival to win another term as minority leader and confirming her staying power as the party prepares to confront President-elect Donald Trump.
The San Francisco Democrat has beaten back ouster attempts before. But this year's challenge by an Ohio Democrat focused attention on Trump's success in attracting white, working-class voters in Rust Belt states, and whether that was a sign that Democrats needed changes at the top.
Rep. Tim Ryan, whose Youngstown-area district represents the kind of blue-collar voters that fueled Trump's victory, made a strong showing. Though he lost 134-63, it was a closer margin than previous rivals who have aspired to replace Pelosi.
The competition appears to have only emboldened Pelosi, a tough-as-ever survivor who shows no signs of relinquishing her position as one of the most powerful Democrats in the country.
Scope of Donald Trump's falsehoods unprecedented for presidential candidate »
"We're at a time where it's well beyond politics," Pelosi said after the vote. "It's about the character of America and how we go forward ... to differentiate between us and the administration that will come into Washington in January."
Republicans could not have been more pleased. One Republican walking to his office near the Democrats' closed-door meeting said he hoped Pelosi would win because he features her prominently in his TV campaign ads back home.
With President Obama leaving the White House, Republicans are eager to continue focusing on Pelosi as a caricature of liberal Democrats out of touch with the rest of the country. The House Republican campaign team unfurled a poster spoofing its support for her from their headquarters across from the Capitol. "Congrats Nancy!" it read Wednesday.
However, even Pelosi's foes warn against underestimating the first woman to become House speaker, a position she has her sights set on reclaiming.
Responding to the challenge, Pelosi proposed an expansion of her Democratic leadership team with more seats at the table for younger members and those from states Trump won.
The move reflected a similar tack taken after the November election in the Senate by incoming Minority Leader Charles E. Schumer of New York, who added moderates from the Rust Belt as well as progressives to his team.
This is Bernie Sanders' plan to lead Democrats out of the wilderness »
Ryan, 43, who picked up support from fellow Rust Belt lawmakers as well as those from the intermountain Western states of Arizona and Colorado, said he had succeeded in opening up the leadership ranks.
"We're a family, and sometimes families have to have tough conversations," Ryan said after the vote, flanked by supporters. "We come out of here stronger than we went in. We're all going to participate in leading the party."
While the changes appeared to soothe some rank-and-file lawmakers, others said Pelosi will need to do more to loosen her grip on power and allow more voices into the decision-making process.
Many lawmakers remain fearful of speaking out against Pelosi, who draws allies close but also keeps tabs on dissenters. The leadership changes will be considered by the caucus in the days ahead.
"For her to have two-thirds support shows there's overwhelming trust in her as a leader, but folks want to see new energy behind her and I think she's open-minded to that," said California Rep. Eric Swalwell (D-Dublin), who is among those younger members taking on new leadership duties.
Rep. Kyrsten Sinema (D-Ariz.) said she was "deeply disappointed" by the vote. "This should be a time of critical reflection and clear-eyed change, not a time to rubber-stamp the failed strategy of the past."
First elected to House leadership 15 years ago, Pelosi has faced calls for her ouster since Democrats lost the majority under her watch in 2010, during Obama's first term in office.
The mother of five — and grandmother — also has endured questions about how much longer she will stay at the helm. The 76-year-old typically swats back such inquiries by pointedly noting the comparable ages of male colleagues in leadership roles elsewhere in the Capitol.
Pelosi remains a fundraising powerhouse, and despite interest by a deep bench of Democrats eager to take a turn at leadership, few have been able to make the case to their peers that they could match her drive.
But this year, following Democrat Hillary Clinton's loss in the presidential election, Pelosi appeared to take her challenger seriously. She repeatedly worked to shore up support from liberals and minorities who make up the bulk of the Democratic caucus.
She also pointed to the gains Democrats made under her watch, despite Clinton's defeat — the House picked up six seats in November. She warned that losses could have been worse.
Pelosi foreshadowed a tough campaign season in 2018, the midterm elections when the party in the White House typically loses seats in Congress.
"We know how to win elections," she said Wednesday. "We've done it in the past. We will do it again by making that differentiation."
For some, hers was a message that resonated.
"The problem wasn't Nancy Pelosi," said Rep. Rick Nolan of Minnesota, who supported Clinton's rival, Sen. Bernie Sanders of Vermont, during the Democratic primary. "The problem was the top of the ticket."
Pelosi had postponed the election to allow time for challenges and changes but always predicted she would prevail with two-thirds of the vote. The rest of the leadership team also was reelected.
Two Californians were vying for a down-ballot leadership spot, and Rep. Linda Sanchez of Whittier narrowly defeated Rep. Barbara Lee of Oakland, 98-96.
Democratic Rep. Adam B. Schiff of Burbank, in nominating Pelosi during a closed-door meeting Wednesday, said, "We need the very best to lead us. … No one is a better tactician than Nancy Pelosi."
Twitter: @LisaMascaro
ALSO
Despite talk of GOP unity, Trump's programs face fight from Republican budget hawks
'Believe me': People say Trump's language is affecting political discourse 'bigly'
Trump's rise draws white supremacists into political mainstream: 'I am winning,' says David Duke
---
For reporting and exclusive analysis from bureau chief John Myers, get our California Politics newsletter.
You may occasionally receive promotional content from the Los Angeles Times.