While other Republicans have fled Donald Trump, Mike Pence is doubling down on their campaign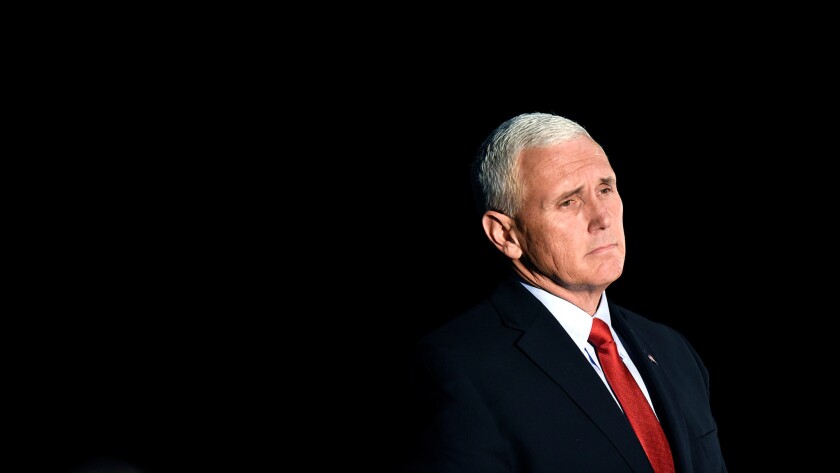 Reporting from Fletcher, N.C. —
The crowd beneath the high rafters at the agricultural center was eager to purge its frustration, chanting "Lock her up!" in reference to Hillary Clinton, more than 20 minutes before Indiana Gov. Mike Pence took the stage.
Many were upset, and worried, that Donald Trump had suffered one of his rockiest stretches, Republicans fleeing his presidential campaign just as it reaches its most crucial phase.

For the record:
8:51 p.m. Jan. 18, 2022
An earlier version of this article said Mike Pence referred to his and Donald Trump's immigrant fathers. He said their grandfathers immigrated, not their fathers. Also, it referred imprecisely to the audience for one of Hillary Clinton's paid speeches. The speech referenced by Pence was made to a real estate industry trade group, not Wall Street executives.
That left Pence, Trump's running mate, to expand his role as Trump's chief validator in the conservative movement, with a particular focus on evangelicals. The reserved Midwesterner, whose profile has been dwarfed by Trump's reality television persona, is now the most prominent establishment conservative speaking on Trump's behalf, with all the risk and reward that entails.
Pence, who expressed his own misgivings over the 2005 video in which Trump boasted that celebrities were free to assault women, reclaimed his larger role with relish, once he decided that he would stick with Trump. He spoke about his faith and the power of forgiveness. He credited Trump with apologizing, calling him a "big man." He compared his own family and life story to Trump's, saying they shared immigrant grandfathers and a calling to honor the biblical invocation to give back.
Election 2016 | Live coverage on Trail Guide | Sign up for the newsletter | The race to 270
"If, occasionally, you bow the head, you bend the knee, it'd be a good time to do it," he said near the climax, after appealing to the crowd to urge their friends to vote. "I still believe with all my heart that if His people, who are called by His name, will humble themselves and pray, He'll hear again from heaven and He will heal our land."
The 400 or so people jammed into the wood-paneled event room rose to their feet, some yelling "Amen," before meeting Pence at the rope line or walking off toward their cars.
Pence had said he was offended by Trump's words and actions, and some had speculated he might leave the ticket. Instead, he emerged Monday with full-throated support.
He joins Trump on an increasingly shrinking island. House Speaker Paul D. Ryan, the highest-ranking elected Republican, declared he would no longer defend Trump, and other Republican leaders withdrew their endorsements after the video emerged. Trump fired back Tuesday, calling Ryan "weak and ineffective" and tweeting that "it is hard to do well when Paul Ryan and others give zero support!"
That coincided with a series of tweets in which Trump spoke out against Republican defectors and declared the "shackles have been taken off me and I can now fight for America the way I want to." The aggression intensified concerns among Republicans that Trump would stoke and even larger battle within the party in the final weeks of the election and its aftermath.
If Pence has any regrets about sticking with Trump, he has swallowed them. Whatever the calculations — political, personal or philosophical — Pence has decided to tie his political fate with Trump's.
As he crossed from North Carolina's urban center in Charlotte to its rural edge by the Great Smoky Mountains, Pence showed his ability to sell Trump on his terms, smoothing Trump's unorthodox and sometimes profane populism to fit Pence's more establishment brand of conservatism.
He speaks with disciplined command, altering his rhythm and raising his voice to signal applause lines like a practiced politician, a much more traditional oratorical style than Trump's. Even the music at his rallies fuses Trump's favorites like Elton John and the Rolling Stones with country hits more common to Republican rallies such as Rodney Atkins' "These Are My People" and Toby Keith's "Made in America."
"The stakes of this election go far beyond whatever the media's focused on in any given day," Pence said in Fletcher, further inoculating Trump from the bad news he has been suffering.
Pence emphasized Trump's tax cuts and opposition to environmental regulations and Obamacare that have won approval from traditional conservatives, spoke little about immigration policies that propelled Trump to the nomination and promised Trump would usher in trade deals that are "good for American workers," avoiding Trump's sharper descriptions of other countries ripping off Americans.
In between, he delivered the type of red-meat attacks for which running mates are known: on Clinton's handling of foreign policy in Syria, Libya and Iran; her private email server; and her paid speeches to Wall Street executives and others, including a real estate industry trade group in which she said successful politicians need to hold both a public and a private position to be effective.
"When she was confronted about that during the debate, we got a lecture on Abraham Lincoln," he said, drawing laughs with a new line he tested out twice on Monday. "As a member of the party of Lincoln, I would really prefer if dishonest Hillary did not associate herself with Honest Abe."
Many who come to see Pence say Trump remains their strongest attraction. But if they are wavering, as some did after the troubling video, Pence may bring some of Trump's flock back to the fold.
Buck Caldwell, a retired fork lift company owner who wore a "Deplorable Lives Matter" T-shirt, a reclamation of Clinton's labeling of "half" of Trump supporters as a "basket of deplorables," spent the weekend crying on his wife's shoulder, begging her not to abandon Trump after she saw the video, he said.
She urged him to attend the Pence rally in Charlotte, so she could think about it some more. On the way in, she signed a pledge card promising to vote for Trump, Caldwell said.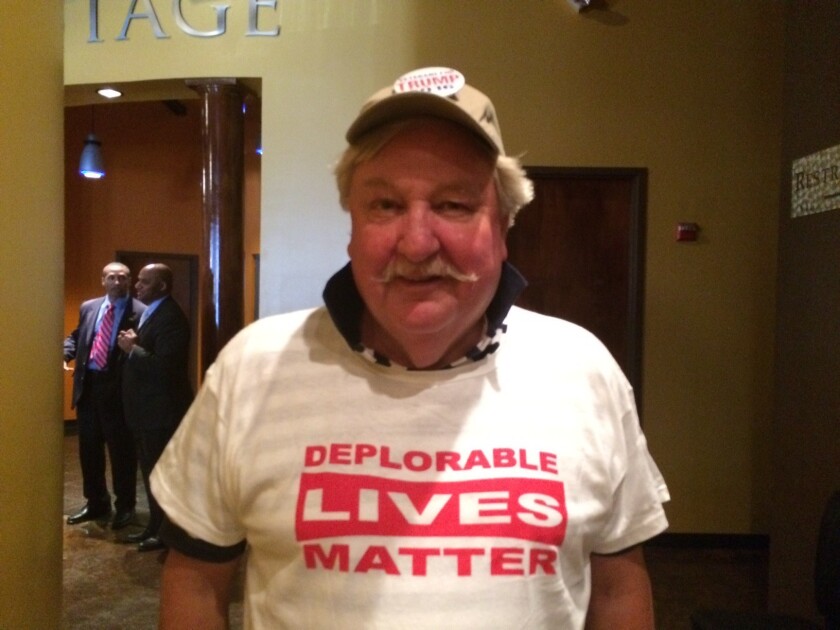 "Pence is easygoing, middle of the road conservative," he said approvingly.
Sarah Swanson, a 25-year-old schoolteacher at the rally, said she was also comforted as well.
"I'm a little bit wary of Trump," she said. "But after Mike Pence joined him, that was kind of the thing that sealed my support."
Like many here, she used the word balance, contrasting Trump's bombast with Pence's religious, calm, collected and experienced profile.
That led some establishment Republicans over the weekend to suggest, a bit fancifully, that Trump should drop out and let Pence take his place. But even supporters at Pence rallies scoffed at the idea. Maybe Pence, who served in Congress before becoming governor, can run for president someday, they said. But not now.
"Trump is a wrecking ball and we need that," said Barb Murray, a 63-year-old who said she was a housewife. "Then Pence can follow behind and balance it out."
Twitter: @noahbierman
Mike Pence is caught between Donald Trump's political future and his own
The women Trump invited to the debate do little to shed light on any bad behavior by Hillary Clinton
After a mediocre debate performance, Trump still faces an uphill climb
---
UPDATES:
3:55 p.m: The story was updated with comments from Trump.
The story was originally published at 9:50 a.m.
---
Get our Essential Politics newsletter
The latest news, analysis and insights from our politics teams from Sacramento to D.C.
You may occasionally receive promotional content from the Los Angeles Times.