It works for Fox anchors, why not them? Republican leaders talk to Trump through the television cameras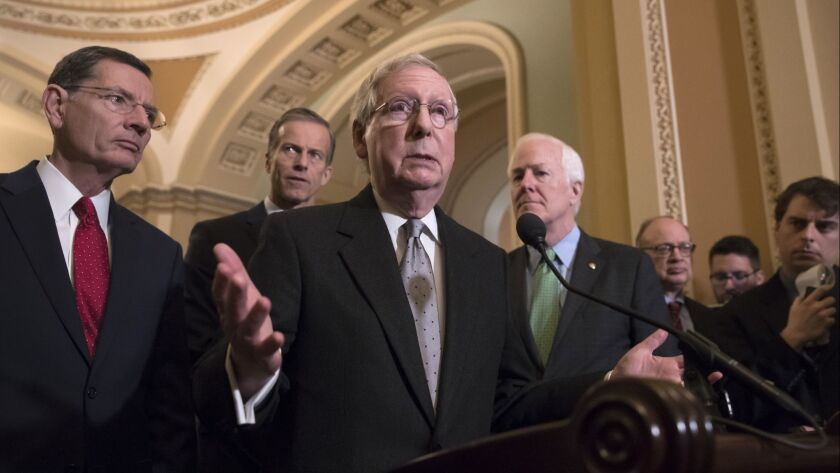 Reporting from Washington —
Trying to persuade President Trump to back down from his increasingly public battle with special counsel Robert S. Mueller III, Republican leaders turned Tuesday to the approach that has worked for Fox News personalities: They talked to him through the television screen.
House Speaker Paul D. Ryan and Senate Majority Leader Mitch McConnell stepped up to microphones in the Capitol to try to dissuade Trump from firing Mueller, a move that most Republicans here believe would be catastrophic for his presidency.
They did so with the tactics they have used since Trump's presidency began: light on criticism of the president, but heavy on positive reinforcement of the behavior they want to see him follow.
"The special counsel should be free to follow through with his investigation to its completion without interference, absolutely," Ryan (R-Wis.) told reporters Tuesday morning. "I am confident he will be able to do that. I received assurances that his firing is not even under consideration. We have a system based on the rule of law in this country. We have a justice system, and no one is above that justice system."
Asked who had given him those assurances, Ryan replied: "Oh, I'm not going to get into that."
The suggestion was that it was Trump's lawyers, who publicly insisted after the president maligned Mueller over the weekend that Trump was not considering firing the man leading the investigation into Russian interference in the 2016 election. McConnell (R-Ky.) directly cited the lawyers' comments as proof that Trump did not plan to lean on his Justice Department to fire Mueller.
"I heard the president's lawyers say that Bob Mueller should be allowed to finish his job," McConnell said to a bank of television cameras. He went on to praise Mueller, a former FBI director with broad bipartisan support. "I think he will go where the facts lead him, and I think he will have great credibility with the American people when he reaches the conclusion of this investigation."
McConnell said that, given the lawyers' assertions, legislation protecting Mueller was not "necessary."
"I don't think Bob Mueller is going anywhere," he said. "It's a widespread feeling, and the president's lawyers obviously agree, that he ought to be able to finish the job. He's a thoroughly credible individual and I think an appropriate appointment."
The possibility that the president might make a move against Mueller stemmed from two weekend developments. The first was Trump's decision to tweet criticism of Mueller's effort using the special counsel's name, which he had avoided before.
"The Mueller probe should never have been started in that there was no collusion and there was no crime," Trump said, calling it a "WITCH HUNT!"
One of his lawyers, John Dowd, also raised the prospect of the end of the special counsel investigation.
Dowd at first said he was speaking for the president, then said he was not. Another of Trump's lawyers, Ty Cobb, later told reporters that the president was not planning to fire Mueller.
The expression of support for Mueller among legislators who have been publicly deferential to the president was not lost on Democratic Senate leader Charles E. Schumer, who interrupted a planned discussion about a giant spending bill to highlight McConnell's words and the very public way in which he made them.
"I want to salute his statesmanship," Schumer (D-N.Y.) said. "That was the right thing to do, and I certainly hope President Trump is listening."
Seconding what Republicans have said privately and publicly since Trump's weekend broadside against Mueller, Schumer said Mueller's firing would create "havoc, a disaster, a constitutional crisis in this country."
"I think leader McConnell's statement was a real shot across the bow, and I hope the president heeds it," Schumer said.
For more on politics from Cathleen Decker »
Twitter: @cathleendecker
ALSO:
Updates on California politics
---
Get our Essential Politics newsletter
The latest news, analysis and insights from our politics teams from Sacramento to D.C.
You may occasionally receive promotional content from the Los Angeles Times.