Lawyer sentenced to 30 days for lying in Russia probe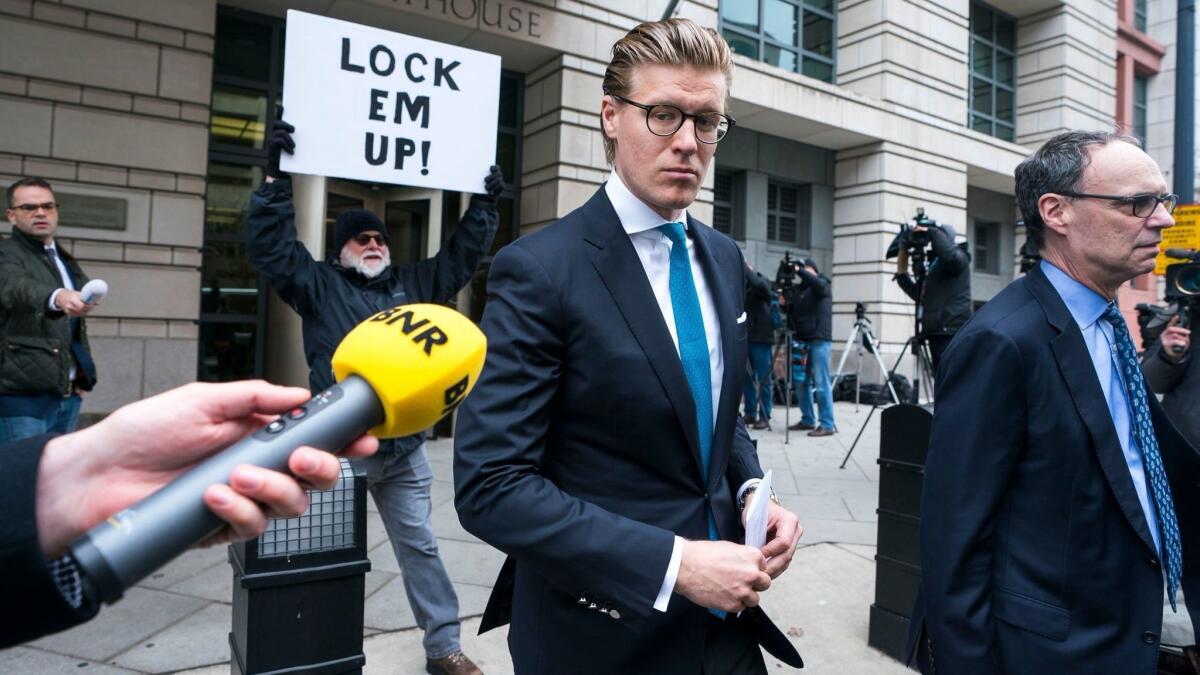 Reporting from Washington —
A federal judge sentenced Alex van der Zwaan, an attorney, to 30 days in prison and a $20,000 fine on Tuesday for lying to federal investigators in the Russia probe, making him the first defendant in the special counsel case to face sentencing.
Van der Zwaan pleaded guilty in February to lying about his conversations with Rick Gates, who was Donald Trump's deputy campaign chairman in 2016, and an unnamed person who prosecutors say has ties to Russian intelligence.
"This was more than a mistake," U.S. District Court Judge Amy Berman Jackson said as she rejected defense lawyers' pleas to keep Van der Zwaan out of prison. "This was more than a lapse or a misguided moment."
She said Van der Zwaan appeared to be a "smart and up-and-coming young man," but said his expressions of remorse "were somewhat muted, to say the least."
Earlier, Van der Zwaan had told the judge: "What I did was wrong. I apologize to the court for my conduct."
Van der Zwaan, 33, was born in Brussels and is a Dutch citizen. Before his arrest, he lived in London with his wife and worked for a prominent U.S. law firm there. His license to practice law in England and Wales will likely be revoked. He did not have a license to practice law in the United States.
Special counsel Robert S. Mueller III's office did not take a position on whether Van der Zwaan should face time behind bars, but suggested he should face a clear penalty. He faced up to six months in prison under sentencing guidelines.
"People need to know there are consequences for withholding documents and consequences for lying to the government," Andrew Weissmann, one of the prosecutors, told the judge.
In addition to Van der Zwaan, four other people have pleaded guilty to criminal charges brought by Mueller, who is investigating whether anyone on Trump's team assisted Russian efforts to interfere in the 2016 presidential election, or committed other crimes.
As part of their plea deals, all four agreed to cooperate with Mueller's investigation. Sentencing for them, including Gates, has been put off until their cooperation is complete.
A sixth defendant, Paul Manafort, Trump's former campaign chairman, is fighting multiple charges of money laundering, bank fraud and tax evasion in federal courts in Virginia and Washington, D.C.
Manafort, whose case is before the same judge in Washington, has asked Jackson to dismiss the charges against him, arguing that Mueller wasn't empowered to investigate his lucrative lobbying work on behalf of Ukraine's pro-Kremlin government because it wasn't related to the U.S. presidential election.
Mueller's office rejected those arguments on Monday night, giving the court a heavily-redacted memo that Deputy Atty. Gen. Rod Rosenstein wrote last August. Rosenstein, who supervises Mueller's probe, wrote that the special counsel was authorized to probe allegations of improper payments related to Manafort's work.
The memo says Mueller also was authorized to examine allegations that Manafort "committed a crime or crimes by colluding with Russian government officials" in connection with the U.S. election. Manafort has not been charged with crimes related to the campaign.
Prosecutors have charged 13 Russians and three Russian entities — including the Internet Research Agency, which U.S. officials said churned out social media posts to manipulate American public opinion during the 2016 campaign.
It's unclear if Van der Zwaan's case is related to the U.S. election. As a lawyer at Skadden, Arps, Slate, Meagher & Flom, he helped produce a controversial report used to defend the former pro-Russian government of Ukraine against accusations that it had improperly prosecuted a political opponent.
Gates and Manafort helped lead an undisclosed lobbying campaign on behalf of their Ukrainian client, generating tens of millions of dollars that the two then sought to hide in overseas accounts and front companies, according to court documents.
When asked by investigators about his contacts with Gates and another unnamed person, Van der Zwaan withheld information about communications in the months leading up to the U.S. election. He also deleted messages, according to prosecutors.
In a court filing, the special counsel's office said Van der Zwaan "lied repeatedly, and prior to which he destroyed and failed to produce pertinent documents."
The unnamed person has ties to Russian intelligence and the lies all involved matters "pertinent to the investigation," according to prosecutors.
The unnamed person is reportedly Konstantin Kilimnik, who previously served in the Russian military, but denied ties to its intelligence service. Kilimnik worked with Gates and Manafort in Ukraine.
Van der Zwaan's lawyers had asked the court to spare their client a prison sentence, describing him as "a loving husband, expectant father, devoted son and caring friend and godparent."
"Although Alex committed a serious offense, just punishment does not require incarceration," the lawyers said in a court filing. They also said Van der Zwaan "made a concerted effort to correct the record" after initially lying,
One of his lawyers, William Schwartz, told the judge on Tuesday that Van der Zwaan's wife is in the middle of a difficult pregnancy in London. She is due to give birth in August.
"She needs him now, not three months from now or four months from now," he said. The judge said Van der Zwaan could leave the country after his incarceration.
Twitter: @chrismegerian
ALSO:
Spurned by big law firms, Trump relies on a handful of lesser-known attorneys
Trump is left with little legal help as Russia probe reaches a crucial phase
---
UPDATES:
12:20 p.m.: This article was updated throughout with additional details.
11:40 a.m.: This article was updated with details from a court filing in the Paul Manafort case.
8:55 a.m.: This article was updated with details from the sentencing.
8:40 a.m.: This article was updated with details from the court.
This article was originally published at 7:10 a.m.
Get our Essential Politics newsletter
The latest news, analysis and insights from our politics team.
You may occasionally receive promotional content from the Los Angeles Times.