Senate Republicans approve budget with $1.5-trillion deficit to pay for Trump's tax cuts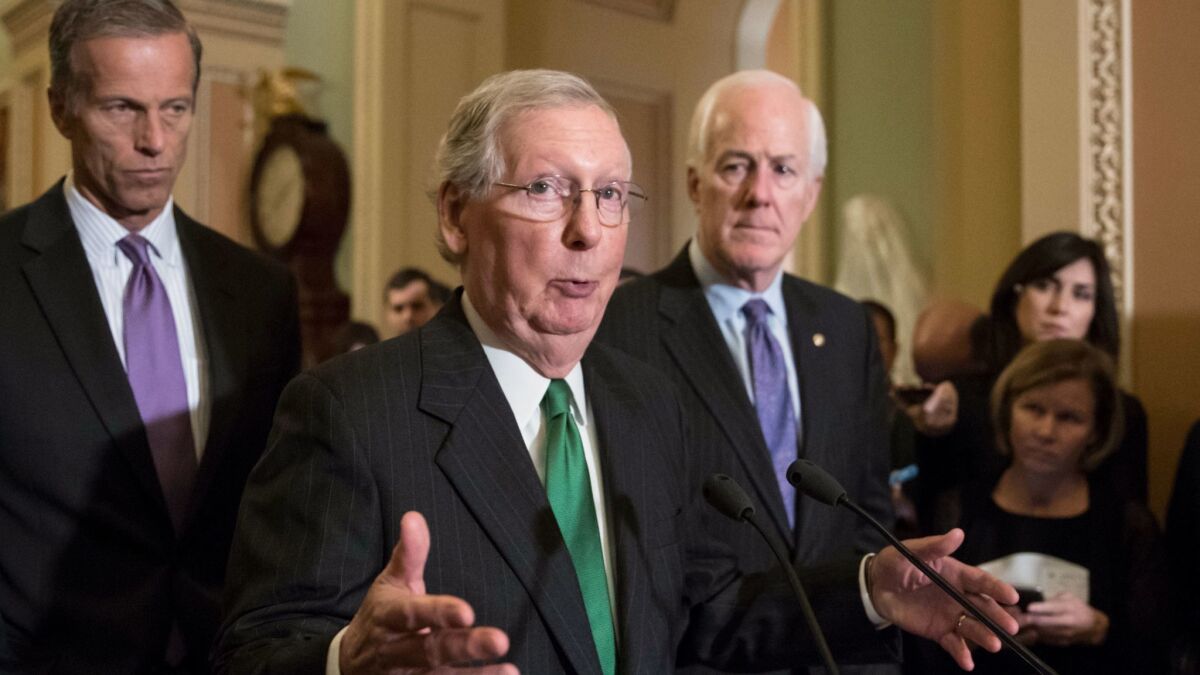 Reporting from Washington —
Senate Republicans overcame internal divisions late Thursday to approve a 2018 budget that will increase the deficit by $1.5 trillion over 10 years to allow for President Trump's proposed tax cuts.
Passage of the GOP's budget blueprint is a largely symbolic exercise, but it sets the stage for smoother passage of Trump's upcoming tax cuts. It will include special instructions that allow for passage of a tax plan by a simple majority, without threat of a Senate filibuster to block it.
At the White House, Trump had been confident of the result earlier in the day and predicted it was a sign that his tax plan would also succeed. "Frankly, I think we have the votes for the tax cuts, which will follow fairly shortly thereafter," he said.
But the outcome was not certain, as some conservatives still objected to piling onto the deficit. Many joined Congress during the rise of the tea party movement, which railed for years against rising national debt under President Obama after the Great Recession. The vote was 51-49, with all Democrats opposed.
"The budget's a sham," Sen. David Perdue (R-Ga.) said at a recent Koch-backed group's gathering of wealthy donors in New York. "It has nothing to do with reality. ... It's a tool to get to reconciliation."
Sen. Bob Corker (R-Tenn.) called the budget a "hoax" on Thursday.
But most Republicans argued that Trump's tax cuts will more than cover the $1.5-trillion shortfall by spurring economic growth and leading to future tax revenues.
Treasury Secretary Steven T. Mnuchin predicted the tax package will unleash so much economic growth it will begin to pay down the nation's debt.
Independent economists, however, doubt growth will be as robust as advocates claim, and argue that the plan's reliance on deficit-spending will actually dampen any benefits for growth.
Nonpartisan fiscal watchdogs also worry the tax breaks will fall largely to the most wealthy households, while those in the middle class could pay more if popular deductions are eliminated in favor of the tax plan's proposed $24,000 standard deduction for couples.
Once the House and Senate reconcile their budgets and a final budget is approved, Republicans are set to unveil their tax plan, which remains a work in progress. Party leaders in Congress are drafting legislation from a framework established with the White House.
The tax plan calls for reducing tax rates on corporations from 35% to 20%, and consolidating individual tax rates to 35%, 25% and 12%, though the income brackets for those rates have yet to be set.
Rep. Kevin Brady (R-Texas), chairman of the House Ways and Means Committee, has said once Congress finishes the budget, his panel will unveil the tax bill. "Once that budget is done, boom, we'll bring it forward," Brady said earlier this month.
The budget approved by the Senate Thursday follows earlier similar Republican blueprints. It slashes domestic spending, including steep cuts to Medicare and Medicaid.
Senators voted into the evening on various amendments, including those looking ahead to the coming tax debate.
One Democratic amendment sought to preserve the state and local tax deduction, which helps many residents of California and other high-cost states reduce their federal income tax bills. That deduction is being targeted for elimination.
Republicans used their majority to reject the amendment, which would have prevented consideration of any bill that repeals or limits the deduction.
"What the entire GOP proposal is about is giving tax breaks to people who don't need it by making cuts to education, housing and health care," tweeted the Budget Committee's ranking member, Sen. Bernie Sanders (I-Vt.).
The Senate budget now needs to be reconciled with a House version. A final budget vote is expected by the end of the month.
Times staff writer Jim Puzzanghera in Washington contributed to this report.
ALSO
Bannon's ouster could boost the powerful Koch network, which has surprising sway in Trump's White House
Trump punts his top priorities to Congress, setting the stage for a year-end showdown
Is this small-town congressman from New Mexico tough enough to win Democrats the House majority?
More coverage of politics and the White House
---
UPDATES:
6:35 p.m.: This article was updated after the Senate vote.
This article was originally published at 2:50 p.m.
Get our Essential Politics newsletter
The latest news, analysis and insights from our politics team.
You may occasionally receive promotional content from the Los Angeles Times.