West Virginia voters side with a safer Republican candidate in hotly contested U.S. Senate race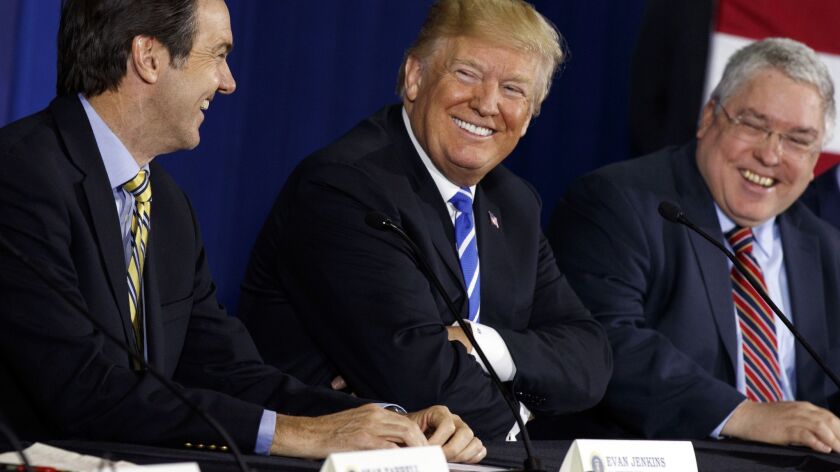 Republican voters in West Virginia opted Tuesday for a safer nominee for U.S. Senate over a combustible one, picking state Atty. Gen. Patrick Morrisey to face Sen. Joe Manchin III, one of the Democratic incumbents most threatened in November.
------------

For the record:
5:45 PM, Mar. 16, 2019This article states Don Blankenship, a candidate for the GOP nomination for U.S. Senate in West Virginia, was a "wealthy felon." Blankenship was convicted on a misdemeanor charge; he was found not guilty of felony charges.
FOR THE RECORD: This article states Don Blankenship, a candidate for the GOP nomination for U.S. Senate in West Virginia, was a "wealthy felon." Blankenship was convicted on a misdemeanor charge; he was found not guilty of felony charges.
------------
Don Blankenship, a wealthy felon who ran racially charged ads aimed at Senate Republican leader Mitch McConnell and his family, came in third, behind Morrisey and U.S. Rep. Evan Jenkins. That came as a relief to President Trump and other Republicans who feared a Blankenship nomination would cost the party an otherwise winnable Senate seat.
Republicans now hold by a two-seat margin that has effectively been cut in half by the absence of ailing Sen. John McCain of Arizona. The West Virginia seat is one of several the party has focused on in its effort to expand its majority.
Blankenship, former chief executive of Massey Energy, served a year in prison for actions connected to the 2010 explosion that killed 29 miners at the Upper Big Branch mine in Montcoal, W.Va.
He campaigned as the heir to Trump's "drain the swamp" mentality, but his political negatives led the president on Monday to urge a vote for either Jenkins or Morrisey.
"To the great people of West Virginia we have, together, a really great chance to keep making a big difference. Problem is, Don Blankenship, currently running for Senate, can't win the General Election in your State...No way!" Trump tweeted Monday. "Remember Alabama. Vote Rep. Jenkins or A.G. Morrisey!"
Trump's Alabama reference was to the candidacy of Roy Moore, the Republican nominee for a U.S. Senate seat in December who was accused of sexual misconduct against several young women when he served as a local prosecutor.
In the Republican primary in Alabama, Trump backed Luther Strange, who had been appointed to the seat when the president chose Jeff Sessions as his attorney general. Trump supported Moore in the general election, but the Republican lost in an upset to Democrat Doug Jones.
In addition to West Virginia, three other states held primaries Tuesday.
In Indiana, a bitter Senate primary campaign helped businessman and former state legislator Mike Braun defeat two members of Congress, Reps. Luke Messer and Todd Rokita. Braun will face Democrat Joe Donnelly — like Manchin, among the most threatened Senate incumbents.
In a House primary, Greg Pence won the GOP nomination for the seat once held by his brother, now Vice President Mike Pence.
In Ohio, Richard Cordray, former head of the federal Consumer Financial Protection Bureau, defeated former Cleveland Mayor Dennis J. Kucinich for the Democratic nomination for governor. Cordray will face Ohio Atty. Gen. Mike DeWine for the job now held by Republican John Kasich.
Rep. James B. Renacci, who was endorsed by Trump, won the Republican nomination for the U.S. Senate seat in Ohio now held by Sen. Sherrod Brown, a Democrat. At an ostensibly nonpolitical gathering in Cleveland on Saturday, Renacci sat next to Trump, who encouraged voters to side with him and turned the microphone over to the candidate to make his pitch.
In North Carolina, most incumbents were easily winning reelection but for one: Republican Rep. Robert Pittenger lost in the state's 9th Congressional District. He became the first Republican congressional incumbent to lose a primary in this election cycle.
Manchin, a former West Virginia governor, was first elected to the Senate in 2010 to replace Robert C. Byrd, who had died in office. Manchin won reelection in 2012 by almost 24 points.
But the state has lurched dramatically toward the GOP since then, setting up a steep challenge for Manchin's 2018 effort. In 2016, Trump defeated Hillary Clinton in West Virginia by more than 42 points.
Any Republican other than Blankenship would likely have the edge in November, analysts said before the vote. The way Blankenship chose to campaign would only have exacerbated Republican divisions in the fall.
Blankenship closed his campaign with audacious and offensive ads that targeted his own party, and particularly McConnell.
In one, he said that one of his goals as a senator "will be to ditch Cocaine Mitch," a reference to the discovery of the drug on a cargo ship owned by the family of McConnell's wife, Transportation Secretary Elaine Chao.
In another ad, Blankenship drew attention to Chao's ancestry.
"Swamp captain Mitch McConnell has created millions of jobs for China people. While doing so, Mitch has gotten rich," the ad said. "In fact, his China family has given him tens of millions of dollars."
The remarks, which Blankenship denied were rooted in racism, drew outrage from establishment Washington and McConnell's defenders.
"For those asking, this is my response to West Virginia Roy Moore: 'This clown is a walking, talking case study for the limitation of a prison's ability to rehabilitate,'" tweeted McConnell strategist Josh Holmes.
In the Alabama race, the accusations against Moore led to a split between groups usually united in their quest for victory. Outside fundraising groups withheld support for the Republican nominee, but the Republican National Committee supported him.
A Blankenship win could have set up a similar dynamic in West Virginia, diminishing the odds of a Manchin defeat.
Sen. Jeff Flake of Arizona, a Republican, said that a Blankenship victory on Tuesday would prompt him to donate to Manchin.
McConnell, who will hold significant sway over the spending of outside finance groups, was asked Tuesday what his response would be if Blankenship won.
"Well, we're going to find out what happens in West Virginia tonight," he said. "And I may have more to say about that tomorrow."
Late Tuesday, McConnell's campaign Twitter account posted a picture of the majority leader in a shower of white powder.
"Thanks for playing @DonBlankenship," the tweet said.
Blankenship said before the votes were counted that he was set to celebrate regardless of the outcome. The former coal baron's probation restrictions, put in place after his year in prison, were due to end at 12:01 a.m. Wednesday, an aide told CNN's Dan Merica.
"I get my guns back in a day or two, so I am going to win either way tonight," he told Merica.
For more on politics from Cathleen Decker »
Twitter: @cathleendecker
---
UPDATES:
8 p.m.: This article was updated with election results.
This article was originally published at 4:20 p.m.
---
Get our Essential Politics newsletter
The latest news, analysis and insights from our politics teams from Sacramento to D.C.
You may occasionally receive promotional content from the Los Angeles Times.