Senate leaders reach bipartisan deal for handling sexual harassment claims on Capitol Hill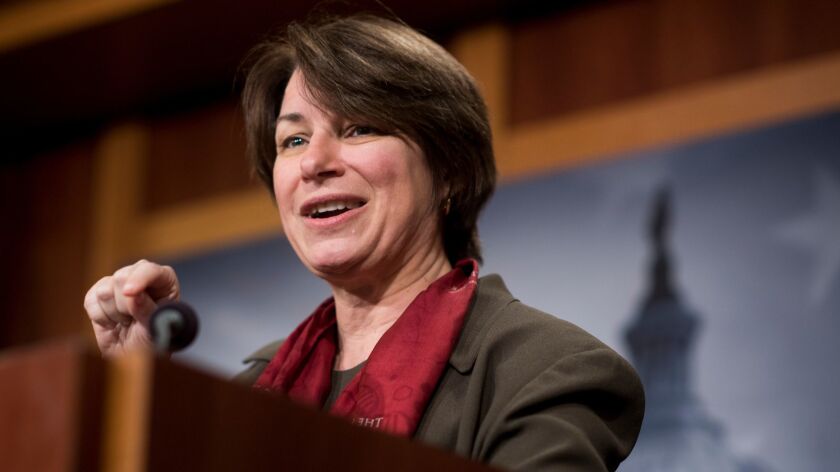 Reporting from Washington —
After months of delay, senators said Wednesday they have reached a deal on legislation to reform how sexual harassment claims against lawmakers and staff are handled on Capitol Hill.
The legislation requires members of Congress to personally repay taxpayers for settling harassment claims filed against them, even if they resign.
The House unanimously passed its own bill to rewrite the Congressional Accountability Act of 1995 in early February, but momentum stalled in the Senate.
Frustrated that the bill was languishing, the 22 women serving in the Senate pressured leaders in March to bring the bill up for a vote. "No longer can we allow the perpetrators of these crimes to hide behind a 23-year-old law," they wrote in a letter to leaders.
Every male Democratic senator and Sen. Ted Cruz (R-Texas) sent a similar letter soon after, urging leaders to make the bill a priority.
Sens. Amy Klobuchar (D-Minn.) and Roy Blunt (R-Mo.) unveiled the Senate version of the legislation Wednesday.
"For too long victims of workplace harassment in the Senate have been forced into a process that is stacked against them," Klobuchar said in a statement.
"This bipartisan agreement sends a clear message that harassment in any form will not be tolerated in the U.S. Congress," Blunt said in a statement.
Congress fast-tracked an examination of its decades-old process to handle sexual harrassment claims last fall after several members were accused of unwanted sexual advances or acts. The allegations resulted in the resignations of more than a half a dozen representatives and former Sen. Al Franken (D-Minn.).
Critics said the existing process was burdensome, secretive, time-consuming and stacked against accusers for the benefit of the person being accused.
The reform effort came amid a nationwide reckoning around sexual harassment spurred by the #MeToo movement that brought down several prominent men in entertainment and media.
Both the House and Senate bills do away with requirements that accusers first undergo up to 30 days of counseling and 30 days of mediation before they could seek an investigation or take the issue to court.
Victims would get the same access to legal counsel that the person being accused gets. Currently only the person being accused gets legal counsel and the accuser must provide their own.
And accusers won't have to sign a nondisclosure agreement, but will have to make their claims under oath.
Under the bill, members of Congress who settle claims brought against them using a special government fund will have to repay that money to the U.S. Treasury, and their wages or Social Security could be garnished if they don't repay the settlement within 90 days. They would not be financially responsible for claims filed against their staff.
The Huffington Post has reported that some male senators concerned about financial laibility blocked the House bill when it reached the Senate.
There bill also requires increased public reporting when a claim is settled, including details about which member's office the claim originated from. And the House Ethics Committee would automatically review claims made against lawmakers and senior staff. The bill also allows interns and other unpaid staff to file harassment claims, something current law doesn't allow.
The House and Senate bills differ in a dozen or so small ways, which will need to be reconciled. For example, the Senate bill gives accusers up to 90 days to file a claim while the House version sets a 45-day limit.
In a bipartisan joint statement, Senate leaders praised the bill and said they were optimistic it would pass. They did not lay out a timeline for the bill's consideration. Senators were all briefed on the bill during party meetings Tuesday, and Blunt indicated to reporters a vote could happen by the end of the week.
"With this agreement, both parties are coming together to update the laws governing how the Congress addresses workplace claims and protecting staff and others from harassment," Majority Leader Mitch McConnell (R-Ky.) and Democratic Minority Leader Charles E. Schumer (D-N.Y.) said in the joint statement.
"Workplace harassment is unacceptable anywhere, end of story," McConnell said on the Senate floor Wednesday. "The United States Congress is certainly no exception."
More stories from Sarah D. Wire »
Follow @sarahdwire on Twitter
---
Get our Essential Politics newsletter
The latest news, analysis and insights from our politics teams from Sacramento to D.C.
You may occasionally receive promotional content from the Los Angeles Times.