Stormy Daniels sues Trump for defamation over 'con job' remark on Twitter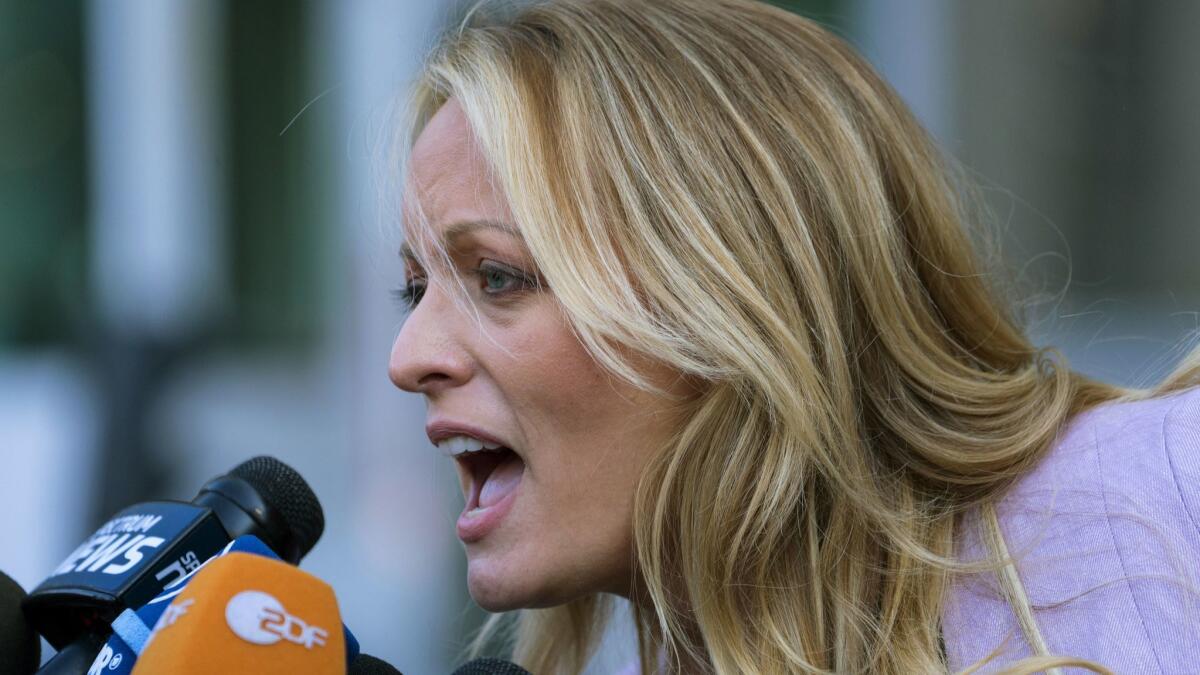 Stormy Daniels sued President Trump for defamation on Monday, the latest in a string of legal challenges stemming from his alleged extramarital affair with the porn actress more than a decade ago.
Daniels, whose real name is Stephanie Clifford, alleged that Trump defamed her in a tweet that mocked her for saying a man once physically threatened her on Trump's behalf.
She cited Trump's tweet about a forensic artist's sketch of a man who she says confronted her in a Las Vegas parking lot in 2011. The man suggested she would be harmed if she went public with her story about having a one-night stand with Trump in 2006, Daniels said.
"A sketch years later about a nonexistent man," Trump wrote in the April 18 tweet to his 51 million followers. "A total con job, playing the Fake News Media for Fools (but they know it)!"
Daniels' complaint, filed in Manhattan federal court, says it's "reasonable to infer that the person who threatened Ms. Clifford could have only been acting directly or indirectly on behalf of Mr. Trump" or his personal lawyer, Michael Cohen.
If Trump was unaware of the threat, the suit alleges, then he posted his tweet in reckless disregard of whether it was true or false, exposing Daniels to hatred, contempt, ridicule, shame and death threats.
The complaint says Trump effectively accused Daniels of committing a crime by fabricating her allegation that a man made an illegal threat.
"In making the statement, Mr. Trump used his national and international audience of millions of people to make a false factual statement to denigrate and attack Ms. Clifford," the suit says.
Trump "meant to convey that Ms. Clifford is a liar, someone who should not be trusted, that her claims about the threatening encounter are false, and that she was falsely accusing the individual depicted in the sketch of committing a crime, where no crime had been committed," the complaint alleges.
The White House press office did not respond immediately to a request for comment.
Cohen, a former executive vice president of the Trump Organization, arranged to pay Daniels $130,000 just before the November 2016 presidential election in return for her silence about the alleged affair. Cohen is under federal criminal investigation for his orchestration of the payment, among other things.
Daniels is suing Trump and Cohen in Los Angeles federal court in an attempt to nullify the nondisclosure agreement. A judge agreed last week to postpone the case for 90 days after Cohen said he would need to invoke his 5th Amendment rights in the lawsuit to protect himself in the potential criminal prosecution.
The Trump tweet that triggered the new lawsuit was a response to a tweet posted by "DeplorablyScottish," which compared the artist's sketch of the man who reportedly threatened Daniels to her husband.
Daniels first shared the story of the alleged Las Vegas threat in March on "60 Minutes."
In 2011, a few weeks after Cohen learned that she'd told her story to a magazine, a stranger approached her in the Las Vegas parking lot, she told the CBS show.
Daniels, who was heading into a fitness class, was getting her infant daughter out of a car seat, along with a diaper bag, she said.
"A guy walked up on me and said to me, 'Leave Trump alone — forget the story,' and then he leaned around and looked at my daughter," Daniels said.
"That's a beautiful little girl," she recalled the man telling her. "It'd be a shame if something happened to her mom."
Daniels said she never saw the man again, but would easily recognize him if she did. She said she was too scared to report the incident to the police.
The magazine, In Touch, did not publish Daniels' story until January 2018, after the Wall Street Journal reported that Cohen had paid hush money to Daniels.
The new suit came as ABC News reported Monday that Trump's reelection campaign has spent nearly $228,000 to cover Cohen's legal expenses. At the same time, the National Enquirer, a tabloid run by Trump's close friend David Pecker, released an issue with a nasty headline about Cohen on its cover: "Trump fixer's secrets and lies!"
Daniels' complaint, filed in New York because of Trump's longtime residence in Manhattan, is the second defamation lawsuit that the president is fighting.
Summer Zervos, a former contestant on "The Apprentice" who accused Trump of trying to force himself on her at the Beverly Hills Hotel in 2007, says he defamed her just before the 2016 election by calling her a liar. In March, a New York state judge rejected Trump's request to dismiss her lawsuit.
Twitter: @finneganLAT
---
UPDATES:
4:15 p.m.: The story was updated to add the rationale for the lawsuit being filed in New York.
The story was originally published at 12:55 p.m.
Get our Essential Politics newsletter
The latest news, analysis and insights from our politics team.
You may occasionally receive promotional content from the Los Angeles Times.