Stormy Daniels and lawyer Michael Avenatti part ways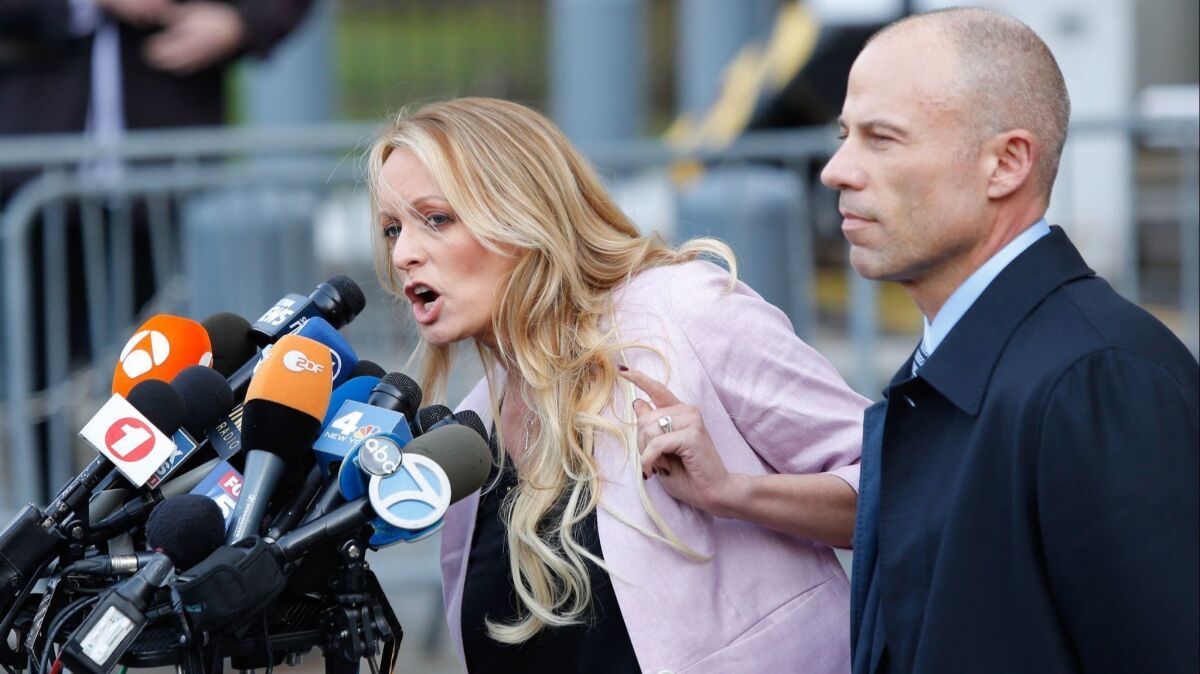 Michael Avenatti, the lawyer for Stormy Daniels in two unsuccessful lawsuits against President Trump, is no longer representing the pornographic film actress.
Daniels, who is under court order to pay Trump $293,000 in legal fees and sanctions for one of the dismissed lawsuits, said she has retained Clark Brewster of Oklahoma as her personal lawyer "to review all legal matters involving me."
"Upon completion of Mr. Brewster's review and further consultation with me, I anticipate Mr. Brewster will serve as my primary counsel on all legal issues," Daniels, whose real name is Stephanie Clifford, wrote on Twitter.
Daniels provided no explanation for the change.
In November, she told the Daily Beast that while she was grateful for Avenatti's services, he had sued Trump for defamation against her wishes, ignored her requests for an accounting of her legal defense fund and treated her with disrespect.
A few days later, she said they had sorted out their differences. The following week, however, U.S. District Judge S. James Otero ordered Daniels to pay Trump $292,000 in legal fees, plus a $1,000 sanction, for the defamation suit that she had lost.
Avenatti released a statement on Twitter saying he'd informed Daniels on Feb. 19 "that we were terminating our legal representation of her for various reasons that we cannot disclose publicly due to the attorney-client privilege."
"This was not a decision we made lightly and it came only after lengthy discussion, thought and deliberation, as well as consultation with other professionals."
Last week, Otero dismissed the first lawsuit that Daniels filed against the president a year ago to invalidate the nondisclosure agreement that she and Trump signed days before the November 2016 election. Trump, through his lawyer Michael Cohen, paid her $130,000 to keep quiet about their alleged 2006 sexual encounter.
Daniels sued to void the pact after Cohen threatened to seek millions of dollars in damages against her for breaking the deal. She argued that Trump had never signed it.
Otero found the lawsuit was moot because Trump and Cohen agreed last September not to enforce the confidentiality pact. By then, Cohen had pleaded guilty to eight felonies, including breaking federal election law by making the secret $130,000 payoff to Daniels.
Trump meets his match: Stormy Daniels' combative lawyer Michael Avenatti »
While the two lawsuits produced no courtroom victory for Avenatti, they did turn him into a celebrity. He was a constant presence on cable news for months and traveled around the country exploring a potential run for president.
In November, he was arrested in Los Angeles on suspicion of domestic violence, but prosecutors ultimately declined to bring charges. Avenatti has since said he's decided not to seek the Democratic nomination.
Life is stressful. Our weekly mental wellness newsletter can help.
You may occasionally receive promotional content from the Los Angeles Times.