Stormy weather, or how a meeting at a golf resort blew up into a Trump scandal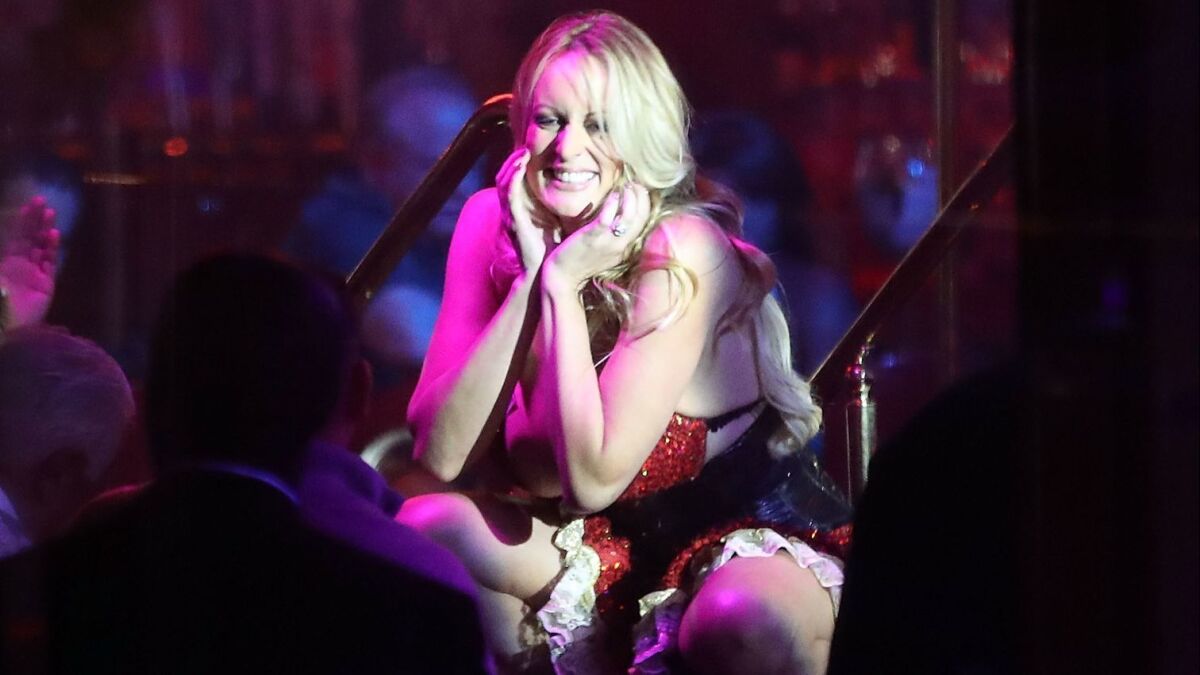 The president and the porn star sounds like a twisted variant on a fairy tale, or one of those Hollywood rom-coms, or maybe something from the oeuvre of Stephanie Clifford.
Clifford, better known by her stage name, Stormy Daniels, is associated with such works as "Sex Door Neighbors," "Lust on the Prairie," "Calipornia" and "Operation: Desert Stormy."
Now Daniels is enmeshed in a legal battle with President Trump over a purported 2006 affair and charges that Trump, through an intermediary, bought her silence in the waning days of the 2016 presidential race.
Trump faces other accusers.
On Tuesday, former Playboy playmate Karen McDougal filed suit in Los Angeles to abrogate her own confidentiality agreement, saying she wishes to tell the world of an alleged affair with Trump. In New York, Summer Zervos, a contestant on Trump's reality show "The Apprentice," won a legal round in a defamation suit arising from charges that he sexually assaulted her.
But none of his antagonists has been as visible as Daniels, who is set for a splashy Sunday night appearance on CBS' "60 Minutes."
Trump faces jeopardy from sex scandals in one-two legal punch »
More than just a tawdry he-said, she-said, the controversy threatens to further undermine a president already saddled with strong disapproval ratings and a probe into Russian interference in the presidential race, dampening Republican enthusiasm and possibly costing the GOP control of Congress in November.
There are also questions about the durability of nondisclosure agreements, such as the one Daniels signed, and whether campaign finance laws were violated in hushing the alleged affair.
At least it's been good for business; capitalizing on her newfound celebrity, Daniels has been storming X-rated clubs across the country as part of her "Make America Horny Again" campaign.
Who is Stormy Daniels?
Stephanie Clifford, 39, began her career in adult entertainment as a teenage stripper in her native Baton Rouge, La. She always liked the name "Stormy" and chose "Daniels" based on a whiskey advertisement that touted Jack Daniels as "a Southern favorite." She has performed in scores of X-rated movies and broadened her portfolio to include screenwriting and directing. She also has appeared in several non-pornogaphic films, including "The 40-Year-Old Virgin."
When she's not on the road, Clifford lives in Texas with her husband and a daughter.
Is she some kind of undercover Democrat, sent out to destroy Trump?
Actually, Daniels has been a registered Republican since 2010. She briefly flirted with a run that year for U.S. Senate in Louisiana, challenging GOP incumbent Sen. David Vitter, whose telephone number was discovered in the records of a Washington prostitution ring. She ultimately chose to stick to her movie career.
How did Trump meet her?
Daniels and fellow porn actress Jessica Drake were dispatched by adult-film studio Wicked to a July 2006 celebrity golf tournament in Lake Tahoe, according to the Smoking Gun website. Trump, then starring in "The Apprentice," finished in the bottom tier of 80 players, bested by former Vice President Dan Quayle and comedian Ray Romano, among others.
Sporting a polo shirt and golf hat, Trump posed with Daniels for a photo, which she posted on her MySpace page.
Did the hat say "Make America Great Again"?
Stop it.
Did Trump have an extramarital affair with Daniels?
Daniels told In Touch magazine in 2011 that Trump invited her to dinner at Tahoe's Edgewood resort. Afterward they had sex and Trump asked her to autograph one of her DVDs, according to Daniels. Trump's third wife, Melania Trump, had recently given birth to their son, Barron.
In Touch says that Daniels and two others whom she'd told about the affair passed polygraph tests. However, facing the threat of a Trump lawsuit, the magazine did not publish her interview until January 2018, after the Wall Street Journal revealed that Trump's personal lawyer, Michael Cohen, arranged a $130,000 payment to Daniels just before the 2016 presidential election in return for her silence.
Trump, rarely at a loss for words, has never spoken publicly about Daniels. Cohen and White House spokeswoman Sarah Huckabee Sanders have denied he had an affair with the porn actress.
So Cohen wrote a personal check for $130,000 purely out of the goodness of his heart?
Cohen says he used his own money to "facilitate" the payment, drawing from a personal home equity line of credit.
Wow, I could use friend like that!
Couldn't we all.
Did Trump reimburse Cohen?
That's unclear. Cohen has said neither the Trump campaign nor his private business reimbursed him, leaving this key question about one key question conspicuously unanswered: Did Trump personally repay him?
Did Daniels get anything other than money?
She was supposed to. The deal required Trump to release Daniels from liability for damages she might have caused him by making public any text messages, photos or basic information about Trump's sexual conduct, sexual partners or related paternity matters. But Trump did not sign the agreement, so Daniels says he never made good on this part of the bargain, and thus the contract is invalid.
Back up. Did you say paternity?
Yes. But Daniels' attorney, Michael Avenatti, says that was just standard language for a nondisclosure agreement — no love child in this tabloid tale.
Wait, is hush money legal?
There's nothing illegal or unusual about celebrities paying people to stay quiet about private matters that might harm their reputation.
But in this case, Common Cause alleges the payment to silence Daniels was meant to influence the presidential election. In complaints filed with the U.S. Justice Department and the Federal Election Commission, the nonpartisan ethics watchdog group asserts it was an illegal secret campaign expense that Trump and Cohen were required to disclose in a public report on the campaign's spending.
Cohen denies the payment to Daniels had anything to do with the election.
Why is this coming out now?
After the Wall Street Journal revealed the payment in January, Daniels started using the controversy to raise her public profile, appearing on "Inside Edition" and "Jimmy Kimmel Live." She declined to answer questions about Trump but nonetheless drew enormous attention to their alleged affair.
In response, Jill A. Martin, a lawyer for Trump's private business empire, asked a private arbitrator to order Daniels to pay damages to the president. An arbitrator granted Martin's request for a secret restraining order requiring Daniels to honor the confidentiality deal.
Daniels, in turn, sued Trump in state Superior Court in Los Angeles to get the deal nullified.
So now this legal brawl will play out in open court?
Not if Trump has his way. His lawyers say Daniels has already broken the agreement at least 20 times. With the contract calling for $1 million in damages payable to Trump each time she violates the terms, the president's legal team says she could already owe him more than $20 million.
The agreement also mandates private arbitration to settle disputes. Trump's lawyers have asked a federal judge to kill Daniels' lawsuit so the two sides can settle the matter secretly in arbitration.
"Lust on the Prairie"?
I suppose you've never been to an Iowa caucus.
Seriously?
Just kidding.
Twitter: @finneganLAT
Twitter: @markzbarabak
---
Life is stressful. Our weekly mental wellness newsletter can help.
You may occasionally receive promotional content from the Los Angeles Times.