In a one-two legal punch, Trump faces new jeopardy from sex scandals
A former Playboy Playmate has sued to break a confidentiality agreement about an alleged affair with President Trump.
President Trump faced new legal and political jeopardy Tuesday as a former Playboy Playmate and alleged paramour sued to break a confidentiality agreement and a judge rejected his move to quash a lawsuit stemming from a charge of sexual assault.
The developments, coming on opposite coasts, promised many more months — if not years — of legal skirmishing, keeping Trump's personal conduct at the fore of this election season and complicating GOP efforts to protect their congressional majorities in November.
The White House and Republican leaders on Capitol Hill responded with silence.
Even as special counsel Robert S. Mueller III probes Russian interference in the 2016 campaign and investigates a skein of Trump's tangled financial dealings, the president is confronting far more salacious accusations from his days as a footloose — albeit married — reality TV star and man about Manhattan.
In three separate lawsuits, he is accused of sexually mauling a former contestant on "The Apprentice," his show set in a corporate boardroom, and paying money to hush two of his alleged lovers, the former Playboy model, Karen McDougal, 46, and pornographic actress Stormy Daniels, 39.
Stormy weather, or how a meeting at a golf resort blew up into a Trump scandal »
In Los Angeles on Tuesday, McDougal filed a suit seeking to end the confidentiality agreement keeping her from speaking openly about her allegations of a 2006 affair with Trump, following a similar move earlier this month by Daniels. McDougal accused her former attorney of undermining her interests by secretly colluding with Trump's legal team and American Media Inc., publisher of the National Enquirer.
American Media paid McDougal $150,000 in 2016 for the rights to the story about her alleged romance with Trump, a deal that prohibits her from sharing details elsewhere. The firm, led by a close friend of Trump, never published the story — a practice known in the tabloid industry as "catch and kill."
"AMI lied to me, made empty promises, and repeatedly intimidated and manipulated me," McDougal said in a written statement. "I just want the opportunity to set the record straight and move on with my life, free from this company, its executives and its lawyers."
In New York, meanwhile, a judge ruled that an Orange County woman who accused Trump of sexually assaulting her at the Beverly Hills Hotel in 2007 can proceed with a defamation lawsuit. The ruling opened the prospect of the president facing embarrassing, deeply personal questioning under oath.
Justice Jennifer G. Schecter of New York state court rejected a request by the president's lawyers that she dismiss the case filed last year by Summer Zervos, 43, a former contestant on "The Apprentice."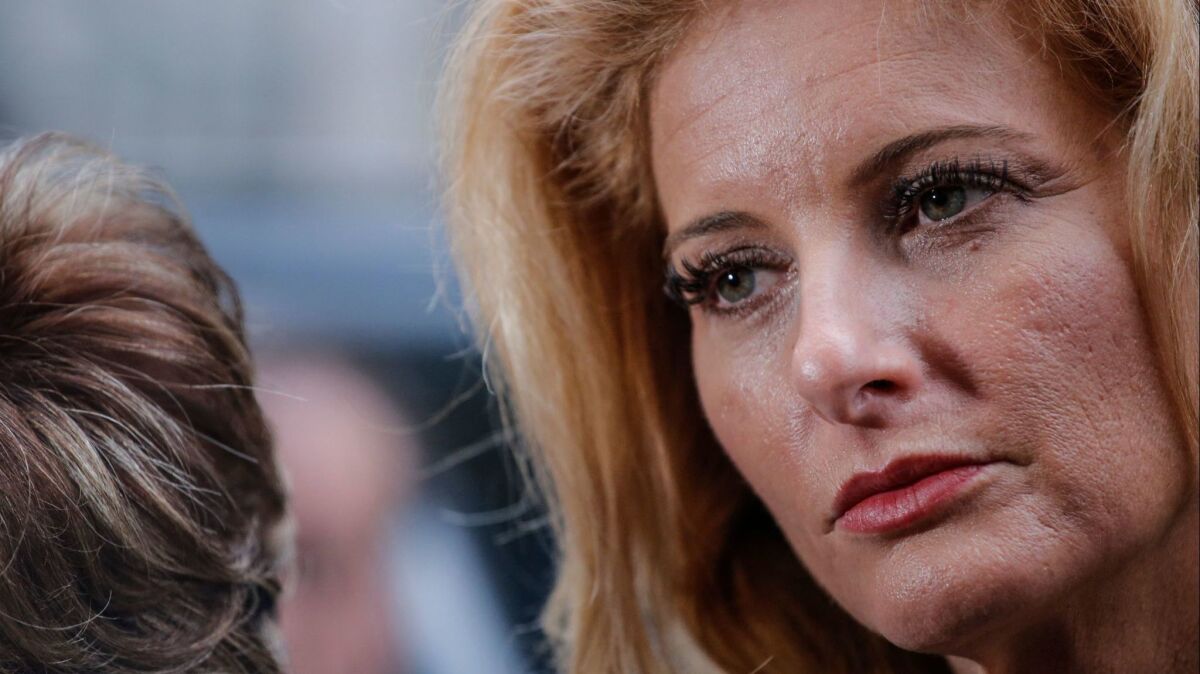 As the 2016 presidential election neared, Zervos alleged that Trump had tried to force himself on her in 2007 at a dinner in a bungalow at the Beverly Hills Hotel. Trump responded that Zervos and nine other women accusing him of sexual misconduct were lying; Zervos countered by filing the defamation suit seeking a retraction, an apology and unspecified damages.
Trump "knowingly, intentionally and maliciously threw each and every one of these women under the bus, with conscious disregard of the impact that repeatedly calling them liars would have upon their lives and reputations," her complaint said.
Seeking dismissal of the case, attorneys for Trump argued that the Constitution protects him from being sued in state court while serving as president. They also said Trump's comments dismissing the women's accusations were "fiery rhetoric" and hyperbole protected by the 1st Amendment.
In denying their motion, Schecter said "no one is above the law" and cited a 1997 U.S. Supreme Court decision that allowed a sexual harassment case against President Clinton to move forward in federal court while he was in office. Schecter rejected arguments by Trump lawyers that the federal ruling did not apply to state courts.
"State courts can manage lawsuits against the President based on private unofficial conduct just as well as federal courts," Schecter said. She also turned down Trump's request to halt proceedings until he departed the White House, saying there was "absolutely no authority" for doing that.
The president's attorneys have the right to appeal the decision, first to a panel of judges in Manhattan and then to New York's highest court — a process that could drag out for years and extend well into Trump's 2020 campaign for reelection.
Attorneys for both sides declined to comment on further moves.
I just want the opportunity to set the record straight and move on with my life.
— Former Playboy Playmate Karen McDougal
While Schecter's ruling stuck largely to legalities and a dry recitation of facts, McDougal's lawsuit offered a buffet of sordid details and allegations of a double-cross by her attorney, who she asserts was secretly colluding with Trump.
McDougal says she and Trump had a 10-month relationship in 2006 and 2007, including a sexual encounter at the same Lake Tahoe golf event where Trump allegedly started an extramarital affair with Daniels. His wife, Melania, had recently given birth to their son, Barron.
McDougal, Playboy's 1998 Playmate of the Year, had something else in common with Daniels: Both employed the services of Keith Davidson, a Beverly Hills entertainment lawyer.
McDougal said that Davidson "assured her that the rights to publish her story were worth millions" but was secretly advancing Trump's interests while pretending to advocate on her behalf.
McDougal, now an actress and fitness model, claimed in her lawsuit that collusion between the publishing firm, Trump's representatives and her attorney nullified her nondisclosure agreement with AMI, allowing her to publicly discuss her relationship with Trump.
In a written statement, a spokesman for Davidson said the attorney "fulfilled his obligations and zealously advocated for Ms. McDougal to accomplish her stated goals at that time."
American Media issued a statement saying the firm "has a valid contract with Ms. McDougal and we look forward to reaching an amicable resolution satisfactory to her and to AMI."
In a lawsuit filed earlier this month, Daniels sought to invalidate her nondisclosure agreement with Trump by claiming he failed to sign the document and thus rendered it moot. Trump's lawyers, in turn, say she could owe him as much as $20 million in damages for breaking the pact.
Daniels, whose real name is Stephanie Clifford, was paid $130,000 in hush money by the president's personal lawyer, Michael Cohen, and has limited her public statements about Trump to broad hints and innuendo about an alleged affair from July 2006 into 2007.
In that vein, Daniels surfaced Tuesday on Twitter with a taunting message that used an acronym for president of the United States. "Technically I didn't sleep with the POTUS 12 years ago," she wrote. "There was no sleeping (hehe). But I digress...People DO care that he lied about it, had me bullied, broke laws to cover it up, etc."
On Tuesday, the Wall Street Journal and other news outlets reported that Daniels underwent a 2011 polygraph exam about her relationship with Trump and the examiner found a more than 99% probability she was being truthful when she claimed the two had sex.
Daniels ended her Twitter missive with a pointed, "PS… I am NOT going anywhere." Indeed, she is scheduled to appear Sunday on CBS' "60 Minutes" in an interview taped earlier this month.
---
UPDATES:
8:15 a.m., March 21: This article was updated with reports that Daniels passed a 2011 polygraph examination
8:30 p.m.: This article was updated with information on the position of Trump's lawyers on the Stormy Daniels pact.
This article was originally published at 7:25 p.m., March 20
Get our Essential Politics newsletter
The latest news, analysis and insights from our politics team.
You may occasionally receive promotional content from the Los Angeles Times.