Supreme Court to rule on workplace bias against gay and transgender employees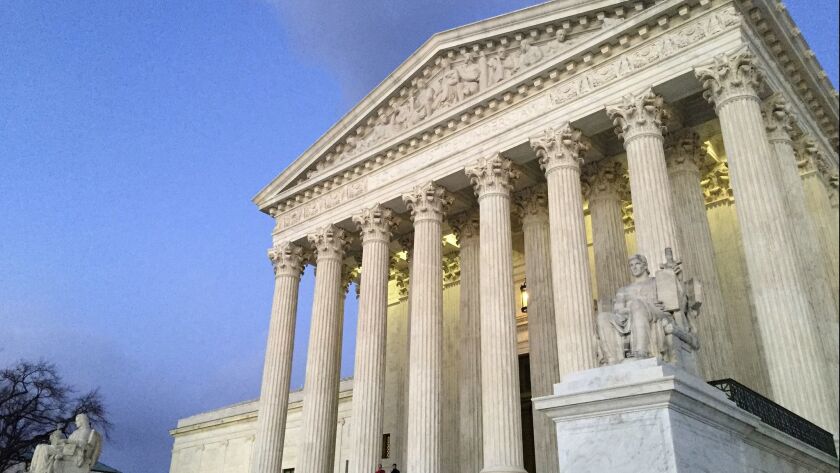 Reporting from Washington —
The Supreme Court on Monday set the stage for a landmark civil rights decision next year on whether gay, lesbian and transgender employees are protected nationwide from being fired or not hired under the federal law that bars sex discrimination in the workplace.
After weeks of internal debate, the high court agreed to confront the issue amid a growing consensus in much of the nation that such discrimination is unjustified and should be illegal.
The justices voted to hear three cases that came to conflicting results. In two cases — involving a gay man in New York and a transgender woman in Michigan — lower courts ruled in favor of the employees and found such bias violated the ban on discrimination "because of sex" in the Civil Rights Act of 1964.
In the third case, a gay man in Georgia had his discrimination suit tossed out. In doing so, the U.S. 11th Circuit Court of Appeals, based in Atlanta, quoted a 40-year-old precedent to hold that "discharge for homosexuality is not prohibited by Title VII," the section of the federal law that covers employment.
The cases, to be heard in the fall, pose the most far-reaching civil rights dispute for the court since its ruling four years ago upholding same-sex marriages nationwide.
Then, by a 5-4 vote, the court ruled that the Constitution's protection for individual liberty and equal treatment extended to same-sex couples and gave them an equal right to marry nationwide.
Chief Justice John G. Roberts Jr. and Justices Antonin Scalia, Clarence Thomas and Samuel A. Alito Jr. dissented, but fellow Republican-appointee Justice Anthony M. Kennedy joined the court's liberals to uphold gay marriage.
After Scalia's death and Kennedy's retirement, the court's conservative majority has been joined by President Trump's two appointees — Justices Neil M. Gorsuch and Brett M. Kavanaugh.
The four liberal justices who voted in favor of same-sex marriage will almost surely vote to outlaw workplace discrimination based on sexual orientation or transgender identity. But to prevail, they will need at least one of the court's conservatives.
California and 20 other states expressly prohibit discrimination against gay, lesbian and transgender people in the workplace. But Congress has not adopted a similar provision in federal law.
Democrats in the House and Senate have introduced the Equality Act to extend such protections under federal law. That measure is expected to pass in the Democratic-controlled House but languish in the Republican-led Senate.
The Supreme Court's ruling will probably be handed down next spring as the presidential election campaign is in full swing.
American Civil Liberties Union lawyers said most Americans wrongly assumed that discrimination against LGBTQ people in the workplace is already illegal. In the New York case, Don Zarda, a skydiving instructor, was fired after he casually told a customer he was gay. Aimee Stephens, who was born biologically male, was fired shortly after she informed the Michigan funeral home where she worked that she was transitioning to female.
"Most of America would be shocked if the Supreme Court said it was legal to fire Aimee because she is transgender or Don because he is gay," said James Esseks, director of the ACLU's LGBT Project. "Such a ruling would be disastrous, relegating LGBTQ people around the country to a second-class citizen status. The LGBTQ community has fought too long and too hard to go back now, and we are counting on the justices not to reverse that hard-won progress."
Ironically, the legal argument to ban such workplace discrimination relies heavily on a principle and a court precedent set by Scalia, who said judges should interpret laws based on their actual wording, not on the intent of the lawmakers at the time.
The Civil Rights Act made it illegal for employers to discriminate against individuals because of their race, sex, religion or national origin. In 1998, Scalia spoke for the court in a ruling that allowed a male worker on an oil drilling platform to sue for sexual harassment by other male workers.
"Male-on-male sexual harassment in the workplace was assuredly not the principal evil Congress was concerned with," Scalia wrote in Oncale vs. Sundowner Offshore Services. "But statutory prohibitions often go beyond the principal evil to cover reasonably comparable evils, and it is ultimately the provisions of our laws rather than the principal concerns of our legislators by which we are governed."
Several appellate courts have cited that precedent in ruling that discrimination based on sexual orientation or transgender identity is illegal sex discrimination under Title VII. In doing so, those judges agreed that Congress in 1964 did not intend to protect gay, lesbian or transgender people. Nonetheless, they said the words of the law make clear that the employees who were fired were victims of discrimination because of sex.
The Trump administration is likely to join on the side of the employers. In October, U.S. Solicitor Gen. Noel Francisco filed a brief in support of the funeral home that fired Stephens, the transgender woman. He described the "principal owner, Thomas Rost, as a Christian who sincerely believes that the Bible teaches that a person is an immutable God-given gift … and that he would be violating God's commands if he were permit one of the funeral home's funeral directors to deny their sex while acting as a representative of the organization."
The Trump administration has adopted a similar legal view in support of the religious liberty rights of some businesses to refuse to participate in same-sex weddings.
Francisco said that when the 1964 act was adopted, the word "sex" meant biological sex. It did not apply to gender identity or to sexual orientation, he said.
He noted that until 2017, the federal appeals courts had steadily ruled that Title VII did not extend to discrimination based on sexual orientation. But not long after, the U.S. 7th Circuit Court of Appeals in Chicago and the U.S. 2nd Circuit Court of Appeals in New York adopted a new and broader view of the law.
"Legal doctrine evolves," the 2nd Circuit Court ruled last year, siding with Zarda, the skydiving instructor. The judges noted that in 2015, the Equal Employment Opportunity Commission, which enforces the federal law, "held for the first time that sexual orientation is inherently a sex‐based consideration."
The two cases on sexual orientation — Altitude Express vs. Zarda and Bostock vs. Clayton County — will be joined together and decided as one.
The case of the transgender employee — R.G. & G.R. Harris Funeral Homes vs. EEOC — will be decided separately.
---
For reporting and exclusive analysis from bureau chief John Myers, get our California Politics newsletter.
You may occasionally receive promotional content from the Los Angeles Times.