Supreme Court lets stand California ruling holding lead paint makers liable for $400-million cleanup cost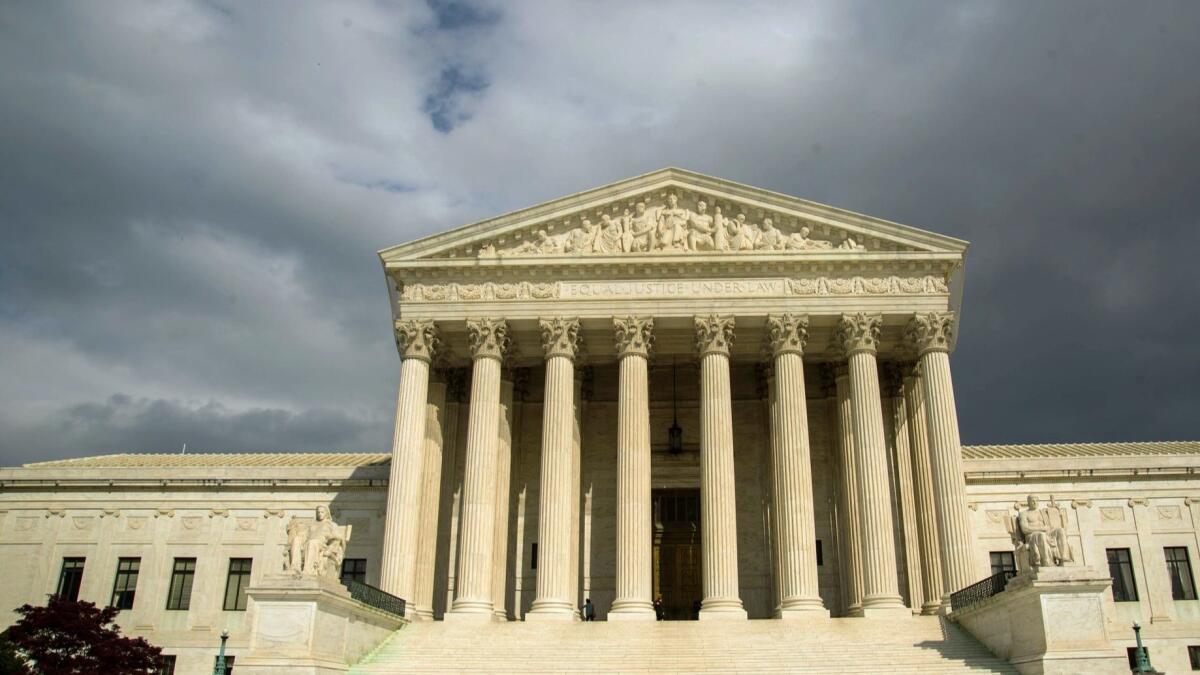 Reporting from Washington —
The Supreme Court on Monday dealt a defeat to business groups in a closely watched California case, rejecting appeals of a ruling that requires former makers of lead paint to pay $400 million or more to clean up old homes.
Business lawyers said they fear the decision will give a green light to other suits seeking to hold manufacturers liable for damage inflicted on the public, including the opioid crisis and climate change.
"The decision ... poses an enormous risk to everyone who has ever done business in California, as it opens the door to potentially unbounded suits targeting manufacturers of products sold decades ago," wrote former U.S. Solicitor Gen. Paul Clement in appeal on behalf of ConAgra Grocery Products. The food company was held liable because it had acquired a firm that once sold lead paint.
The justices had considered the appeals in the lead paint cases in late September and again last Friday, the first weekly conferences to include Justice Brett Kavanaugh. It takes a vote of four justices to hear an appeal. On Monday, the court issued a brief order saying it would not hear ConAgra vs. California or Sherwin-Williams vs. California.
"This is very significant victory for the tens of thousands of California children who have been poisoned by lead paint," said Greta S. Hansen, a lawyer for Santa Clara County, which led the lawsuit brought on behalf of 10 municipalities including Los Angeles County. "Sherwin Williams and its co-defendants knew their product was toxic and still sold it to unwitting families. The case will provide the funds needed to protect future generations of California's children from the devastating effect of lead paint."
The case against the lead paint makers began in 2000 as a product-liability suit on behalf of victims. But judges said this claim was flawed for several reasons. Lead paint was legal and commonly used prior to the 1970s. And it was not clear that any particular company's product could be blamed for the flaking paint in old homes.
But the lawyers refiled the suit in 2011 based on the so-called public nuisance doctrine, allowing local governments to sue over such things as when someone unlawfully obstructs the free passage of a river or road and causes harm to the entire community or neighborhood. After years of legal skirmishing, the case went to trial in Santa Clara County in 2013.
Lawyers for Santa Clara and other municipalities argued that lead in paint was a known toxin that is especially damaging to children. And they said the companies that sold the lead paint should be required to help pay for removing it. A judge agreed in 2014 and said the several companies must contribute $1.1 billion for the clean up.
A California appellate court upheld the decision last year but limited the clean-up to homes built before 1951, which in turn reduced the amount to about $400 million.
In its opinion, the state court described in detail the evidence presented in the case. "Lead poisoning is the top pediatric environmental health problem in Los Angeles County. The most common source of lead poisoning in Los Angeles County is lead paint chips and lead paint dust," it said. "In Los Angeles County, 77 percent of the housing was built before 1978, which is more than 2.6 million housing units. More than 900,000 of those housing units are pre-1950. Los Angeles County's investigators have often found lead paint dust in homes with intact lead paint."
The other municipalities that brought the suit were the cities of Oakland, San Diego and San Francisco and the counties of Alameda, San Mateo, San Francisco, Solano and Ventura.
Earlier this year, the California Supreme Court refused to hear the case.
In August, a large coalition of business and conservative groups filed a total of 11 friend-of-the-court briefs urging the justices to hear the lead paint cases and to overrule the California court decision. They included the U.S. Chamber of Commerce, the National Assn. of Manufacturers and the California Chamber of Commerce.
Clement told the court that the California decision had already triggered new claims. "Municipalities throughout California are employing this case to seek massive recoveries from other industries, be it holding fossil-fuel companies responsible for climate change, holding pharmaceutical companies responsible for opioid addiction or holding PCB manufacturers responsible for decades-old water contamination," he wrote.
The appeals argued that the state court ruling violated the Constitution's guarantees of due process of law and free speech. The lawyers noted that the strongest evidence against the paint makers was merely newspaper advertising from the early 20th century that promoted lead paint for the interiors of a home.
But in their response, lawyers for the California municipalities said the paint makers were downplaying their role. "ConAgra's South San Francisco plant — the largest paint factory west of the Mississippi — shipped an average of 200 tons of lead paint to California retailers for residential use daily, while Sherwin-Williams distributed more than three million pounds of lead pigment to its California warehouses and factories during a single-four year period," they told the high court.
The justices are often wary of intervening in state liability-law cases to impose federal constitutional limits. And they were so again on Monday.
More stories from David G. Savage »
Twitter: DavidGSavage
---
UPDATES:
12:45 p.m.: This article was updated throughout with additional reaction and background.
This article was originally published at 7:25 a.m.
Get our Essential Politics newsletter
The latest news, analysis and insights from our politics team.
You may occasionally receive promotional content from the Los Angeles Times.