Supreme Court rules for Missouri church in playground case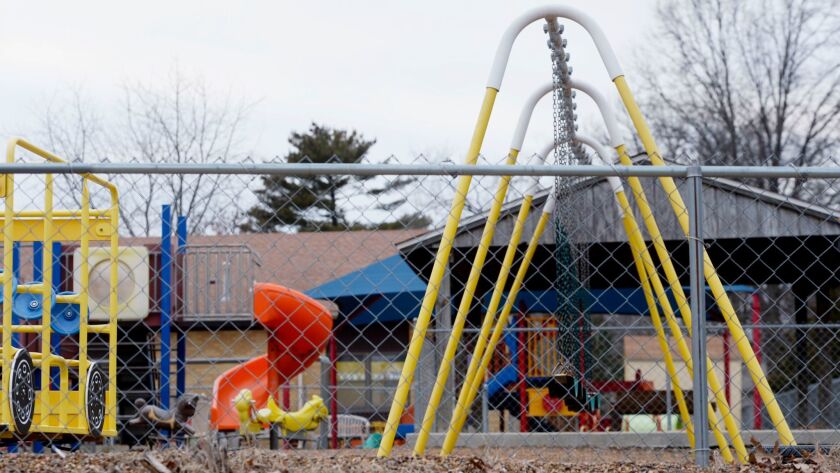 Reporting from Washington —
The Supreme Court ruled Monday that churches have the same right as other charitable groups to seek state money for new playground surfaces and other non-religious needs.
By a 7-2 vote, the justices sided with Trinity Lutheran Church of Columbia, Missouri, which had sought a grant to put a soft surface on its preschool playground. The church was denied any money even though its application was ranked fifth out of 44 submissions.
Chief Justice John Roberts said for the court that the state violated the First Amendment by denying a public benefit to an otherwise eligible recipient solely on account of its religious status. He called it "odious to our Constitution" to exclude the church from the grant program, even though the consequences are only "a few extra scraped knees."
The case arose from an application the church submitted in 2012 to take part in Missouri's scrap tire grant program, which reimburses the cost of installing a rubberized playground surface made from recycled tires. The money comes from a fee paid by anyone who buys a new tire. The church's application to resurface the playground for its preschool and daycare ranked fifth out of 44 applicants.
But the state's Department of Natural Resources rejected the application, pointing to the part of the state constitution that says "no money shall ever be taken from the public treasury, directly or indirectly, in aid of any church, sect or denomination of religion."
A recycled scrap tire is not religious, the church said in its Supreme Court brief. "It is wholly secular," the church said.
In dissent, Justice Sonya Sotomayor said the ruling weakens the nation's longstanding commitment to separation of church and state.
"This case is about nothing less than the relationship between religious institutions and the civil government — that is, between church and state," she said, joined by Justice Ruth Bader Ginsburg. "The Court today profoundly changes that relationship by holding, for the first time, that the Constitution requires the government to provide public funds directly to a church."
ALSO
Supreme Court will hear case of Colorado baker who refused to make wedding cake for same-sex couple
Supreme Court rejects 2nd Amendment challenge to California limits on carrying guns in public
Supreme Court partially revives Trump's foreign travel ban, will hear case in the fall
---
UPDATES:
9 a.m.: This article was updated with additional background.
---
Get our Essential Politics newsletter
The latest news, analysis and insights from our bureau chiefs in Sacramento and D.C.
You may occasionally receive promotional content from the Los Angeles Times.